Welcome Aneela Hoey
Aneela Hoey graduated from Winchester School of Art with a BA (Hons) degree in printed textile design, in 1994.

She has worked in design studios in both London and New York as well as freelance. After getting married she took a break to raise her two daughters, now aged 7 and 10. She found her back to textile design through her love of quilt making which led her to begin designing the kind of fabrics she wanted to use but couldn't find. Aneela is also a keen embroiderer and produces her own embroidery patterns.
Aneela's introductory line of fabric for moda is Sherbet Pips. It will be available at your favorite quilt store in April 2011.
Follow Aneela's blog, comfortstitching for inspiration, projects, tutorials, quilt a-longs and more. The Pickledish is her most current Quilt A-long.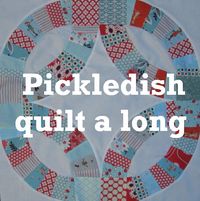 This article is from Sew Hip. I know it is tough to read but thought I would share with you the bottom sentence.
"Aneela's designs are truly original and maintain a wonderful balance
 between contemporary and cute."
Welcome Aneela to the moda team!