Creativity Shell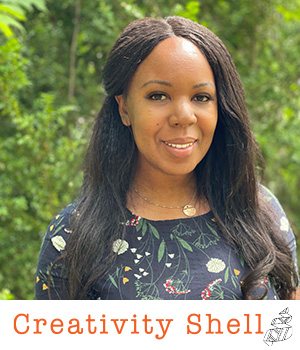 At 12 years old, Shelancia was introduced to the nonprofit world when she launched her own fundraiser to raise funds to ship a shipping container filled with food to Africa.
From 2010 – 2014, Shelancia moved to Lagos, Nigeria where she spent the time planning and organizing creative events for the students in local schools.  Upon returning to the United States, Shelancia loved having the ability to use outside the box and outside the classroom methods to educate children.  She went back to school to obtain her master's degree in educational psychology, and she used her knowledge of sewing/art/cooking/crafting to launch the Creativity Shell in 2015.
Today, the Creativity Shell is a nonprofit organization on a mission to use creative trades to educate and inspire the next generation of makers. The organization teaches classes such as sewing/textile arts, cooking, building and other creative trades to students in our studios, libraries, schools, ABA therapy centers, the juvenile justice system as well as shelters that rescue children from homelessness and human trafficking. They currently have two chapters in Houston, TX & Rochester, NY and the organization is planning to open the first of its kind, community service center which will offer trades/art classes to children plus provide services such as free mental health therapy. 
The Love Bug project began as a collaboration between Shelancia and Creativity Shell Program Director Laurelei Horton.  A group of Girl Scouts wanted to do a project where they could give back to the community and Shelancia and Laurelei designed the Love Bugs as a fun project the Scouts to make one Love Bug for themselves and make another to give away to a child in need.  The original Love Bugs were donated to children living in a residential facility at the Salvation Army in Houston and the children absolutely loved them!
Turning the light on for youth mental health is the inspiration for the Creativity Shell's new fabric line, Creativity Glows.  After spending the past six years teaching sewing and textile arts classes to a variety of different children in shelters, aba therapy programs, the juvenile justice system, and children suffering from anxiety, depression and more, our organization is convinced that the poor mental health of our young people is the main hinderance to their growth. The Creativity Shell wants sewists to use this collection for all kinds of projects, and most importantly, to make items for children.  Pajamas pants for children in shelters, tunic dresses for girls in Africa, tote and zipper bags for foster children to hold their belongings, and book bags for children in the court system. The Creativity Shell also hopes to inspire children to learn to sew, and to create, while also gaining philanthropy skills by using their sewing skills to make items for other children in need.
Downloads
Classic Basics Metro Style Rubystar Christmas