Pieces To Treasure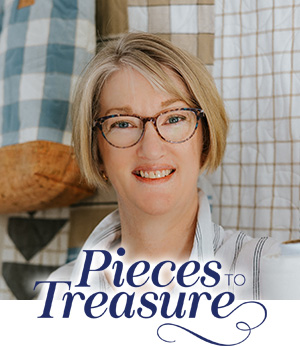 I have always had a love of fabric and my mother taught me to sew when I was quite young. We would visit the fabric shop and I would love to just touch the fabrics and imagine what they could become. When I was very young my mum used to make most of our clothes but when I was a teenager and young adult I used to sew a new outfit on Saturday to wear out that night. I always altered the pattern, never being content to just follow the instructions; I think the elements of design were born here.
After graduating from university, I worked as a Primary school teacher, educating children from 5–12 years old. During this time, I discovered patchwork at a local shop and became immediately hooked. The variety of fabric, the endless colour combinations and infinite design possibilities were too good to resist. After my 2 children arrived, I started designing patterns for children and my business grew from there. I opened a patchwork shop and this combined my passion for teaching and fabric, leading to my perfect job for the last 16 years.
With a love of classic style, woven stripes became a foundation for many of my designs. Moda toweling is a fabric that lends itself to a myriad of possibilities and the opportunity to design with these fabrics is a joy.
Living 1 hour north of Sydney, Australia in coastal MacMasters Beach, I often find colour inspiration in the surrounding natural environment. Mother Nature has put together some outstanding palettes and when I stop and look carefully, inspirations for fabric lines emerge.
Once the fabric arrives it seems to speak to me and the projects just tumble out of my imagination, each leading to further possibilities and ideas. Using toweling and woven stripes and checks adds an element of geometry that creates further design opportunities. I have discovered I am a total geometry nerd!
When I am not playing with fabric I enjoy walking, gardening, home renovating and playing piano in a swing band. Surrounded by my family and rescue cat, I am very fortunate to be able to share my love of fabric and design with Moda fabrics and stitchers all over the world.
To keep up with my adventures in life, both with and without fabric, follow along on my Instagram @piecestotreasure, or for teaching videos on YouTube; Pieces to Treasure. The latest patterns can be found on my website www.piecestotreasure.com and more specific content is on my blog https://www.piecestotreasure.com/blog
As always,
Happy Sewing
Downloads
Classic Basics Metro Style Rubystar Christmas