BH3 Block 51 - Spark Plug
BH3 Block 51 - Spark Plug
More than any other Moda designer, Vanessa Goertzen likes to mix it up with the mood of her collections.  From pretty, romantic floral collections to prints and colors that have a modern appeal, the one constant is that Vanessa isn't afraid to try something different.
Spark Plug by Vanessa Goertzen of LellaBoutique.  It's Block 51.  (That means there are only five more blocks!)
Spark Plug can be made in all four sizes - 4", 6", 8" and 12".  The instructions can be found here - Lella Boutique Blog.  Along with a preview of her finished Block Heads quilt - it's amazing!

Instead of sharing Vanessa's blocks, we want to show you her coming-in-April 2021 collection, Smoke & Rust.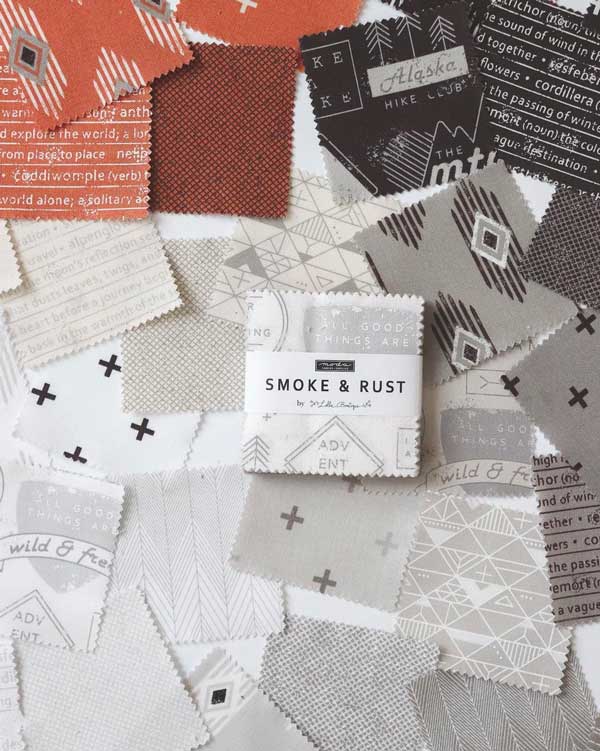 Inspired by walks in the mountains, this collection evokes the colors and textures of the desert southwest.
Vanessa shared this image from December 2019, she was on a trail, hiking through Zion National Park in Utah.
This is Fracture, one of Vanessa's new quilts-patterns for the collection.  It is Fat Eighth-friendly, finishes at 60" x 72" and is LB195.  The quilting is by Marion Bott, and the quilting pattern is Modern Maze.
This is Mountainside - it's also Fat Eighth-friendly.  It finishes at 68" x 72" and has two color options in the pattern.  It is LB196.
To see more of of the collection and new patterns - Smoke & Rust.
Just in case you missed it, the link to Spark Plug can be found here - Lella Boutique Blog.
Are you new to Block Heads 3?  The first 50 blocks can be found here - Block Heads 3 Archive.   (It is updated every Wednesday and Friday - blog link on Wednesday, pattern link on Friday.)
If you missed Block Heads 2, all the blocks can be found here - Block Heads 2 Archive.  
Have you been inspired by the designers' blocks?  They're beautiful and the variety of color palettes, scrappy mixes, and block variations has been a treat to see.
Be sure to check out the Block Heads Facebook Group and look for Block Heads 3 on Instagram - #modablockheads and #modablockheads3.
Stay well.  And stay safe.