BH4 - Block 27
Hi fellow Blockheads!
I was so excited to be asked to design a block for the BH4 sewalong this time around, having seen the previous years from behind the scenes. Who am I and where do I fit in here at Moda?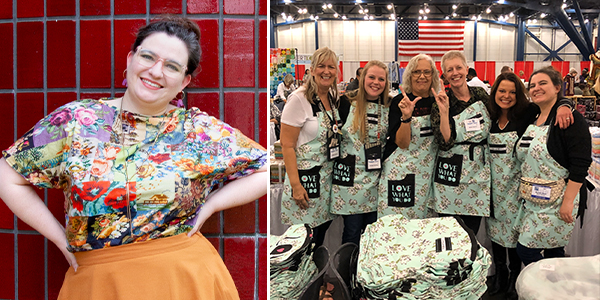 I work in the Moda Marketing department, doing a bit of everything from pattern design for in-house patterns, graphic design, photography, designing the Quilt Market booth, and more.  I started at Moda back in April 2019, nearly 3 and a half years ago, and love fabric and quilting even more than I did then!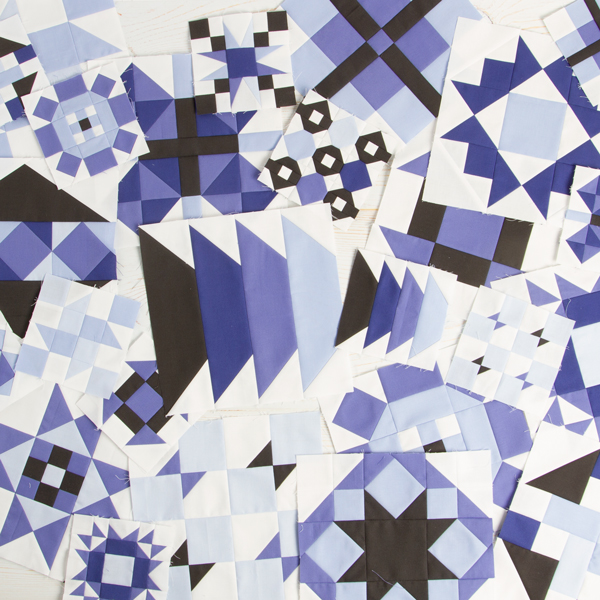 My block is called Threaded. Download the block pattern here.
As it happened, I was in the middle of assembling a pair of Ikea bookshelves when my block design was due, and pulled my inspiration from the threaded anchors that were part of the toolkit.  Knowing the patterns would include both 9" and 4.5" finished blocks, it was also important to me that the piecing not be too fussy for the small size block.  Selfishly, I enjoy an easily-pieced project almost more than anything else!
I definitely would consider myself a more 'modern' quilter--the line between modern and traditional styles certainly isn't set in stone, but I do love non-traditional quilt blocks and working with bold color and solids.  My palette for the full Blockheads quilt is just six Bella Solids, inspired by the Pantone Color of the Year: Very Peri.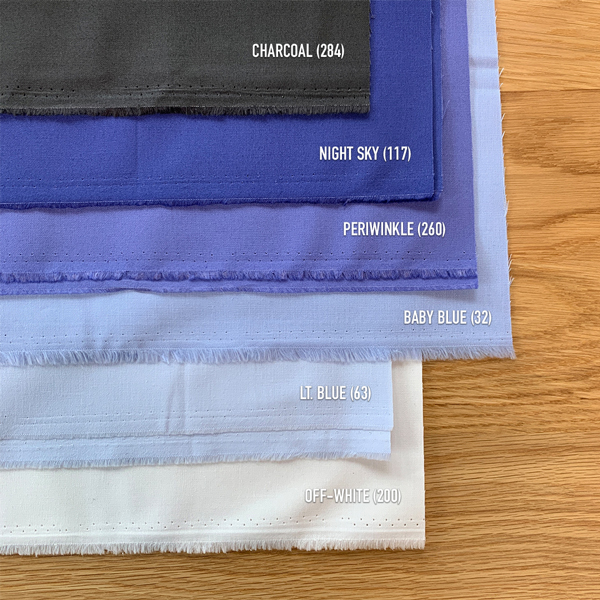 My Bella Solids color palette:  Off-White (200), Lt. Blue (63), Baby Blue (32), Periwinkle (260), Night Sky (117), and Charcoal (284).
For this block, you can create totally different looking projects just depending on where you place the fabrics.  For my single Blockheads blocks, I like having a gradient in my colors that works nicely with my limited Bella Solids palette for the overall project.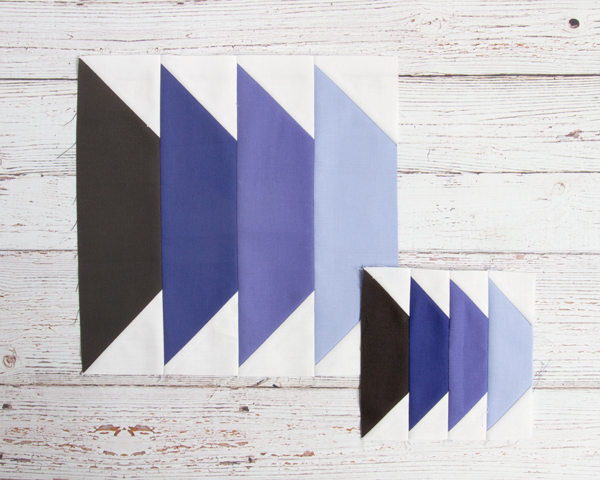 If you wanted to turn this block into a full project, you can create nice movement just by mixing fabrics and rotating the block direction: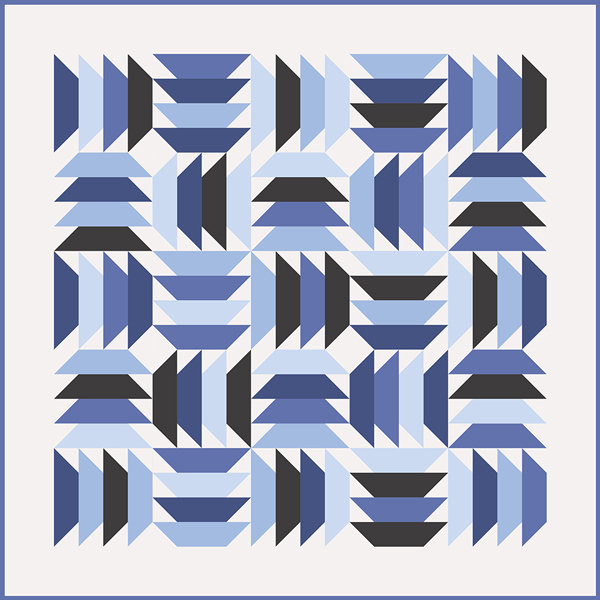 But this same basic block arrangement looks totally different just by laying out the directions in another way.  I'm a big fan of what I think of as 'improv-lite', where you're working within a pattern but can play with where you place fabrics or what direction you angle blocks, without getting too bogged down in worrying about how it will all come together in the end.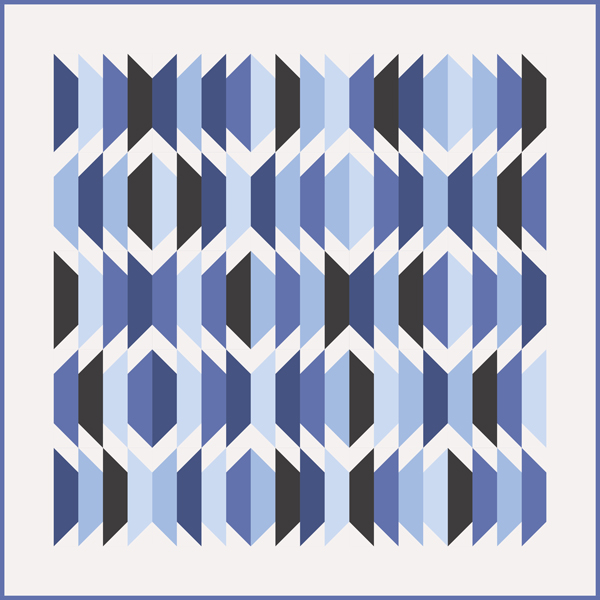 Even just one row of this arrangement would make a fabulous table runner!
For something completely different, I'm planning to make this as a wall hanging using the 4.5" size blocks, focusing on different fabric pairings in the block rather than having a 'background' to speak of.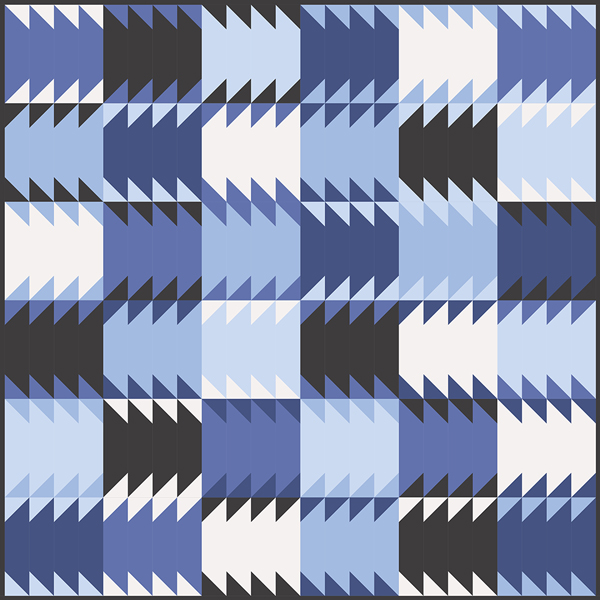 Hopefully you have as much fun with this funky block as I did!  There has been so much inspiration in the Blockheads Facebook Group just seeing what types of fabrics people put together, and how they make each block their own.
Before I go, here's a look at all of my BH blocks so far (almost all of them now!).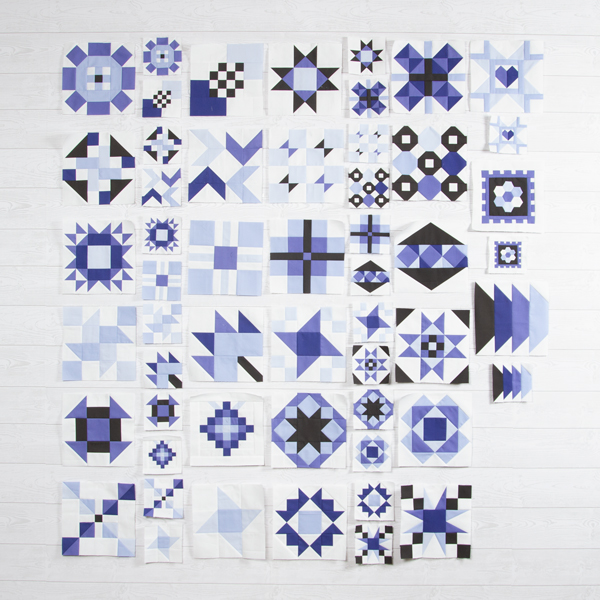 I've been making all of the designer blocks in both the 9" and 4.5" sizes, and you can find my plan for finishing the quilt here.  I'll have some tough choices to make for what few blocks get picked for a strip in the backing--but that just means it'll be an extra special backing for this one!
You can find me on Instagram @michellewhitemakes to see what other quilting projects I get up to both at Moda and on my own.
In case you missed it, download the Blockheads 4 Block 27 pattern here!
Happy sewing everyone!    - Moda Michelle