BH4-Sherri McConnell- Star Patch
BH4-Sherri McConnell- Star Patch
Moda Blockheads 4 Block 22 "Star Patch" by Sherri McConnell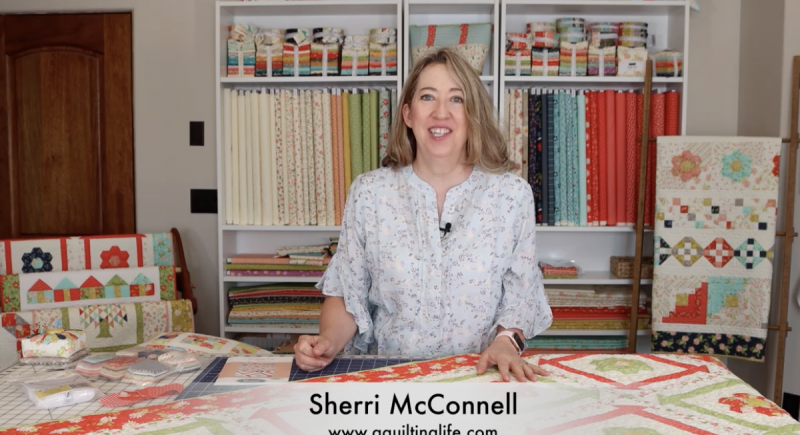 Sherri McConnell has taken the quilting world by storm, or that is what it appears, but nothing happens overnight.
Sherri has been behind the scenes for many years, sharing her quilting journey by starting her blog, A Quilting Life, in 2008, sewing samples for other designers, testing products, and so much more. Fast forward a few years, she had her own pattern company, A Quilting Life.  Then shortly after that, Sherri and her daughter, Chelsi Stratton, submitted a fabric proposal to Moda Fabrics in 2014. Fifteen fabric lines later, the story continues…
I so thoroughly enjoyed this podcast/video of how Sherri got started. ( and Chelsi also.) and it tells the story so much better than I ever could.
Episode 53: Our Quilting Lives: Remembering the Past and Planning for the Future
[Video:: https://youtu.be/J9vxL0dVoDc]
Emma is Sherri and Chelsi's newest fabric collection headed to stores in September 2022.
Emma has an adorable panel that can be used in various ways, including this quilt kit and pattern.
Pattern- Available now- Stock # Country Home  QLD 220
Kit- Coming soon to your favorite store- Stock #KIT37630
POTLUCK quilt pattern, Stock #QLD 118

I don't think anyone would be surprised at what a wonderful sharing spirit Sherri has, which is quite evident in everything she shares not only on her YouTube channel, Instagram, Pinterest Page, Blog, Podcast, Facebook, her books, her online Block of the Month and on and on. She teaches, encourages, mentors and shares with everyone she meets in person or online. I could go on and on about what an influence this gal has been in my life, both professionally and personally. Okay, I am gushing here, so time to get to the reason you are here, BLOCKHEADS, Block 22.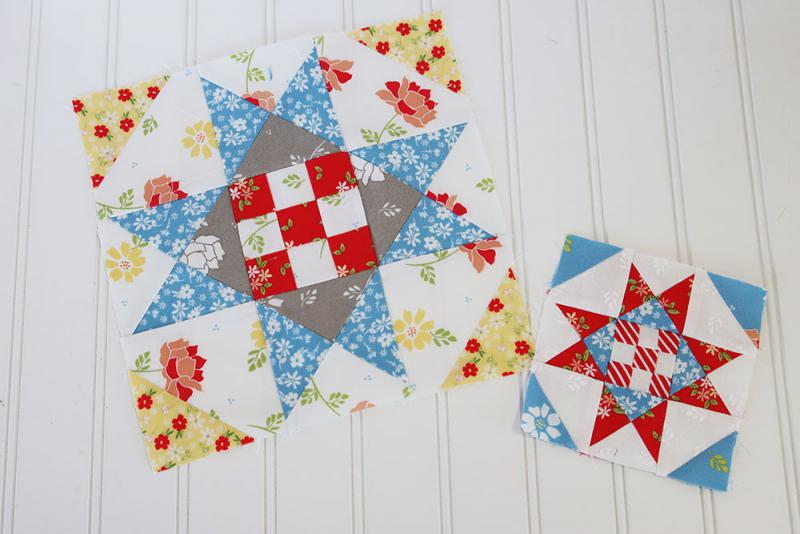 I love an Ohio Star, and it's always fun to dress them up with extra elements. I added a nine-patch to the center because I absolutely love nine-patch blocks. Also, it was fun to have three different fabrics in the quarter square triangle units. Additionally, I love adding accent fabrics to the outer corners of my Ohio Star block quilts.   -Sherri
Now that you have the pattern, be sure and follow Sherri. I love listening to her podcasts while I am sewing.
Don't forget to share your progress #modablockheads 
Enjoy!
---
Social Media Links:
Blog: https://www.aquiltinglife.com
Instagram:  https://www.instagram.com/aquiltinglife/
YouTube: https://www.youtube.com/aquiltinglife
Pinterest: https://www.pinterest.com/aquiltinglife/
Facebook: https://www.facebook.com/aquiltinglife/
Facebook Sherri & Chelsi: https://www.facebook.com/groups/459389991531728
Moda's Designer Page & Fabric collections: https://my.modafabrics.com/designers/sherri-and-chelsi
And listen to our podcast here:
Google Podcasts: https://podcasts.google.com/?q=a%20quilting%20life%20podcast
Stitcher: https://www.stitcher.com/podcast/a-quilting-life-podcast
Spotify: https://open.spotify.com/show/0SsocqO9Q3B3BoZDS1yOpD
Apple Podcasts: https://podcasts.apple.com/us/podcast/a-quilting-life-podcast/id1515215888