BH5 – Block 4 – Corey Yoder
BH5 – Block 4 – Corey Yoder
Happy Blockheads Wednesday! Block 4 is brought to you by Corey Yoder of Coriander Quilts. Corey's sweet floral prints and cheerful color palettes really shine in scrappy designs like her Super Scrappy Star block!
You can find this week's pattern here: BH5 – Group 1, Block 4 – Super Scrappy Star by Corey Yoder
Follow along with Corey!
Instagram: @corianderquilts
https://corianderquilts.com/
If you're new to Blockheads, here are a couple of quick things to know:
This is a free quilt-along. No sign-ups are required. Just download the pattern and you're ready to sew!

The PDF patterns will be posted on the Moda blog and in the official Facebook group every Wednesday by 8:00 AM CDT.

You can also bookmark this page: Blockheads 5 main page to find a convenient list of all the patterns as they are released.
If you'd like to sign up for our blog newsletter to get blog posts delivered to your inbox, you can sign up here: Blog Newsletter Sign-Up
If you want to sew along with a virtual Blockheads community, head over to Facebook and join our official Moda Blockheads Facebook group. Our group is an active and vibrant community of 68,500 quilters and counting! It's a great place to be inspired and share pictures of your Blockheads progress.

If Instagram is where you prefer to hang out, be sure to follow us (@modafabrics) and the hashtags #modablockheads and #modablockheads5 to see the latest blocks from our designers and other Blockheads.

Be sure to get your official Blockheads t-shirts, sweatshirts, tote bags, water bottles, and more from our pop-up shop HERE.
(Looking for a little more information about Blockheads? You can check out the Blockheads 5 archive HERE.)
Be sure to head over to Corey's blog as soon as you've downloaded the pattern! Corey is sharing her inspiration and tips and tricks for the Super Scrappy Star block. She has so much great information in her post – you don't want to miss out on that! You can find Corey's blog here: Coriander Quilts blog
I figured that after last week's technique-focused block, y'all would enjoy a bit of straightforward, scrappy piecing. So here's your chance to make a delightfully scrap-tastic block without having to think too hard about it – you could use up to 32 different print squares and 8 different background prints for Super Scrappy Star, if you felt like it! This is the perfect scrap-busting block.
But if you're still in the stash-building phase of your quilting journey, you can still make a lovely block that feels scrappy just by using a mini charm pack for those "A" squares in the pattern.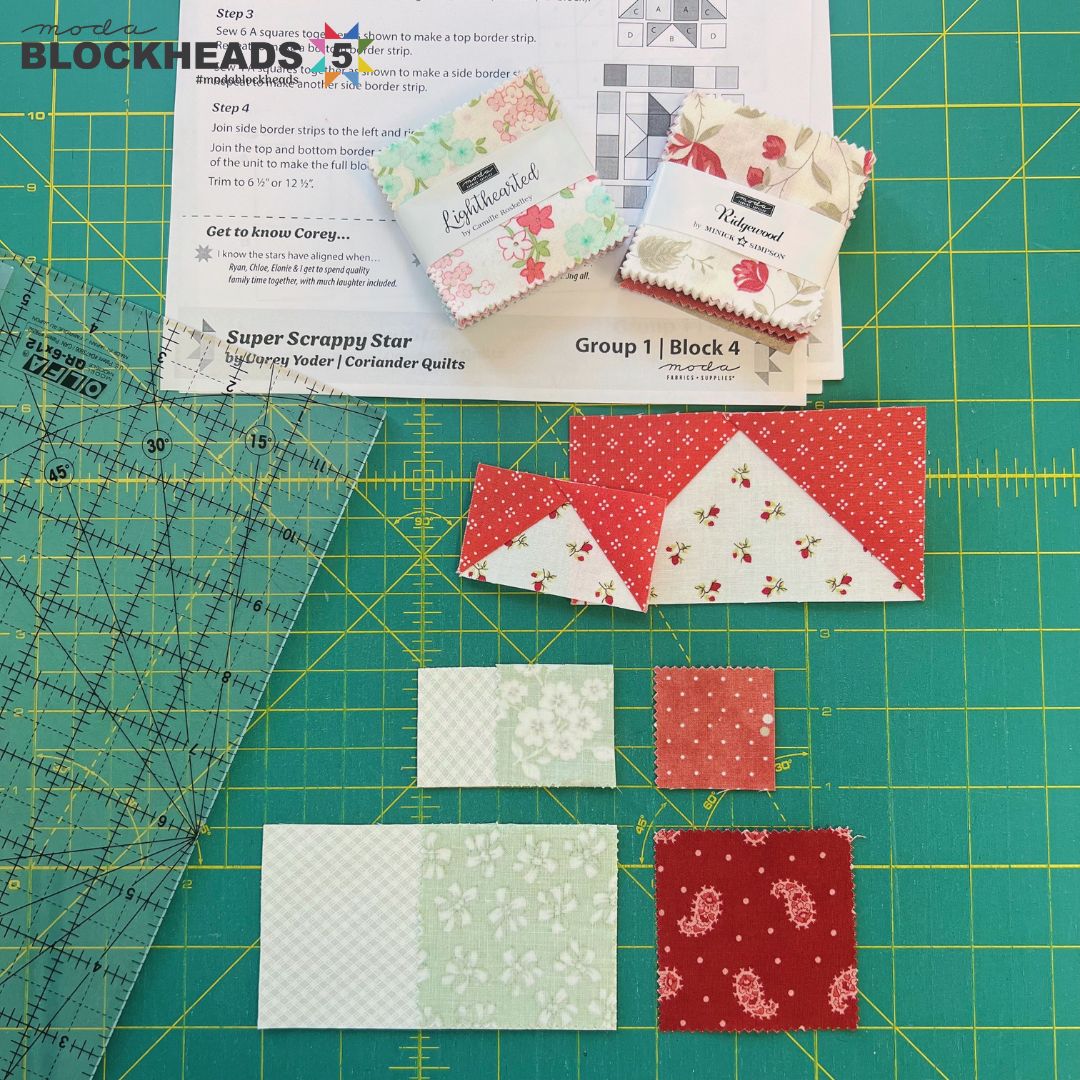 (Here you can see that I'm prepping to make one-at-a-time flyng geese with mini charm squares.)
The pattern is written using four-at-a-time flying geese, but if you'd like to use as many mini charm squares as possible, then you'll want to make stitch-and-flip flying geese instead. To do that, adjust the cutting instructions as follows:
For the 6" finished block
Instead of (1) 3 1/2" square (B), cut (4) 1 1/2" x 2 1/2" rectangles (B)

Instead of (4) 2 1/8" squares (C), choose (8) mini charm squares and trim them down to 1 1/2" squares (C)
For the 12" finished block
Instead of (1) 5 1/2" square (B), cut (4) 2 1/2" x 4 1/2" rectangles (B)

Instead of (4) 3 1/8" squares (C), choose (8) mini charm squares (C)
To make the flying geese
On the wrong side of the C squares, draw a line from one corner to the opposing corner.

Align a C square on one end of a B rectangle, right sides together. Stitch on the drawn line, and trim the seam to 1/4". Press the seam towards the triangle (C).

Repeat on the other side using another C square to complete the flying geese unit. Trim to 1 1/2" x 2 1/2" (for the 6" finished block) or 2 1/2" x 4 1/2" (for the 12" finished block).

Complete the rest of the pattern as written.
So now you have a couple of different construction methods in your toolbox for making flying geese! Both methods have their merits: There are fewer pieces to cut when using the no-waste/four-at-a-time construction method, but fabric placement is a lot easier with the one-at-a-time/stitch-and-flip method. I feel like both of these construction methods require really precise sewing and scant 1/4" seams. I don't mind using the no-waste method for a few flying geese, but if I have to make a lot of them, I prefer to make oversized flying geese and trim down with my Bloc Loc rulers. 
Ready to see our Super Scrappy Star blocks?
Tammy is using prints from various Betsy Chutchian collections for her blocks.
Alison is making her 12" blocks with Christmas fabrics and Moda basics.
Lissa is using Nantucket by Camille Roskelley for her blocks.
And I am using a scrappy "Cottage Christmas" fabric pull featuring prints from 3 Sisters, Brenda Riddle, Bunny Hill, Fig Tree & Co., and more.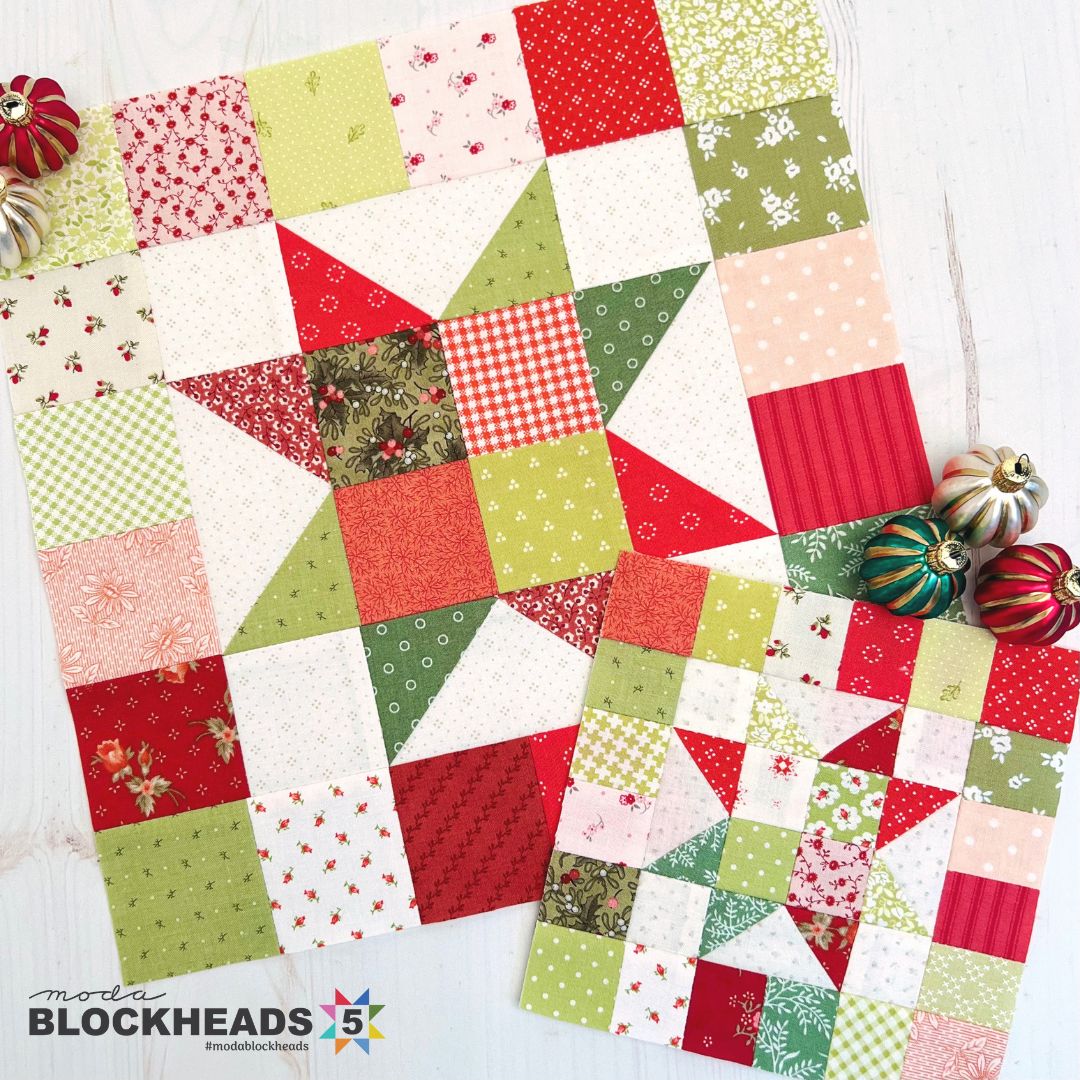 I thought I'd share the back of my blocks so you can see how I chose to press my seams -- which is generally open, even for flying geese sometimes, as I have done with the smaller block. If I'm not worried about nesting my seams and/or want to reduce bulk, I'll definitely press open my seams. But I will always press borders out -- and in these blocks, I treated the pieced rows of squares as borders.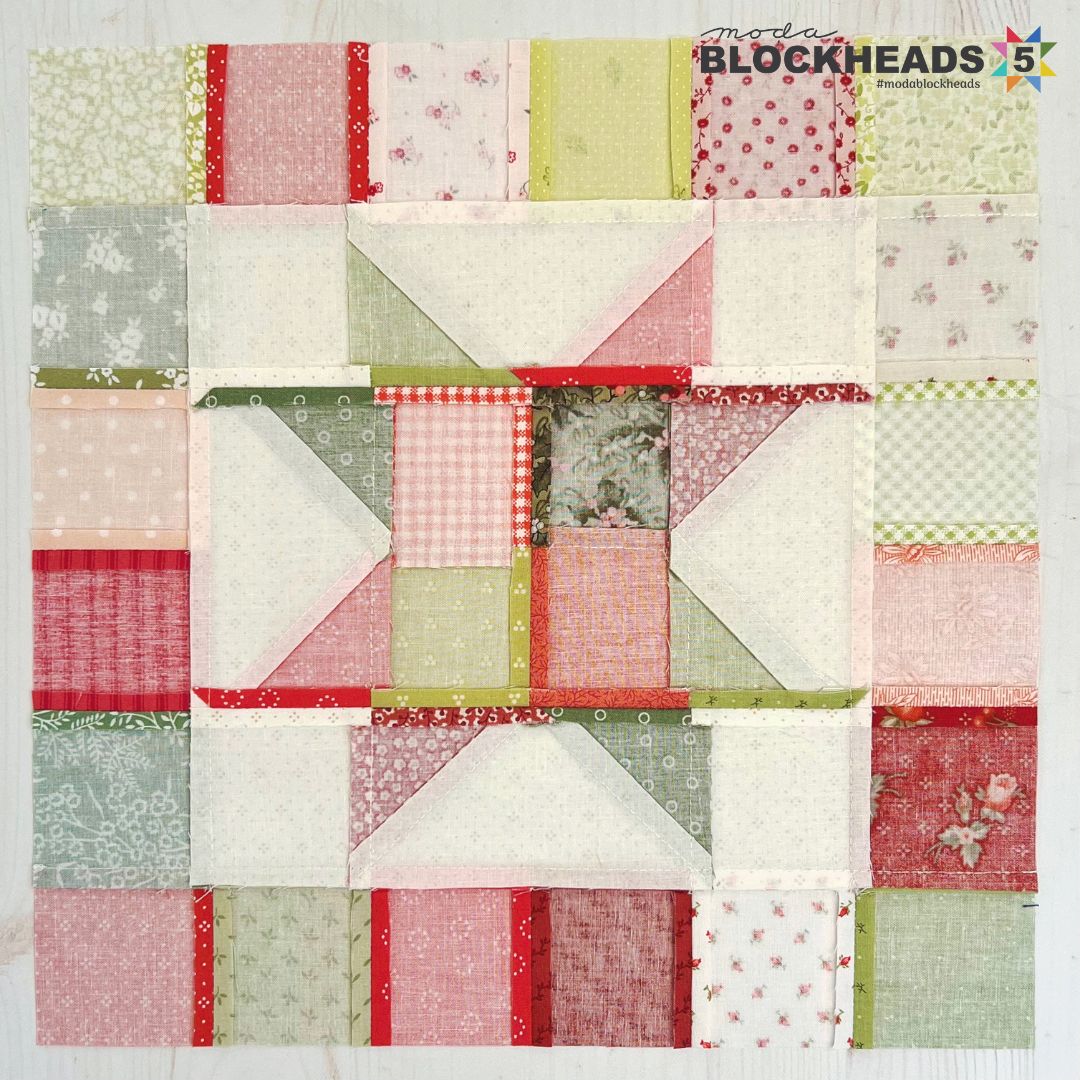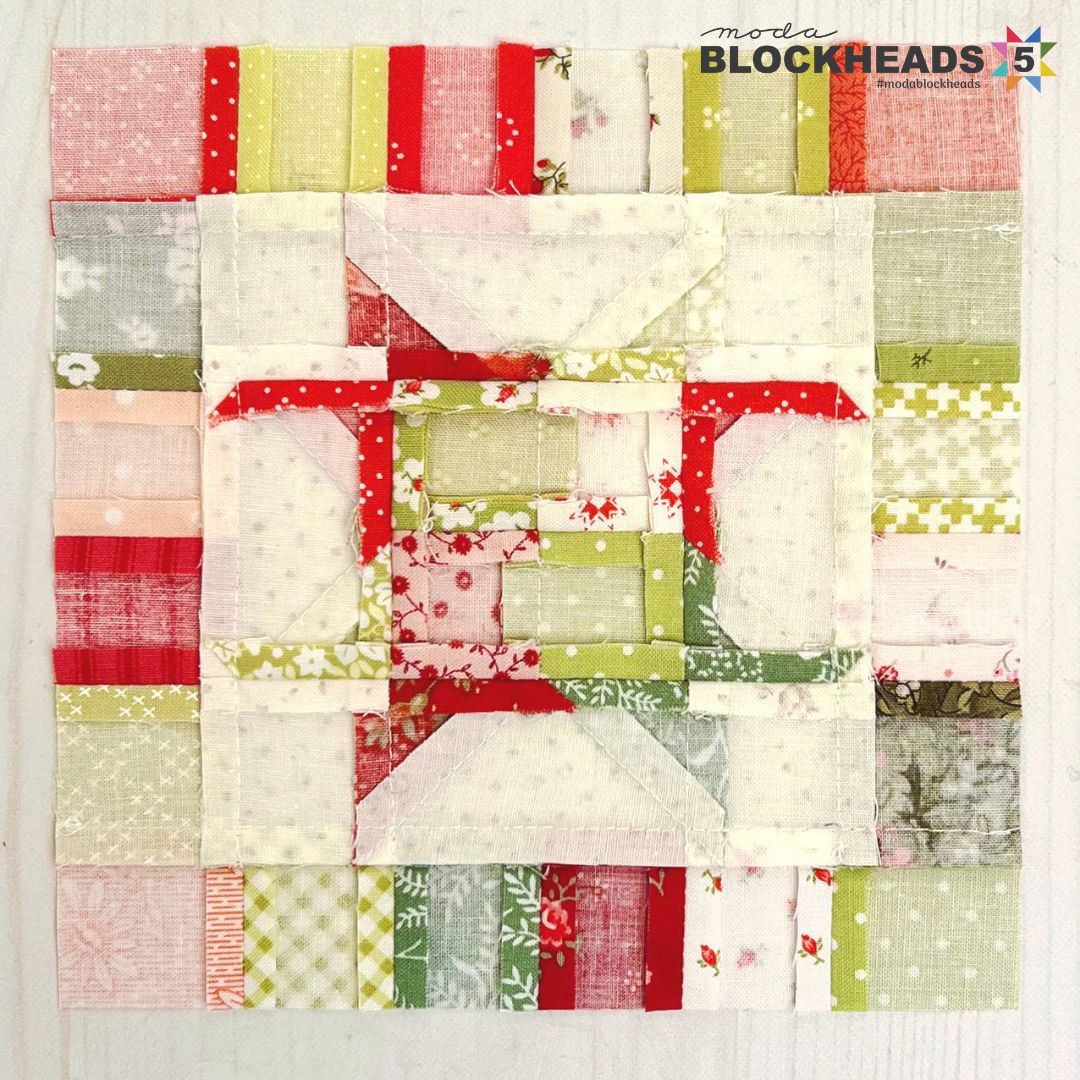 Now…off you go to press, cut, and sew! And don't forget to share your blocks with us in our Facebook group or on Instagram (#modablockheads5)!