BH5 – Block 5 – Jenelle Kent
BH5 – Block 5 – Jenelle Kent
Happy Blockheads Wednesday! Can you believe that we've reached the halfway point in this first round of Blockheads 5? Block 5 is brought to you by Jenelle Kent of Pieces to Treasure. Jenelle designs lovely toweling and wovens for Moda, as well as a wide range of quilt and home décor patterns featuring these versatile fabrics!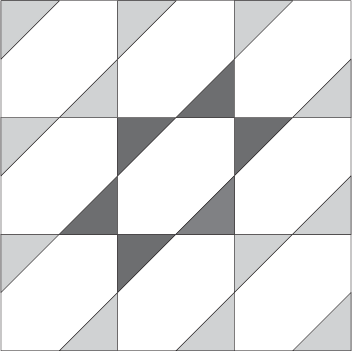 You can find this week's pattern here: BH5 – Group 1, Block 5 – Southern Star by Jenelle Kent
Follow along with Jenelle!
Instagram: @piecestotreasure 
https://www.piecestotreasure.com/
If you're new to Blockheads, here are a couple of quick things to know:
This is a free quilt-along. No sign-ups are required. Just download the pattern and you're ready to sew!

The PDF patterns will be posted on the Moda blog and in the official Facebook group every Wednesday by 8:00 AM CDT.

You can also bookmark this page: Blockheads 5 main page to find a convenient list of all the patterns as they are released.
If you'd like to sign up for our blog newsletter to get blog posts delivered to your inbox, you can sign up here: Blog Newsletter Sign-Up
If you want to sew along with a virtual Blockheads community, head over to Facebook and join our official Moda Blockheads Facebook group. Our group is an active and vibrant community of 68,500 quilters and counting! It's a great place to be inspired and share pictures of your Blockheads progress.

If Instagram is where you prefer to hang out, be sure to follow us (@modafabrics) and the hashtags #modablockheads and #modablockheads5 to see the latest blocks from our designers and other Blockheads.

Be sure to get your official Blockheads t-shirts, sweatshirts, tote bags, water bottles, and more from our pop-up shop HERE.
(Looking for a little more information about Blockheads? You can check out the Blockheads 5 archive HERE.)
Be sure to head over to Jenelle's blog as soon as you've downloaded the pattern! Jenelle is sharing her inspiration and tips and tricks for the Southern Star block. She has so much great information in her post – you don't want to miss out on that! You can find Jenelle's blog here: Pieces to Treasure blog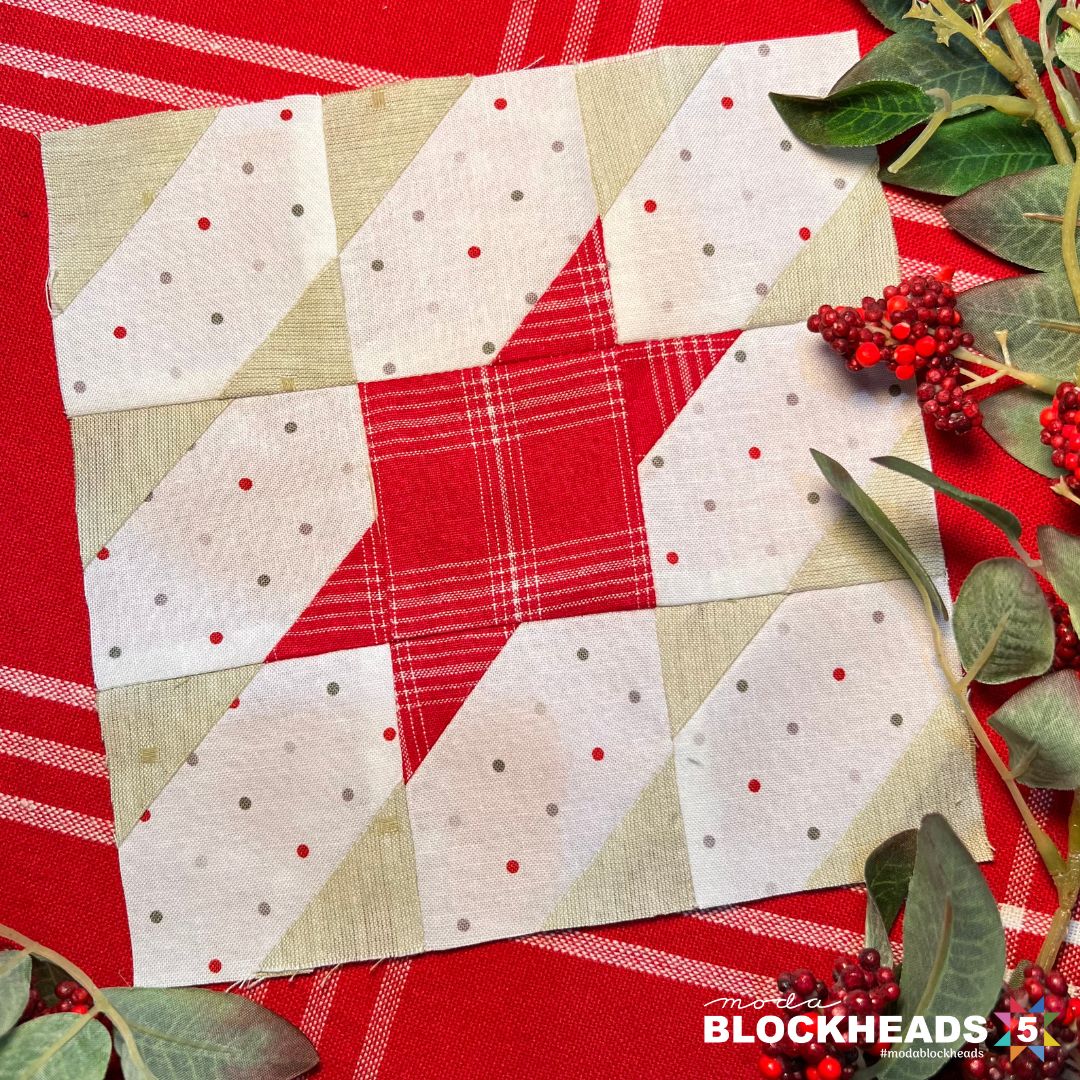 I love that Jenelle's design this week not only gives a nod to Australia, but it's also incredibly versatile – you can make it as scrappy or as controlled as you like. I can't wait to see all the colorways you all dream up!
This block design is made for chain piecing – now that's my kind of block! And you'll get lots of practice with your stitch-and-flip corners as you make your Southern Star block. This would be a good week to make sure you have some seam guide tape for your sewing machine bed – this will make your chain piecing go a lot faster!
Another helpful tool for these stitch-and-flip corners – especially if you are struggling with achieving accurate, consistent results – is the Simple Folded Corners Ruler by Doug Leko of Antler Quilt Designs. If you have never used this tool, watch this tutorial from Doug and Kimberly of Fat Quarter Shop to see it in action:
In the video, Doug demos the regular-sized version of the ruler, but there's also a smaller version, the Mini Simple Folded Corners Ruler, which would be the perfect size for the Southern Star block.
The ruler comes with a handy chart that will show you exactly how to adjust your fabric cutting if you are going with the Oversized Folded Corners method. If you opt to cut oversized B squares and trim down after stitching, you'll need to follow the cutting instructions in the RULER instruction sheet for 1" finished folded corners (for the 6" finished block) and 2" finished folded corners (for the 12" block) when cutting your "B" fabric squares.
If you are using the No Trim/Exact Size method, cut your "A" and "B" squares as written in the Blockheads pattern.
Personally, I have the Mini Simple Folded Corners ruler, and I do use it when I am going to be making a lot of stitch-and-flip or snowball corners. It's not necessarily faster than using my seam tape, but I do get pristine folded corners with this ruler.
Ready to see our Southern Star blocks?
Tammy is using prints from various Betsy Chutchian collections for her blocks.
Lissa is using Nantucket by Camille Roskelley for her blocks.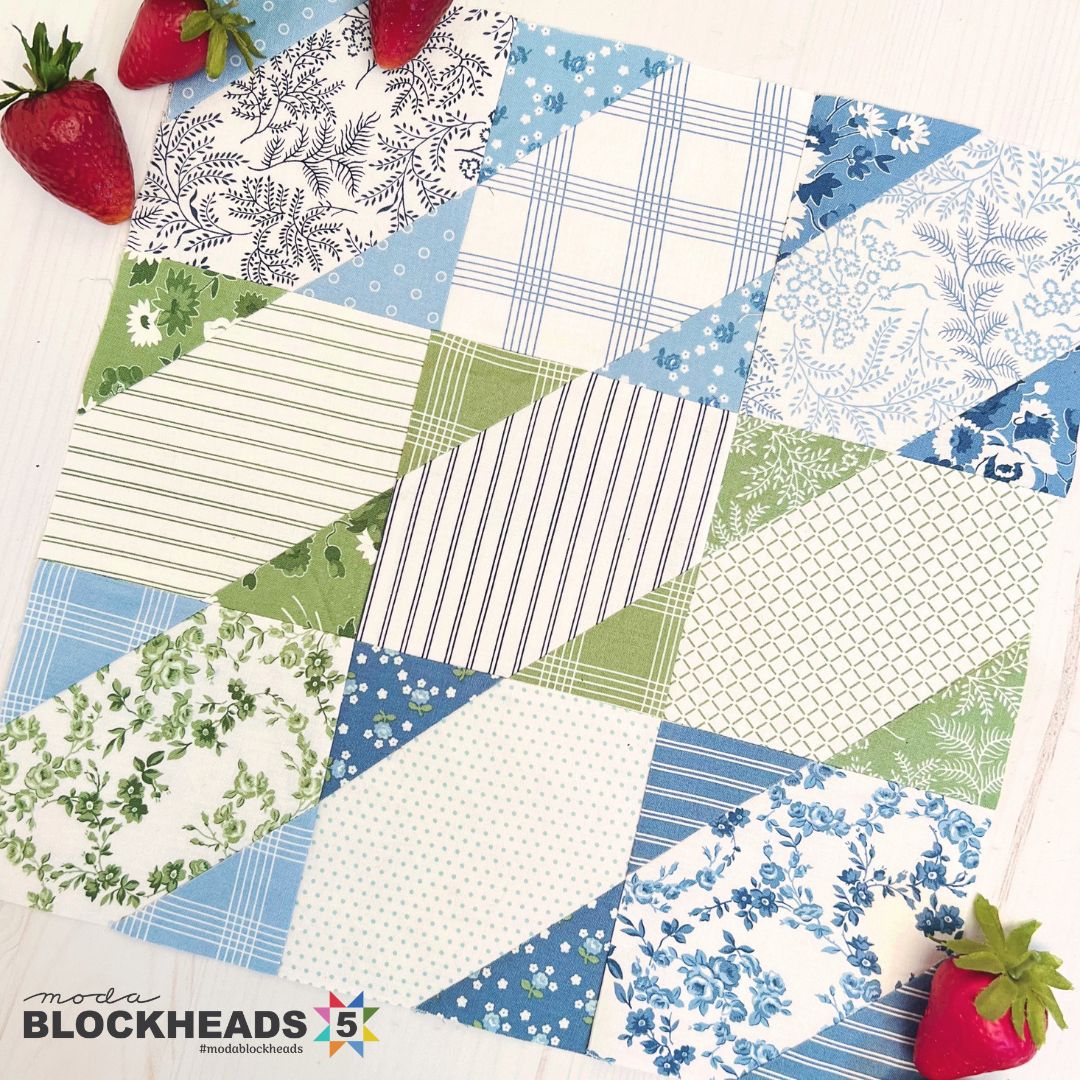 And I am using a scrappy "Cottage Christmas" fabric pull featuring prints from 3 Sisters, Brenda Riddle, Bunny Hill, Fig Tree & Co., and more.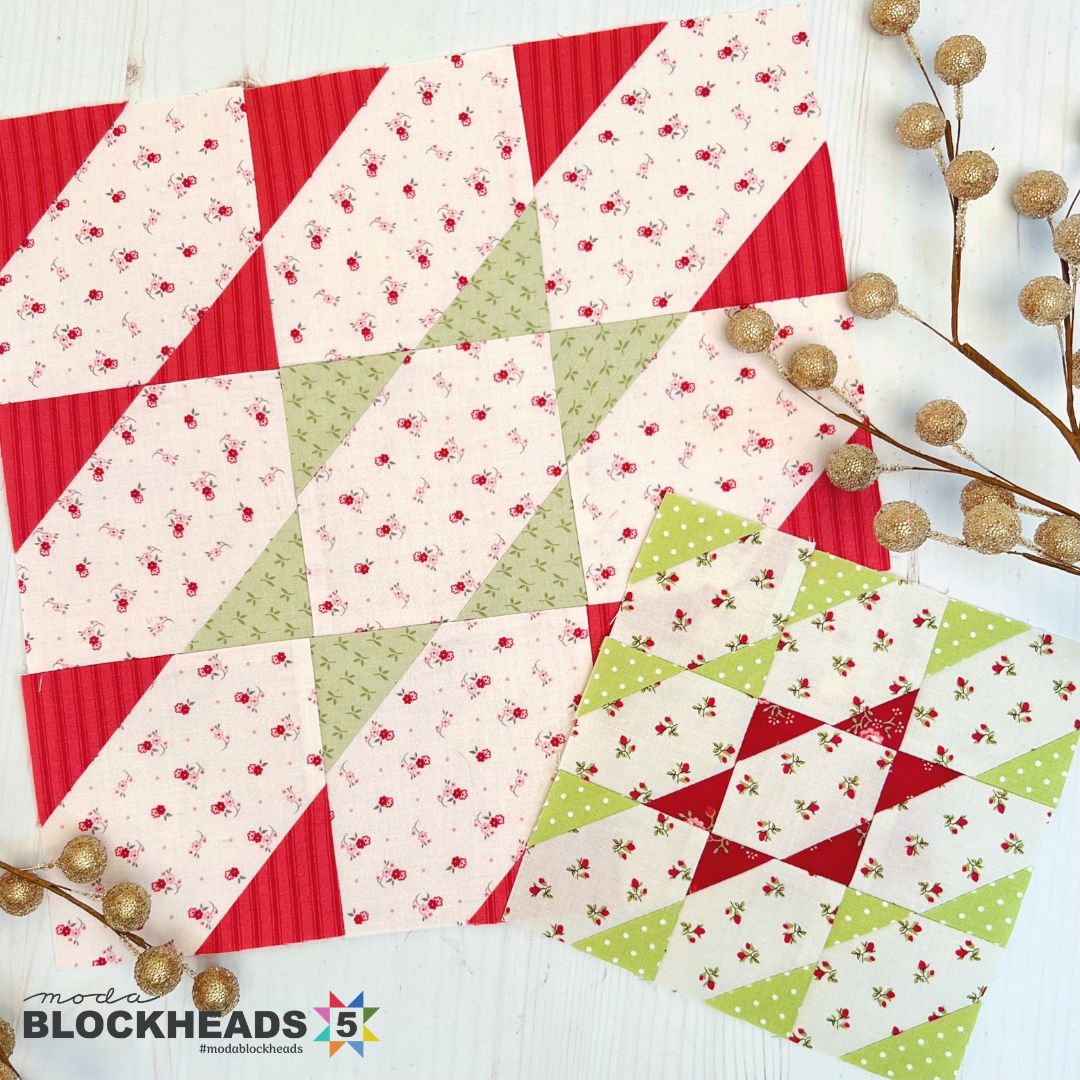 Now…off you go to press, cut, and sew! And don't forget to share your blocks with us in our Facebook group or on Instagram (#modablockheads5)!