BH5 – Block 7 – Sherri McConnell
BH5 – Block 7 – Sherri McConnell
Happy Blockheads Wednesday! And for us here at Moda, it's Quilt Market Eve! We're all heading to Houston tomorrow to get set up for the Fall Quilt Market – more about that in a bit.
Sherri McConnell of A Quilting Life is this week's featured Blockheads designer! Sherri and her daughter Chelsi design colorful, cheerful fabric collections with a fresh feel. Sherri has been designing quilt patterns for many years and has authored several quilting books as well! And if you're into podcasts, you'll definitely want to check out Sherri & Chelsi's weekly podcast, in which they talk about all things quilting and the occasional home- and lifestyle-topic as well.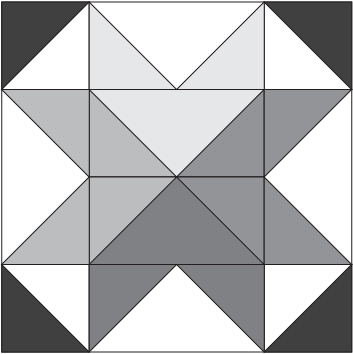 You can find this week's pattern here: BH5 – Group 1, Block 7 – Summer Star by Sherri McConnell
Follow along with Sherri!
Instagram: @aquiltinglife 
https://www.aquiltinglife.com/blog/
If you're new to Blockheads, here are a couple of quick things to know:
This is a free quilt-along. No sign-ups are required. Just download the pattern and you're ready to sew!

The PDF patterns will be posted on the Moda blog and in the official Facebook group every Wednesday by 8:00 AM CDT.

You can also bookmark this page: Blockheads 5 main page to find a convenient list of all the patterns as they are released.
If you'd like to sign up for our blog newsletter to get blog posts delivered to your inbox, you can sign up here: Blog Newsletter Sign-Up
If you want to sew along with a virtual Blockheads community, head over to Facebook and join our official Moda Blockheads Facebook group. Our group is an active and vibrant community of 69,000 quilters and counting! It's a great place to be inspired and share pictures of your Blockheads progress.

If Instagram is where you prefer to hang out, be sure to follow us (@modafabrics) and the hashtags #modablockheads and #modablockheads5 to see the latest blocks from our designers and other Blockheads.

Be sure to get your official Blockheads t-shirts, sweatshirts, tote bags, water bottles, and more from our pop-up shop HERE.
(Looking for a little more information about Blockheads? You can check out the Blockheads 5 archive HERE.)
Be sure to head over to Sherri's blog as soon as you've downloaded the pattern! Sherri is sharing her tips and tricks for fabric placement and construction options for Summer Star. She has so much great information in her post – you don't want to miss out on that! You can find Sherri's blog here: A Quilting Life 
We're back to flying geese and HSTs for this week's block! My big tip for the week is a pretty simple one…just make sure to lay out your pieces for all your flying geese before sewing them all together, and maybe snap a pic for reference – especially if you are going to step away for a bit between cutting your pieces and sewing everything together. It's easy to forget which fabrics go where with those center flying geese, since you'll use a total of four different fabrics to make them. (For reference, I'm talking about the H/J/K and I/J/K flying geese units in Step 3 of this week's pattern.
Overall, Sherri's Summer Star block was a fun make and just the right kind of pleasant distraction from the flurry of Quilt Market prep here at Moda HQ! Be sure to watch the Moda Fabrics Instagram and Facebook feeds starting tomorrow for some behind-the-scenes action as we get set up for the show. Quilt Market officially kicks off on Saturday morning, and we'll be sharing plenty of eye candy from our designers' booths all weekend long!
OK, ready to see our Summer Star blocks?
Tammy is using prints from various Betsy Chutchian collections for her blocks.
Alison is using fun Christmas prints and Moda Basics for her 12" blocks.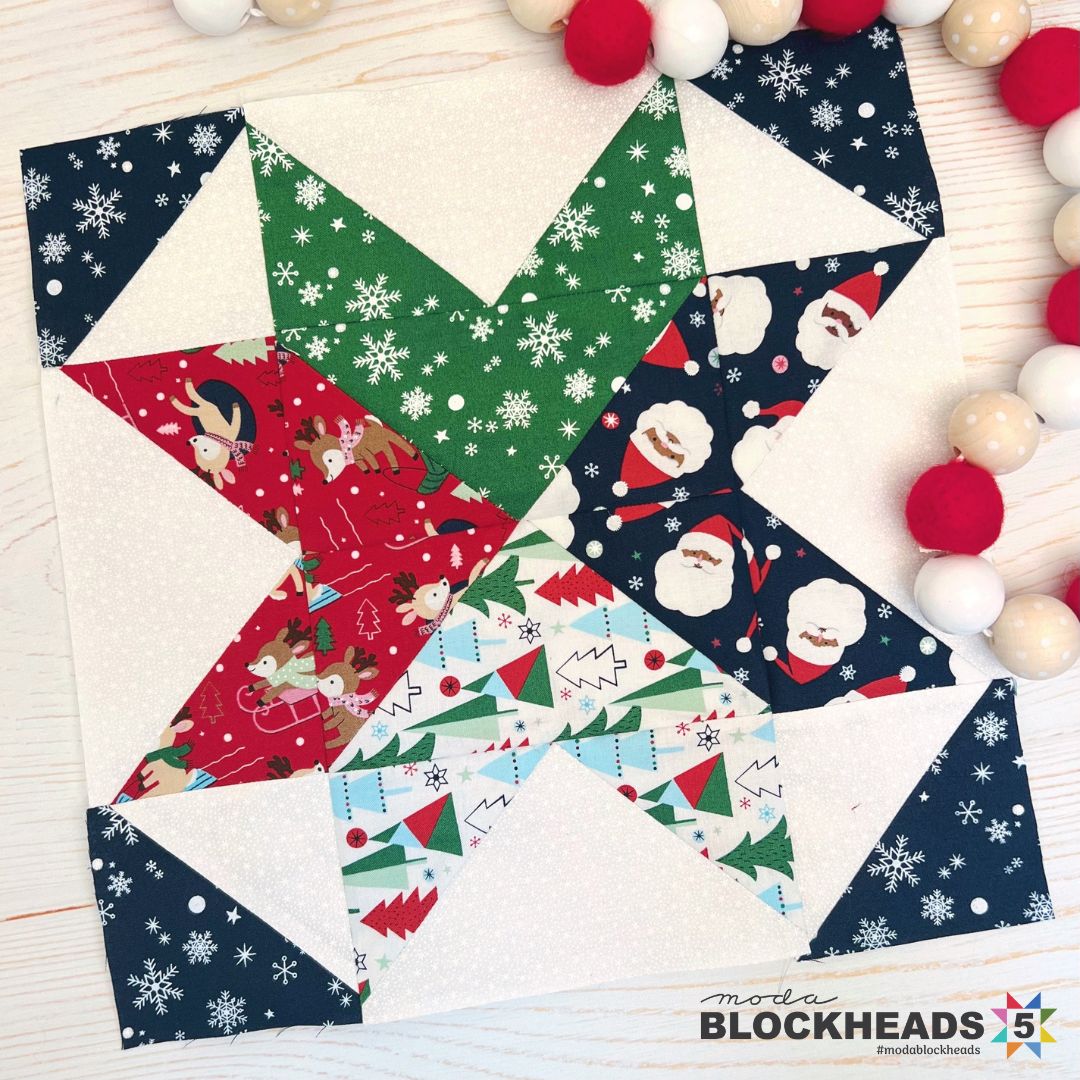 Lissa is using Nantucket by Camille Roskelley for her blocks. She used the 6" finished block as the center unit for her 12" finished block!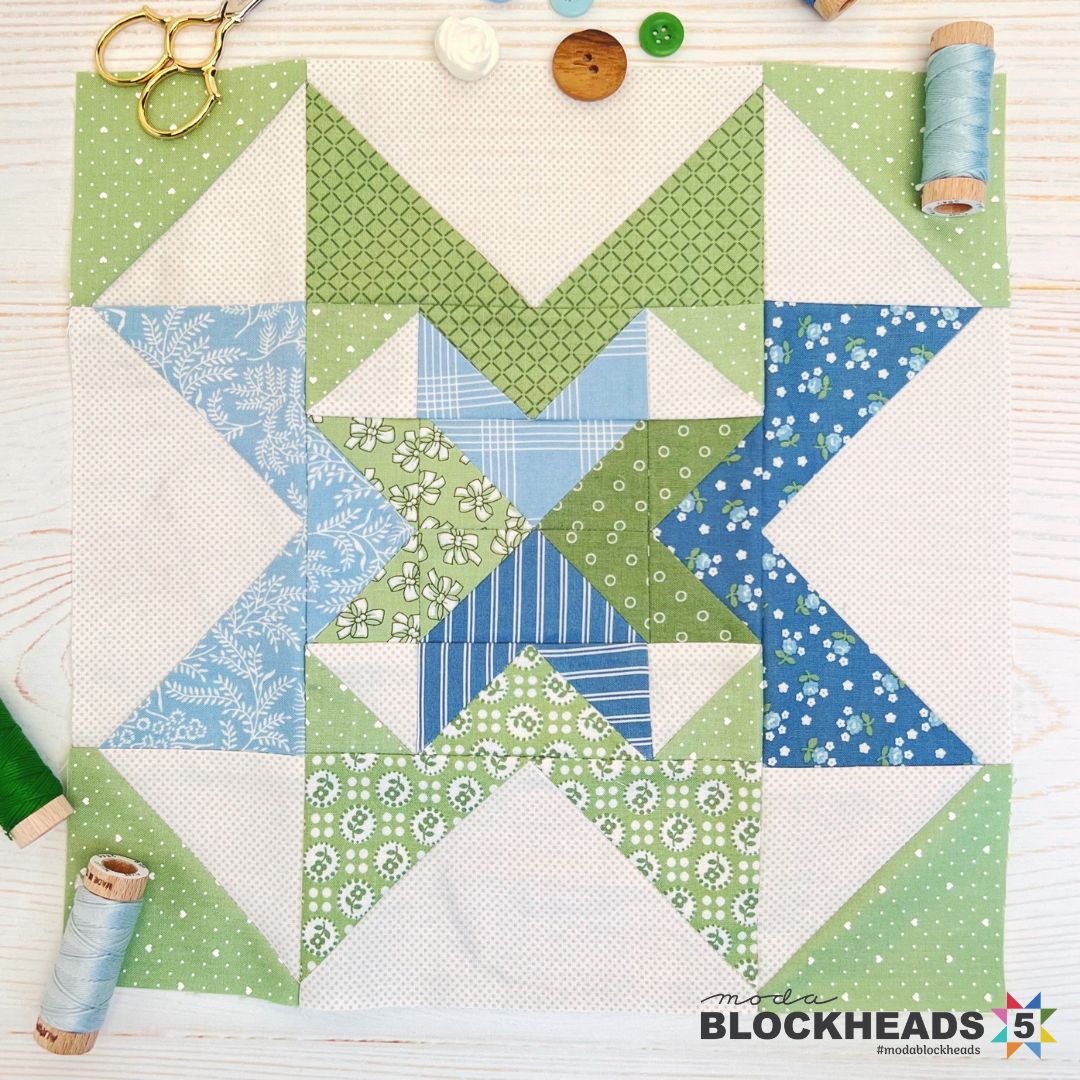 And I am using a scrappy "Cottage Christmas" fabric pull featuring prints from 3 Sisters, Brenda Riddle, Bunny Hill, Fig Tree & Co., and more.
Now…off you go to press, cut, and sew! And don't forget to share your blocks with us in our Facebook group or on Instagram (#modablockheads5)!