BH5 – Block 8 – Robin Pickens
BH5 – Block 8 – Robin Pickens
Hello, Blockheads! And just like that, Quilt Market is over! The Moda team had a blast in Houston, but now it's time to pick up where we left off…which means it's time for this week's Blockheads block.
Robin Pickens is this week's featured Blockheads designer! Robin designs beautifully vibrant fabrics with hand-drawn florals and botanicals, geometric prints, and awesome blenders – like her Thatched prints, a textured tonal that she features in new colors with every collection. Her block this week is called Community Star and is a really fun, original design to piece!
You can find this week's pattern here: BH5 – Group 1, Block 8 – Community Star by Robin Pickens
Follow along with Robin!
Instagram: @robinpickens 
https://www.robinpickens.com/
If you're new to Blockheads, here are a couple of quick things to know:
This is a free quilt-along. No sign-ups are required. Just download the pattern and you're ready to sew!

The PDF patterns will be posted on the Moda blog and in the official Facebook group every Wednesday by 8:00 AM CDT.

You can also bookmark this page: Blockheads 5 main page to find a convenient list of all the patterns as they are released.
If you'd like to sign up for our blog newsletter to get blog posts delivered to your inbox, you can sign up here: Blog Newsletter Sign-Up
If you want to sew along with a virtual Blockheads community, head over to Facebook and join our official Moda Blockheads Facebook group. Our group is an active and vibrant community of 69,000 quilters and counting! It's a great place to be inspired and share pictures of your Blockheads progress.

If Instagram is where you prefer to hang out, be sure to follow us (@modafabrics) and the hashtags #modablockheads and #modablockheads5 to see the latest blocks from our designers and other Blockheads.

Be sure to get your official Blockheads t-shirts, sweatshirts, tote bags, water bottles, and more from our pop-up shop HERE.
(Looking for a little more information about Blockheads? You can check out the Blockheads 5 archive HERE.)
Be sure to head over to Robin's blog as soon as you've downloaded the pattern! Robin is sharing her tips and tricks for fabric placement and color options for Community Star. She has so much great information in her post – you don't want to miss out on that! You can find Robin's blog here: Robin Pickens blog
I love Robin's weekly Blockheads color studies, so I can't wait to see what she shows us for her block this week!
When I reached out to the Moda designers for this round of Blockheads, Robin sent in several really fun designs for us to choose from – but I knew right away that Community Star would be the winner! I really loved the inspiration behind this block, and it just looked like a fun and challenging block to add to our Blockheads 5 collection.
One of the perks of running Blockheads is that I got to make my blocks in whatever order I wanted to make them, and the 6" version of Community Star was the very first block I made! There are definitely some small pieces in this one, so my best advice is to take your time, maybe reduce your stitch length just a smidge, and be sure to keep using that scant 1/4" seam.
I've included a picture of the back of my 6" block so you can see how I pressed my seams on my Community Star blocks.
Also pay close attention to the layout of your pieces as you assemble the corner units in steps 2 and 3 and as you assemble the entire block in step 6! Ask me how I know! J
OK, ready to see our Community Star blocks? We're a little light on block pictures this week because of Quilt Market, but watch for more of the Moda team's blocks on Instagram and Facebook!
Tammy is using prints from various Betsy Chutchian collections for her blocks.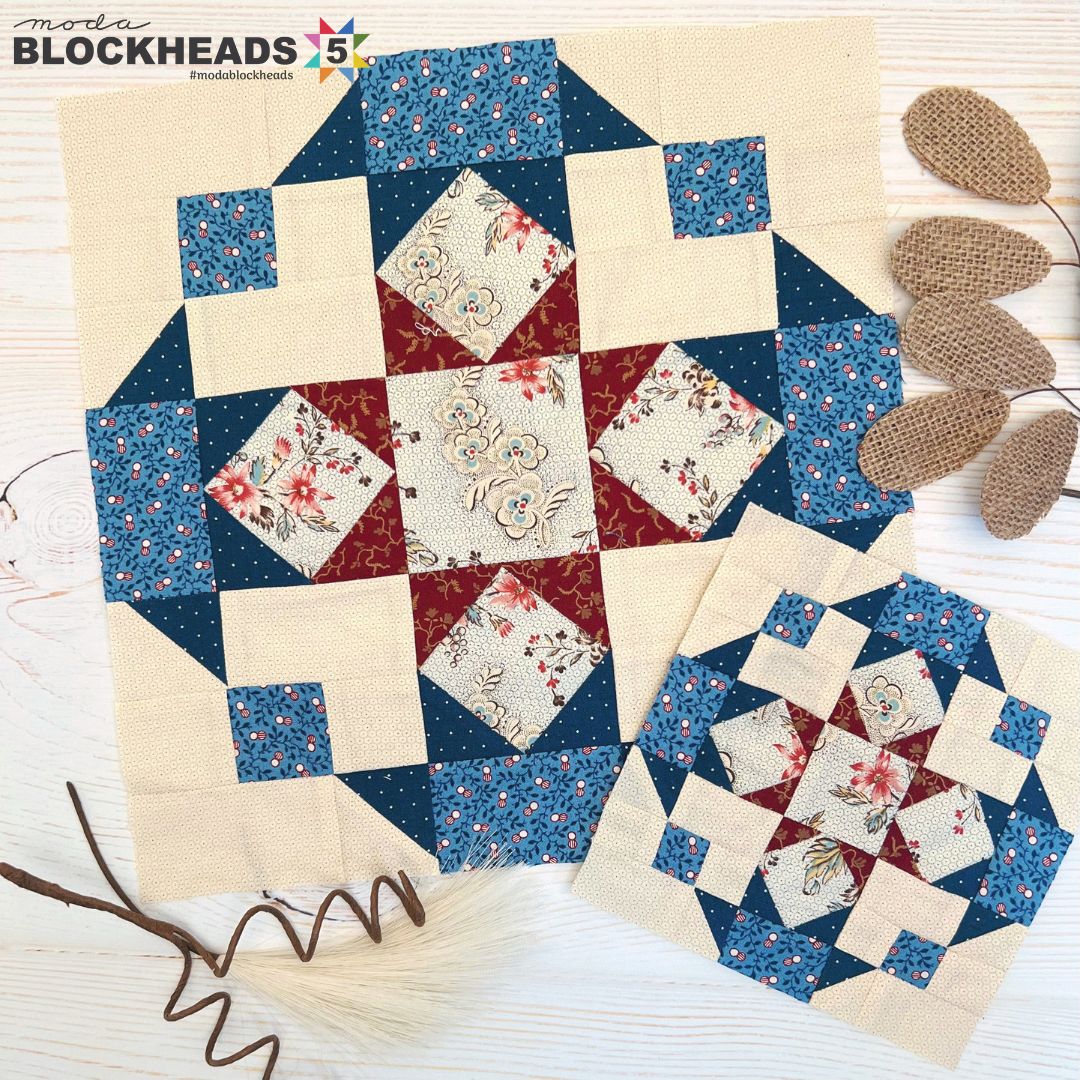 And I am using a scrappy "Cottage Christmas" fabric pull featuring prints from 3 Sisters, Brenda Riddle, Bunny Hill, Fig Tree & Co., and more.
Now…off you go to press, cut, and sew! And don't forget to share your blocks with us in our Facebook group or on Instagram (#modablockheads5)!