BH5 – Group 1 Settings
Hey, Blockheads! We've wrapped up the first round of blocks for this Blockheads 5 series…so now what? Time to put those blocks together into a larger project!
If you're new to Blockheads, here are a couple of quick things to know:
This is a free quilt-along. No sign-ups are required. Just download the pattern and you're ready to sew!

The PDF patterns will be posted on the Moda blog and in the official Facebook group every Wednesday by 8:00 AM CDT.

You can also bookmark this page: Blockheads 5 main page to find a convenient list of all the patterns as they are released.
If you'd like to sign up for our blog newsletter to get blog posts delivered to your inbox, you can sign up here: Blog Newsletter Sign-Up
If you want to sew along with a virtual Blockheads community, head over to Facebook and join our official Moda Blockheads Facebook group. Our group is an active and vibrant community of 69,000 quilters and counting! It's a great place to be inspired and share pictures of your Blockheads progress.

If Instagram is where you prefer to hang out, be sure to follow us (@modafabrics) and the hashtags #modablockheads and #modablockheads5 to see the latest blocks from our designers and other Blockheads.

Be sure to get your official Blockheads t-shirts, sweatshirts, tote bags, water bottles, and more from our pop-up shop HERE.
(Looking for a little more information about Blockheads? You can check out the Blockheads 5 archive HERE.)
I've got three setting options to share with you all today. You can find this first Blockheads group's setting options here:
BH5 – Group 1 setting – Simple Lap Quilt
BH5 – Group 1 setting – Blocky Bench Pillow
BH5 – Group 1 setting – Festive Blockheads Bunting
And in case you missed it, Jenelle Kent put together a darling table runner setting. You can find all the details and the pattern on her blog here: Pieces to Treasure Blockheads 5 table runner layout
I will continue to update the Blockheads 5 Archive page with links to designer settings as they are revealed.
The first setting option is a very simple lap quilt. We have a lot of beginning quilters in our group, so I wanted to provide a simple, straightforward lap quilt setting. If this is your very first quilt and you want something that is beginner-friendly, or you want a smaller-sized quilt in a hurry – this setting is for you. It features sashed blocks with square-in-a-square sashing posts for a little visual interest.
If you made your Group 1 blocks in both the 6" and 12" finished sizes, you could use just the 12" blocks for your lap quilt and save the 6" blocks for the bunting!
The second setting is a great option if you think you'd like to save most of your blocks for the second group, but you'd like to make a little something now! It uses two 12" blocks and two 6" blocks for an oversized bench pillow that makes a statement.
I've included instructions for adding a zipper closure to the pillow cover – don't be afraid to give it a try!
And finally, my favorite setting option – a cute and festive bunting (also known as a garland). I definitely recommend a couple of notions to help make constructing this one a little quicker. The first is Jen Kingwell's 10" Bunting Tool. It makes cutting the pennant triangles a breeze – no folding or lining up a ruler. (But don't worry – in the pattern, I'll show you how to cut the triangles without the Bunting Tool.) The second must-have notion for making the bunting option is a Clover Bias Tape Maker. It will save you so much time – and it will save your fingertips from getting burned while trying to fold and steam the fabric strips into submission!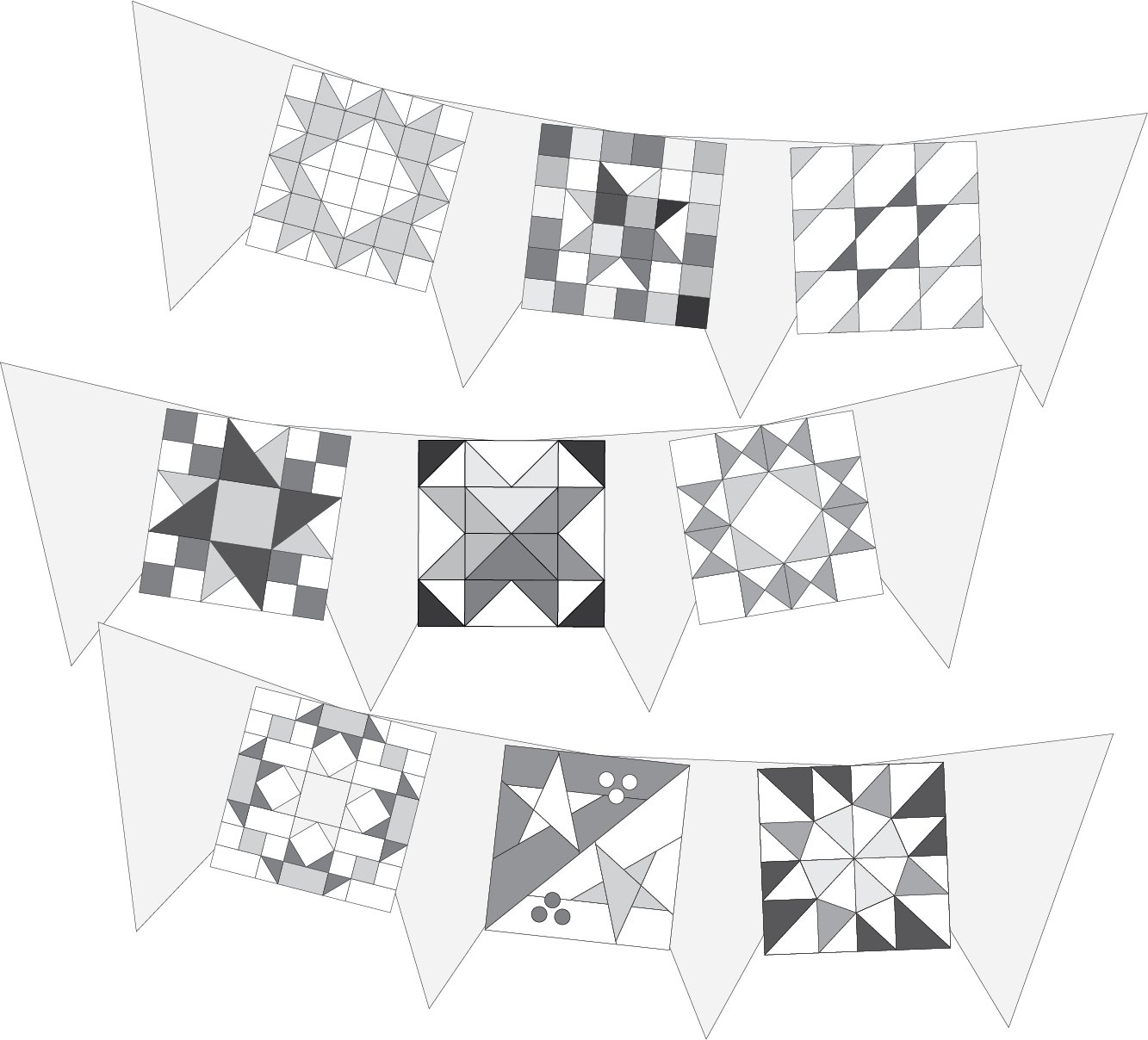 I just want to say how inspired I have been by the gorgeous settings I have seen on the Facebook group! I love that so many of you have found unique ways to put your Blockheads blocks into quilts, table runners, tree skirts, and buntings of your own! Great work, everyone!
Whether you opt for one of these setting or dream up one of your own, I sure hope that you have enjoyed sewing this first group of Blockheads 5!
Remember, we'll back with the next group of Blockheads 5 on January 3, 2024. In the meantime, be sure to check out our Facebook group for tons of inspiration. We'll also be posting the Moda team's finished projects there as we finish them.
Now…off you go to press, cut, and sew! And don't forget to share your blocks with us in our Facebook group or on Instagram (#modablockheads5)!