Covering the World - Barbara Groves
Covering the World - Barbara Groves
This is Frenzy, and it was made to share from the very start.  
It is one of my favorites!  Mary and I have made many quilts over the years that were especially made to be shared.  So when I heard about this wonderful event created by Karen Johnson at AccuQuilt, and Lissa Alexander of Moda, we wanted to participate.  We love giving back to our community, and we appreciate that Baby Lock, AccuQuilt and Moda feel the same way. 
That was the easy part.  Picking a quilt to donate took some thinking because I knew I wanted it to fit some special parameters.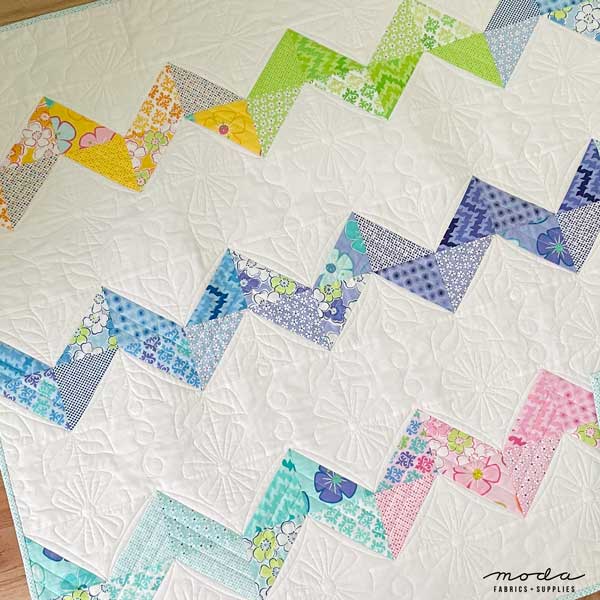 It couldn't be too large because it would be used by a child.
It also had to be small enough that it would fit on a lap in a wheelchair.
But also big enough to provide a generous cuddle in bed.
Any guesses as to where I will be donating this quilt?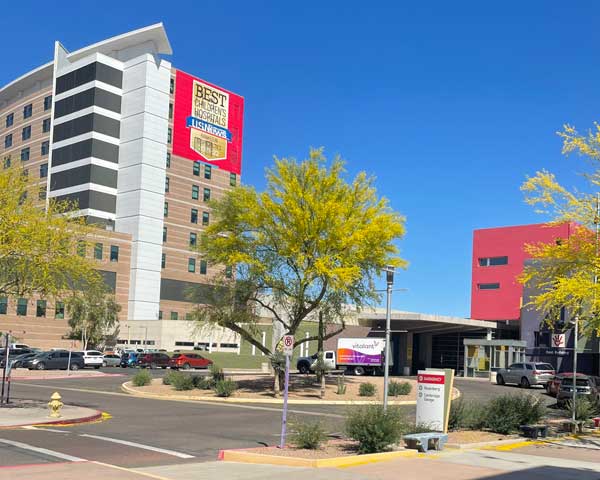 For most of my adult life, I worked in the health-care field as an X-ray Technician.  My last real job was at 
Phoenix Children's Hospital
, and it quickly became one of my favorite charities.  (After all these years, it still is.)
I'm especially fond of the Ronald McDonald House on the PCH campus.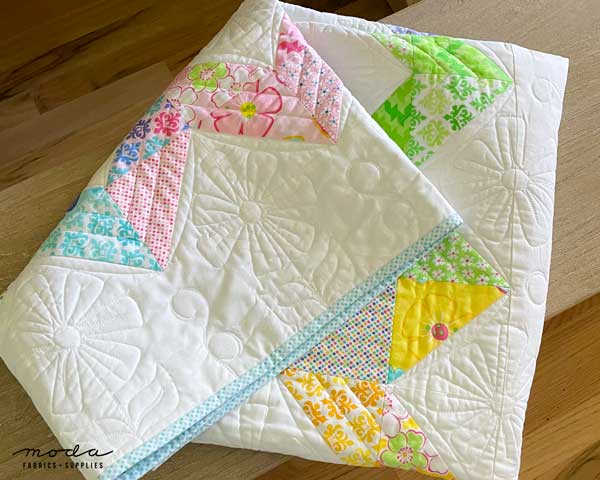 Over the years, I've made and donated many pillowcases to Ronald McDonald House, but I've never donated a quilt.  So this was my chance to go bigger!  I knew from the pillowcases that Me & My Sister fabrics were loved because of the bright colors and happy prints.
I love the size, the bright happy colors and even the quilting design is happy.  (The machine-quilting was done by Sharon Elsberry.)
Frenzy fit my parameters because it is 44½" x 44½" finished size - the perfect size for young kids.  It's made with charm squares, and fabric for background, binding and backing.  (Charm square = 5" x 5" pre-cut squares.) 
This quilt was made with one of our older collections, Giggles.   While it is no longer available, just about any of our recent collections would substitute nicely.  Too Cute to Spook for a Halloween quilt?  
There is a new collection, Picnic POP!, that will be arriving in shops in September 2022 that would work perfectly.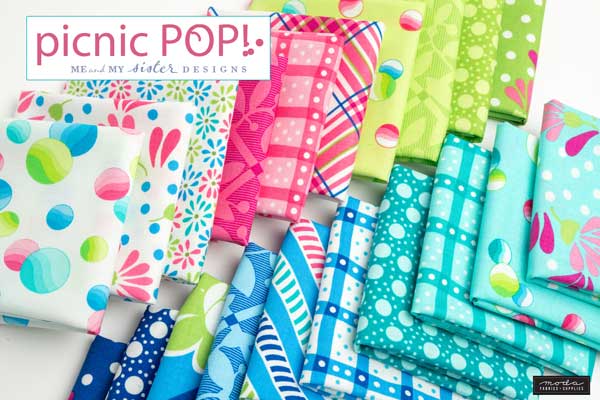 Frenzy is a free download on the Me & My Sister Designs website - Me & My Sister Designs Frenzy Quilt Pattern
So now you know why this quilt was made to share. 
I hope that this quilt brings a smile, and a cuddle, to a family at Ronald McDonald House in Phoenix.
Thank you again to AccuQuilt, Baby Lock, and Moda Fabrics for including me in this fantastic event.  
With all the great work done at RMH, I also made two Love Bugs to donate.  (If you don't know about Moda's wonderful partnership with Creativity Shell to benefit children, you can read about it here - Creativity Shell & Love Bugs.)
-----------------------------------------
Keep up with me here:
-----------------------------------------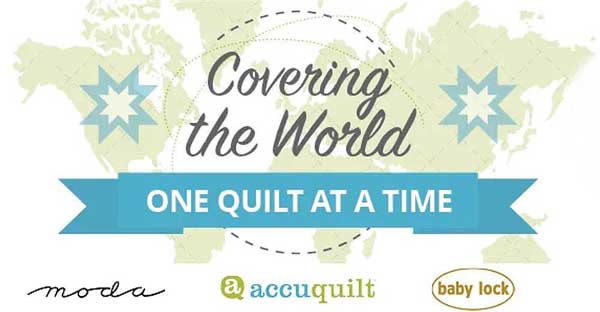 Be sure to join the Facebook Group - Covering The World - to see more donation stories, and ideas for where to donate.  And if you share a donation on social media, please tag it with - #quilttheworld2022.  
If you would like more information about this campaign - Covering The World 2022.