Family Reunion QAL- Sashing
Family Reunion QAL- Sashing
Hello, all my Granny Square/ Family Reunion QAL'er's.
 If you are just joining us, we are doing a weekly QAL ( Quilt-a-long) from the Moda Bake Shop book, Rolling ALong, Stock # B1597.
We are on week 3. You can find the earlier posts here. 
 I am Christine Weld, and we are making my Family Reunion quilt from the book. Join other Moda Bake Shop chefs and me as we share sections and tips.
This week we're focused on the sashing. This quilt has a lot of sashing. There's sashing between the rounds, as well as between the blocks within the rounds. Sashing maybe isn't the most exciting of topics, but it's an important one for this quilt. 
The sashing serves two purposes. The first purpose is visual—it allows the blocks a little breathing room in the quilt. If the blocks were right next to each other, the quilt would feel a lot more crowded. 
The second purpose is functional. Because granny squares are constructed on point, and we each can have a slightly different interpretation of a quarter inch, it's not uncommon for our blocks to finish at slightly different sizes. The sashing allows us to account for these differences and end up with the same measurements at the end of each round. Adjust your sashing accordingly if you're a bit small or a bit large. 
 With this in mind, measure often. Measure after your first block, and try to get as close to the actual measurement as possible. The sashing is not meant to be permitted to be careless and imprecise but rather an acknowledgment that we're human, and quilting is a craft, not a robotic endeavor. 
I also recommend cutting your sashing strips as you go rather than all at once in the beginning. This way, you'll know if you need to be a bit generous in your cuts.
You will fit your blocks to the sashing strips. Sashing is all the same size and will ease any variance in your block sizes. If you are sewing on a standard machine, the bottom feed dog feeds your fabric faster than the presser foot. Anytime you have a bigger block or section, place it on the bottom when piecing it together.
I just love how these American Jane fabrics are coming together.
Take some time this week to work on the sashing in the quilt, and also maybe catch up if you need to make a few more granny squares!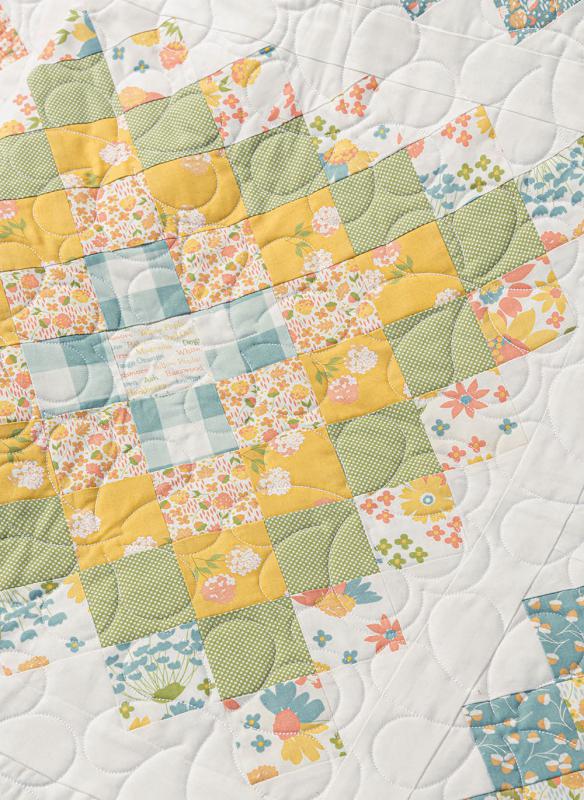 (photo compliments of Martingale Publishing)
Please share your work! We love to see what other quilters are working on! You can share on Instagram using the hashtags #familyreunionqal and #modabakeshop. We also have a group on Facebook for all your Bake Shop projects, Moda Bake Shop Bakers. It's a great place to connect with quilters, share projects, and get tips and feedback!
- Christine Weld
 Follow me on Instagram at - @christine.weld