February
I don't know what the weather is like where you are, but February is usually a good month for staying in.
As you're reading this, we could be having a "snow day" in Dallas.  A winter storm is expected to arrive Wednesday night.  Snow was originally forecast, but now it looks like it might be snow, or sleet, or both.  
So it's a good weekend to stay home, snuggle up, make some soup, read a book, and sew.  Sewing is definitely in the forecast.
Books?  I'm always a little late to catch on to a great book series, so you probably already know about Inspector Gamache.
I have read or listened to five of the books, and have several more in the queue.  As I've shared before, I love listening to audio books while I sew.  While I am still reading the Ruth Galloway series by Elly Griffiths, Armand, Jean-Guy, Reine-Marie and the Sûreté de Québec have captured my attention for the time-being.
Valentine's Day is coming and Moda Michelle has shared a LOVE-ly Valentine Postcard idea. We might have made a few of these in the office.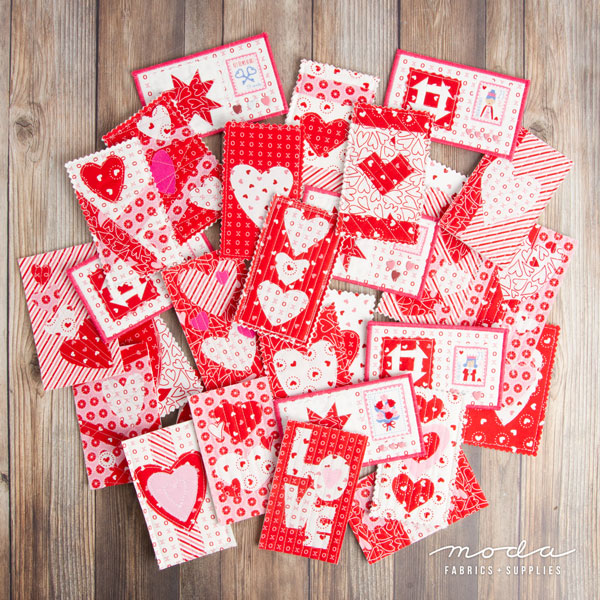 This is a Free Pattern - LOVE-ly Fabric Valentines.  LOVE-ly?  Because many of these were made with Stacy Iest Hsu's Holiday Essentials LOVE collection.
I think you know by now that we enjoy checking the calendars for "silly holidays" because many provide an excellent opportunity to indulge - National Taco Day. (October 4.)  National Mac and Cheese Day. (July 14.)  National Chocolate Day! (July 7.)
February has two that stood out - National Cream Cheese Brownie Day.  Who knew?
Swirled Cream Cheese Brownies by Jen at Baked by an Introvert.  Don't these look good?  I haven't made them yet, but I've added the ingredients to my grocery list.
There is also a National Tortellini Day - Sunday, February 13.  Super Bowl Sunday!  As soon as I can decide which of these two soups I want to make again, I'll get these ingredients too.  (I've made both, and they're excellent.)    
Tortellini Soup with Italian Sausage and Kale by Natalie and Holly of The Modern Proper.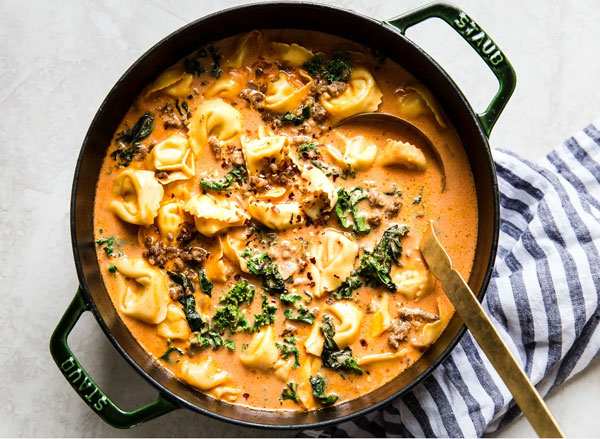 When I made this recipe, I used turkey sausage and half-and-half instead of the cream.  I also used spinach instead of kale because... well, kale.  (I'm not a fan.)
I've also made this Healthier Slow Cooker Creamy Tortellini Vegetable Soup from Tieghan Gerard at Half-Baked Harvest.  (You already know there are several HBH fans in the office.)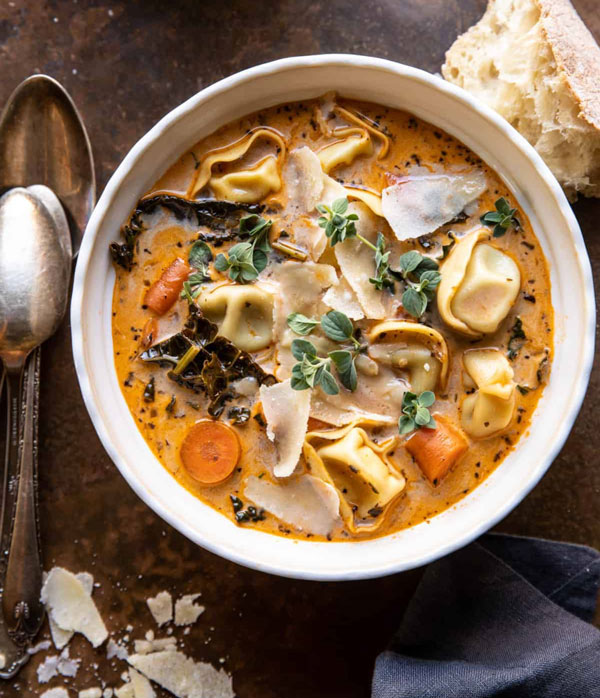 I really liked the additional vegetables and spices in this soup, and yes, I substituted spinach and half-and-half for the kale and heavy cream.
As for the days this month for gumdrops, chocolate mints, sticky buns and tortilla chips... you're on your own.
Super Bowl Sunday - we're doing an impromptu quilt-along using the Bullseye Quilt pattern designed by Kimberly Kight for Ruby Star Society.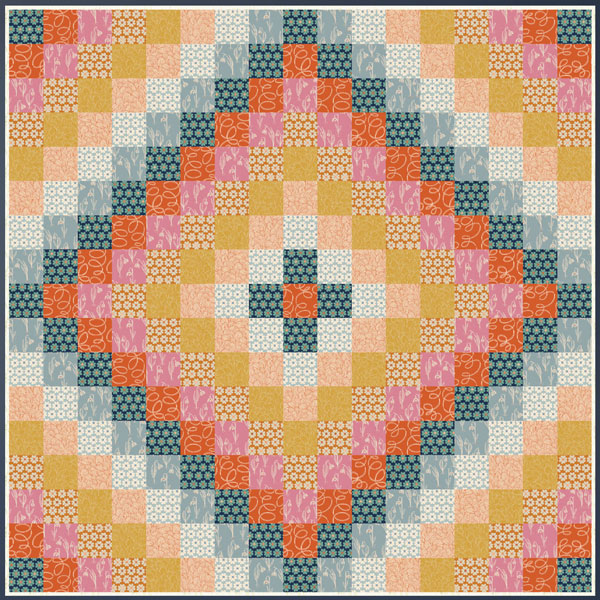 We love the simplicity of the Trip Around the World design, and that this is do-able in a weekend.  It uses eight fabrics, the squares finish at 4" finished, and the quilt is 68" x 68".  We'll be sharing some of the in-office fabric pulls on Moda's social media next week.  
This is a Free Pattern - Ruby Star Society Bullseye Quilt.
There are a few other quilt-alongs starting this month, starting with Brigitte Heitland's Bauhaus quilt made with Spotted and Modern Backgrounds Even More Paper.
Here's what you need to know about this quilt and quilt-along:
Quilt-along starts on Wednesday, February 9.
The pattern is required, it is Bauhaus by Zen Chic - ZC BHQP.  It is available now.
There is a Moda Kit for this quilt - KIT 1762, and it is in shops now.
Brigitte has shared a few other color options on her Instagram - @zenchicmoda.  This post in particular - Bauhaus Options.
The quilt-along will be hosted on her blog - https://www.brigitteheitland.de/bauhaus-qal
If you're making this quilt, be sure to post and follow the hashtag - #bauhausqa.
Janet Clare has a Mystery Block of the Month she's calling Abracadabra.  She's using her in-shops-now collection, Astra.
Janet shared the origin of the name - 'Abracadabra' is a powerful word with a long history. I'm ignoring the magic show side of things entirely (I'm not a fan), and focusing on the original source from the second century AD where the word was inscribed as a triangle on an amulet to be worn to make evil diseases go away. Exactly what we need! My quilt label will definitely feature a hand embroidered triangular 'Abracadabra'.
And the necessary details:
Quilt-along starts next week.
Each month's new block is free, and is sent in Janet's month newsletter.  The final setting will be shared in December.  Sign up for the e-mail here - Janet Clare E-mail Newsletter.
The finished quilt measures 64" x 64" and it combines simple traditional piecing and a few foundation-pieced blocks.
There is a Facebook Group - Janet Clare Quilt-Along Group
Relevant hashtags are - #ShareYourJanetClare #JanetClareQuiltAlong #JanetClare
And if you're in need of a Beautiful Day... Corey Yoder's Beautiful Day Mystery Block of the Month starts Saturday, February 19th.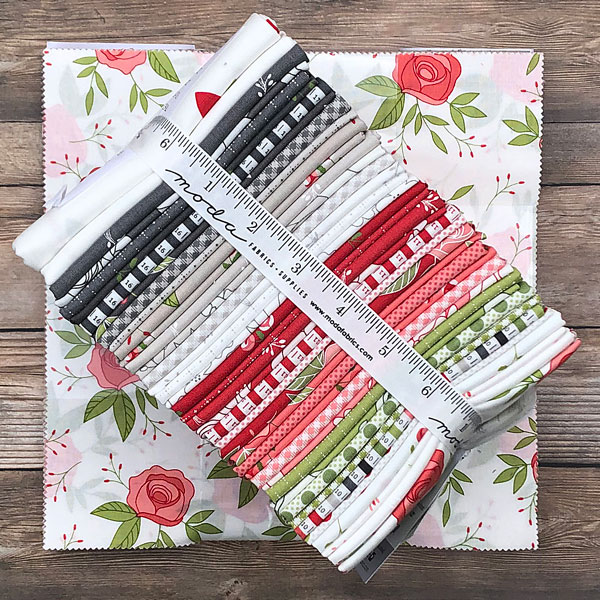 And the necessary details:
The fabric requirements for the quilt can be found here - Beautiful Day Mystery BOM Fabric Requirements
New blocks will be released on the 3rd Saturday of each month - February through July.  It is a six-month BOM.  
The patterns are free, and they will be released on Corey's blog - www.corianderquilts.com.
The hashtag to use and follow is #beautifuldaymysterybom.
That will keep us busy for the next month or so.
Maybe I should look up recipes for National Chili Day (February 27), National Banana Bread Day (February 23), and National Cherry Pie Day (February 20).  
After all, February is the Great American Pie Month.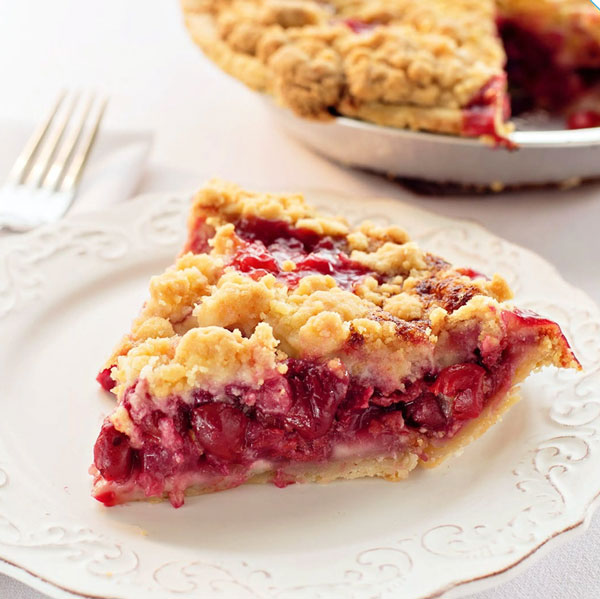 Maybe I should just order one... like this Cherry Crumb Pie from the Grand Traverse Pie Company.  
I hope your month is a good one.  With or without pie.  
Though I'm sure it will be better with it... just saying.