Get To Know - Cathe Holden
Get To Know - Cathe Holden
Cathe Holden is a creative industry designer of fabrics and craft products.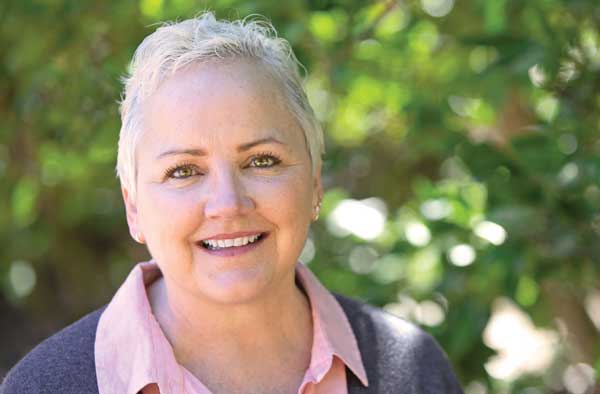 She has three grown children and lives in beautiful Northern California with her semi-retired firefigher husband, Jeff.  
That's Mary Lou, she was just a pup in this picture.
And Charlotte... because the Holdens have two sweet, wonderful dogs.
Cathe is an avid thrifter and collector of fun, vintage goods that inspire her colorful and unique designs.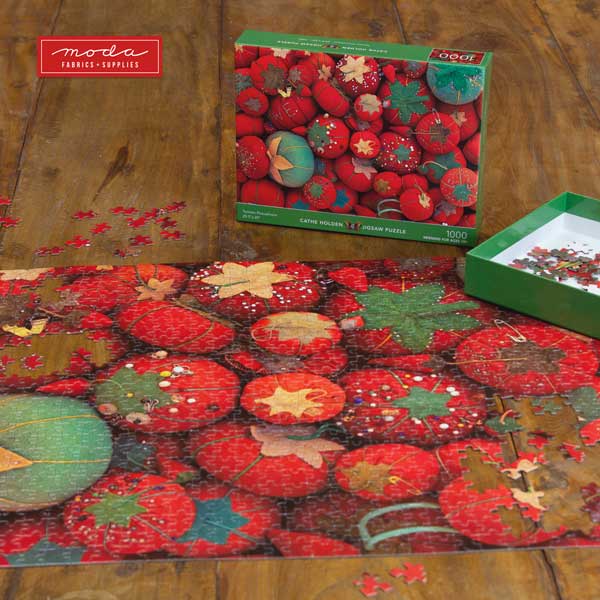 Cathe's epic vintage tomato pincushion collection has been turned into a puzzle for Moda - Tomato Pincushions Puzzle (Moda 1001 59).  This is a 1000 piece puzzle that finishes at 29.5" x 20".
Cathe teaches creative classes in her home-based workshop/studio, Inspired Barn, a crafter's wonderland that has been featured in several magazines including Country Living, Mollie Makes, Cloth Paper Scissors, and Where Women Create.
As a collector of vintage ephemera, Cathe creates mixed media assemblage art and collage using early graphics and advertising finds. She designed a line of vintage-style typographic and decorative stencils with iStencils.com.
Her love of textiles encouraged her to take her unique aesthetic to another level designing beautiful fabric for use in a multitude of sewing projects and "soft" mixed media and collage compositions.
Cathe has been a part of the Moda family since 2019 as a fabric, pattern and home and gift designer.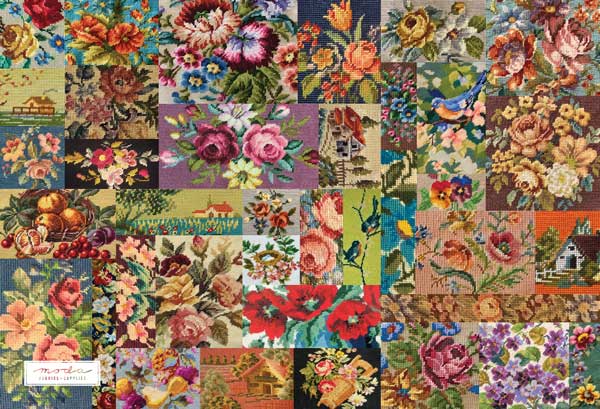 Needlepoint Collage Puzzle - 1000 piece puzzle that measures 29.5" x 20". Look for it at your favorite shop in June.  (Moda 1001 61).  This collage was a print in Flea Market Moxie.
What is your favorite color?
My favorite color is the chartreuse green of my studio wall.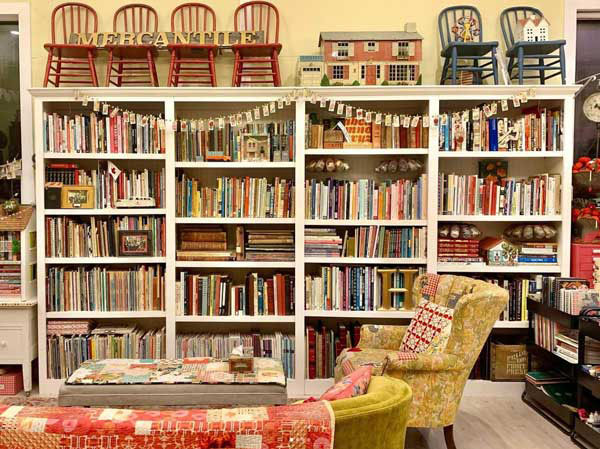 What is your favorite season and why?
My favorite season is sweater season.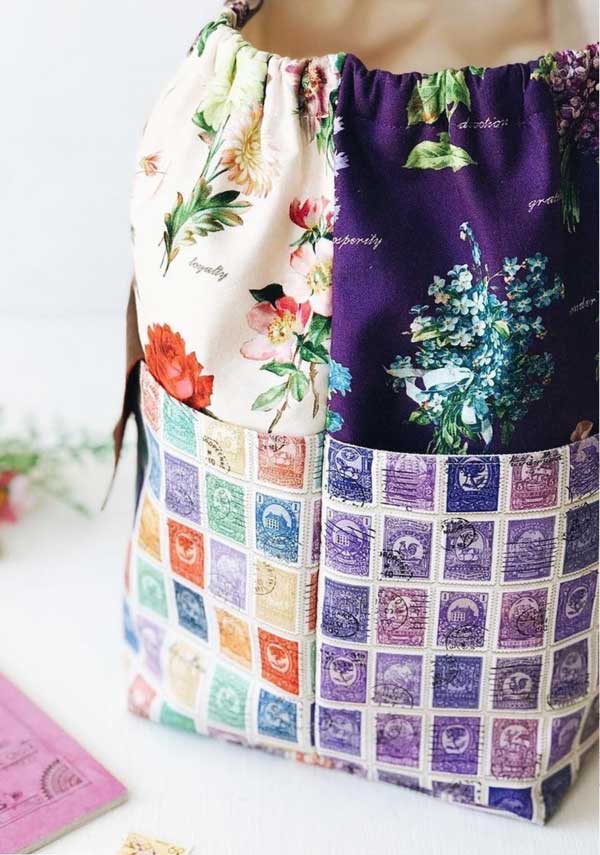 Flea Market Fresh Bag made by Karen of @CreamCraftGoods.
Are you a morning person or a night owl?
I am definitely more motivated and inspired in the morning.
When you were a kid, what did you want to be when you grew up?
When I was a kid I wanted to grow up to be an artist.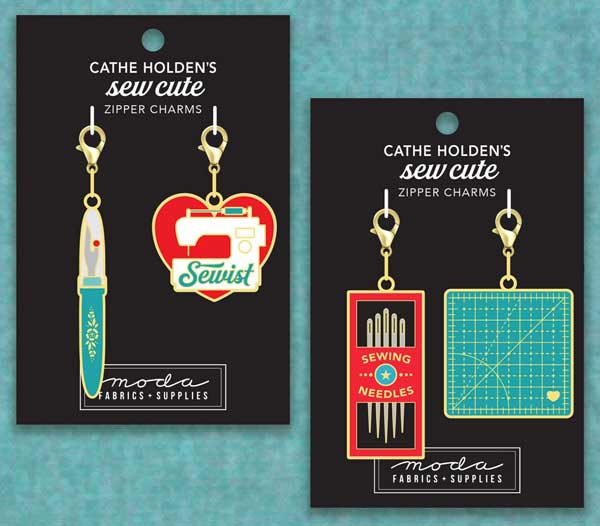 Cathe Holden's two newest Zipper Pull Sets - Needles and Cutting Mat (CH 107) and Seam Ripper and Sewist Heart (CH 108).
What inspires you daily?
My daily inspiration comes from my eclectic studio filled with vintage finds and a massive, creative resource library.
What is your favorite food?
My favorite food is pasta, more specifically Alfredo tortellini with peas and prosciutto.  (YUM!)
Cathe's third puzzle - Sewing Nook Collage.  (Moda 1001 61). This is also a 1000 piece puzzle that finishes at 29.5" x 20" - look for this puzzle in shops in June. 
Where was your best vacation?
It was a road trip through Montana with my husband.  The best company and beautiful scenery.
What is your favorite movie? Actress or Actor?
My favorite movie is Nacho Libre when watched with my kids. My favorite actress is Nicola Walker, and favorite actor is Idris Elba.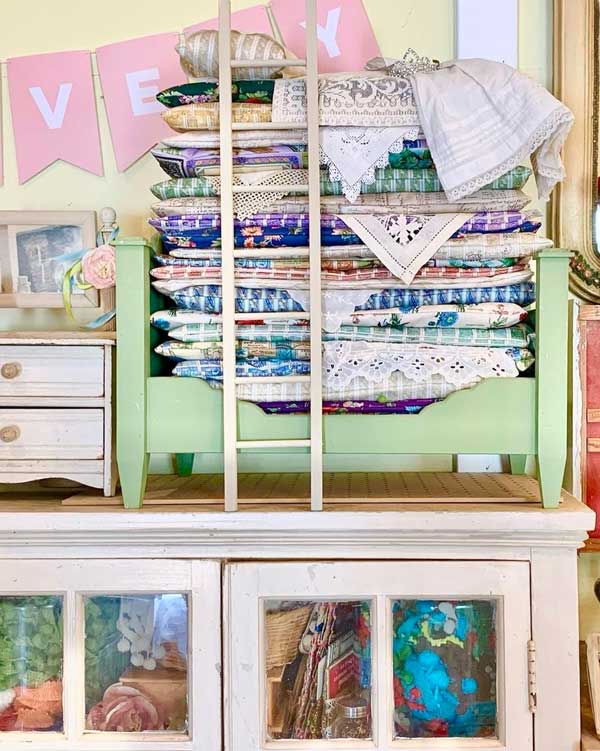 A thrift store doll bed was turned into a "Princess and the Pea" bed with a stack of mattresses made with each fabric in her Flea Market Fresh collection.
What are the words you live by?
Words I live by are Life is short. Take the Trip. Buy the shoes. Eat the cake.
Drawstring Bag made with Flea Market Fresh - made by Helen Phillips.
What are your top 5 must have notion items?
Only five?  Then I'll start with thread snips, pincushions, Wonder Clips, Wonder Under, and my bone turner.
To see Cathe's fabric collections, starting with the most recent:
---------------------------------------
For more with Cathe: