Get To Know ~ Joanna Figueroa
Get To Know ~ Joanna Figueroa
Since her first Moda collection in 2004, Joanna Figueroa has been one of the industry's most popular designers.  From her distinctive color palette to her vintage-inspired quilts, Fig Tree & Co. has created a unique style that mixes traditional quilts with a modern aesthetic.  There have been over forty fabric collections, hundreds of patterns, and a slew of books.
A Scrapbook of Quilts from It's Sew Emma is the latest.
Joanna Figueroa paired with friend, and creative quilter, Carrie Nelson to create A Scrapbook of Quilts, a quilt book like no other! (They also share the same birthday.) This marvelous compilation of 30 plus projects stem from just six blocks and a collection of scraps. Both quilters present their takes on each of the six blocks, showing the wide imaginative range you can travel with one block and a bit of fabric.
I asked Joanna to give me a little background on how she became a maker, a quilter, and a businesswoman. 
As if it were yesterday, I remember creating my little colorful painting "masterpieces" in the backyard when I was 9 years old and then walking around the neighborhood convincing all of our neighbors to buy what I had created! I guess in looking back, you could say that both art and marketing have been in my blood since I was very young!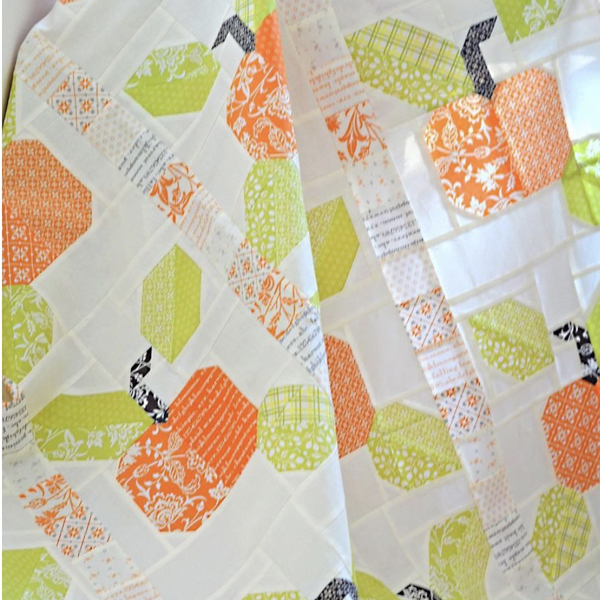 Pumpkin Farm - FT1751.  The pattern includes two quilt options - 54" x 60" and 66" x 74".
When we emigrated to the U.S. from Poland in 1975, my dad literally had a few thousand dollars in his pocket, a desire to make a better home for his family and a passion for building his own small business. We are the classic immigrant story. My sister and I grew up working in the family business in one way or another until we moved away from home. Once I was an adult, my dad still loved to "talk shop" whenever there was an opportunity, except that it was my growing business, Fig Tree, that we were discussing! He was involved in every step of our business in the early days and I can see him in every part of Fig Tree now that he is gone. Even though Fig Tree is definitely "all me", I see it as his legacy.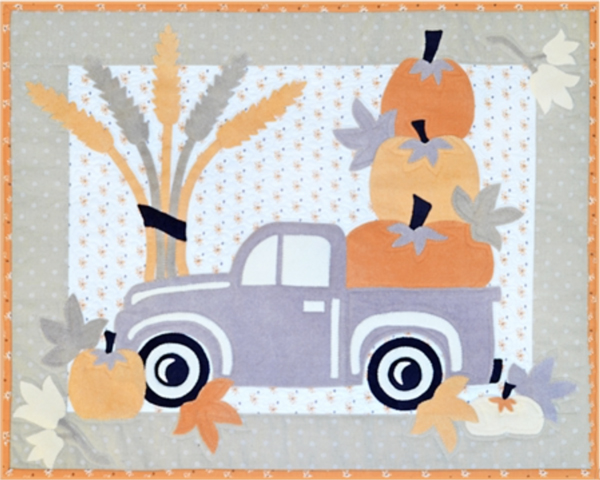 Pumpkin Truck - FT1541.  This 20" x 25" wool project was made using Fig Tree's Trick or Treat Wool Bundle by Weeks Dye Works.
My desire to create something new, almost always starts with the color inspiration itself. There is something about color that draws me in and won't let me go until I work it out. I always teach my students that unbelievable color combinations are everywhere if we can only train our eyes to see them. Certain colors or designs that we might see everyday, suddenly look fresh and totally new when put together into an unexpected combination. I love that!
Christmas Wreath - FT1604.  Made with yardage, this throw quilt measures 59" x 59". 
My designs, both for fabric & for quilting, always start with the color palette. I work with vintage fabric swatches, my flower garden, wrapping paper, children's illustrations from the early part of the last century, flea market finds, antique quilts to start finding color combinations that speak to me. The palette dictates the designs themselves and slowly a collection grows. When people ask me about my process, I usually call myself a hybrid fabric designer. I like to use many different mediums and techniques to create my designs including vintage fabrics, painting doodles, computer art, line drawings, just to name a few.
Joanna's Vintage Spools quilt from A Scrapbook of Quilts.
What is your favorite color?
Yellow. Ever since I was a little girl, yellow was my go to color and my happy color. I have a whole "lesson" on yellow in quilts when I teach my version of color theory. Long story short... yellow goes with everything!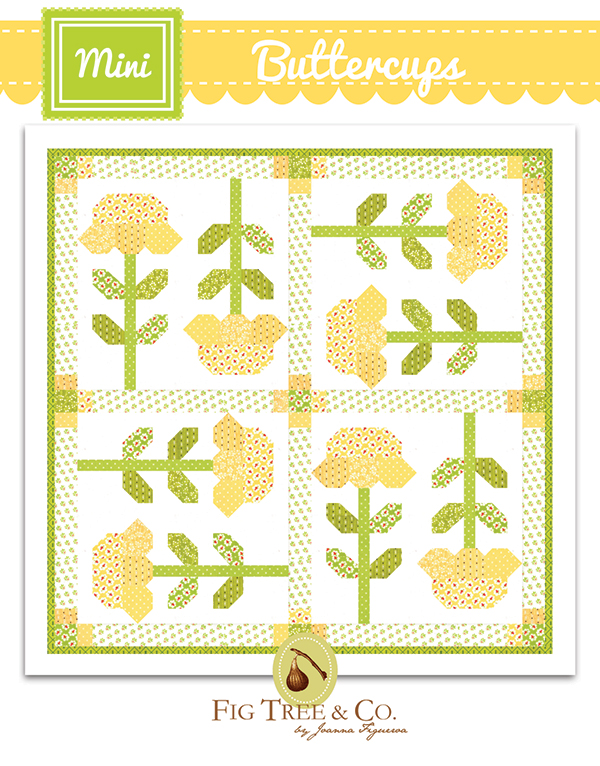 What is your favorite season, and why?
Autumn. Hands down. I am obsessed with fall colors for quilts and just the colors in nature when I look around. I love the feel of fall air and the crunching of the leaves. I love the sweaters and scarves and boots and the food! I love anything pumpkin colored and anything pumpkin spice flavored. I love harvest and pumpkin patches and sunflowers. Yeah... basically I love autumn! 
Halloween Harlequin - FT1606.  Finishing at 52" x 61", this Layer-Cake Friendly quilt does not need templates to make the blocks.
Are you a morning person or a night owl? 
Total and complete night owl. I work best at night, when the rest of the house is quiet. I love getting lost in a project and just keep going until it is finished. I have never really been able to get up in the morning or enjoy it. Nightime it totally my time... although I just can't pull an all nighter like I used to be able to when I was just a wee bit younger. 
O Christmas Tree - FT1601.  This charm-pack friendly wall-hanging or table-topper finishes at 26" x 36".
When you were a kid, what did you want to be when you grew up?
I wanted to be an artist. But my parents said I would never make a living doing that and that if I wanted them to pay for college that I had to choose a "real major" and a real career.

So I studied to be a teacher. Which I never ended up doing. Then I went to seminary and studied theology and worked with non profit organizations for a long time. But when I found quilting, quilt teaching and designing patterns and fabrics... well it was a "coming home" kind of feeling for me. I knew this was for me.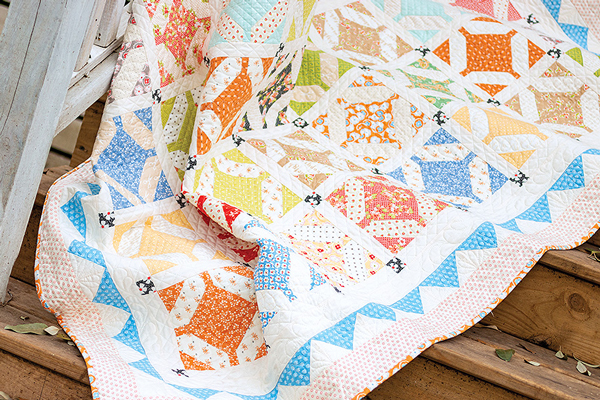 Joanna's Cathedral Windows quilt from A Scrapbook of Quilts.
What inspires you daily?
Color inspires me. Designs float around in my head. I look out the window when we are driving and the ideas pop up at the oddest times. It is something that is just always there in one way or another. But color palettes are always the first place my design brain starts. 
What is your favorite food?
That is a hard one. I love Polish food - since I am Polish.  I love my pickles, and my pierogi, my sauerkraut, and my good dense rye bread. But growing up in California, I have fallen in love with so many different ethnic foods, with Korean food being at the very top of my list. Of course given that my husband is Latino, I have become very attached to authentic Mexican and Columbian food too.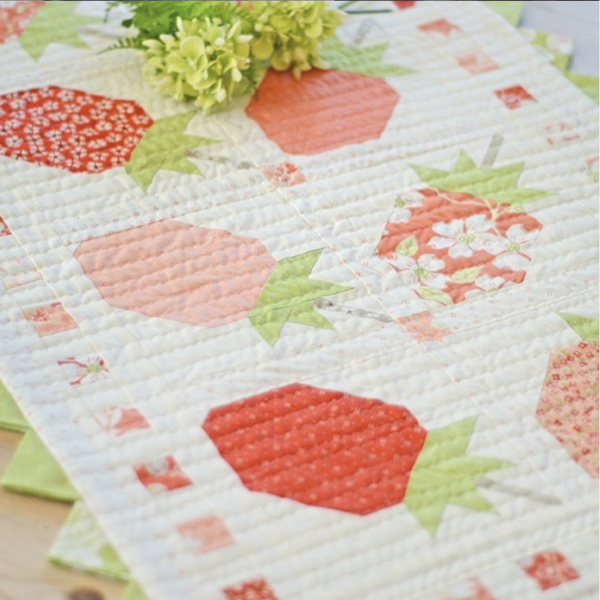 Berries - FT1799.  This 20" x 34" runner is charm-pack friendly.
Where was your best vacation?
Going home to Poland to see my extended family is always my favorite and there is nothing else quite like it. 
What is your favorite movie? Actress or Actor?
Favorite movie?  When I was a teenage girl: Footloose and Dirty Dancing were my life. I watched each one probably 50 times. As an adult, I don't think I have a favorite. I grew up watching all of the James Bond movies with my dad so I love to rewatch those.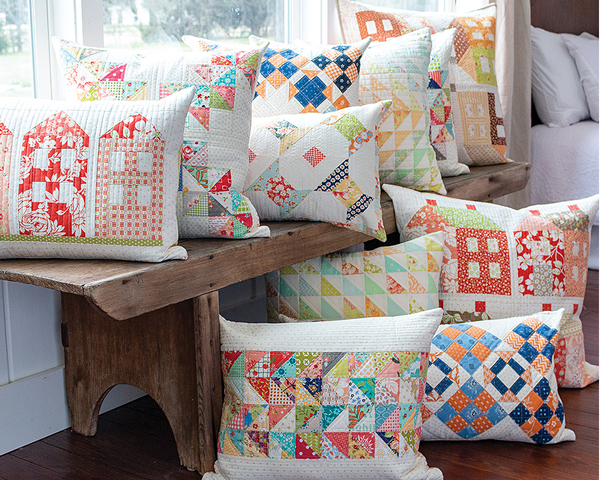 A plethora of pillows by Joanna and Carrie from A Scrapbook of Quilts.
What are the words you live by? 
Work hard at what is in front of you. Be Honest, and Speak Truth.  Love the people that life has given you.
What inspired you to work together on this book?
We both had the same love of scrap quilts, even though we interpreted them so differently. We both liked the idea of a book that had different takes on the same block, and the ideas just kind of kept growing from there. 
----------------------------------- 
For more with Joanna: