Grunge Contest FAQs
We get it.  You're excited!  So are we.  You love Grunge!  So do we. 
Ever since we announced the 2020 Grunge Contest, there have been questions about how to enter, who can enter, where to enter. 
How to enter?  Go to your favorite Grunge-loving shop and ask if they're participating.  If they're not, ask them why not?  There isn't an "official sign-up", only some deadlines for shop-judging, submitting pictures of their winning quilt/entry and so on.  (The shops can ask their reps or Customer Service for more information.)
Can online shops participate?  Absolutely!  So if you're not near a participating quilt shop, ask the shop where you buy your Grunge if they're participating.
Can individuals enter directly?  That's not an option yet but... if there are enough requests, it might be re-considered.
We don't have any rules against shop employees participating - that would be up the the shop owner. 
We don't have a list of participating shops but we'll see what we can do to help with that. 
Can the quilt be the work of more than one person?  Yes, it can be.  (How you split up the prize is up to you.)
What does "original design" mean?  The design of the quilt cannot be from a book or pattern.  Traditional blocks are fine - both pieced and appliqué.  From Barbara Brackman to Maggie Malone, Judy Hopkins and Yoko Saito - pull out those block books and get busy.  You can also use programs like EQ to design your quilt.  It just has to be created by you.
What about a digitized pattern for embroidery or some other element?  If the design was purchased, then no.  But if you designed it, then absolutely.  It's your original design.
Shop Voting.  Shops are being encouraged to have Store Displays and Voting the first week of September - September 1 through 7.  (But check the submission dates at your favorite Grunge-loving quilt shop.)
Shop submissions.  The deadline for shops to submit the images of their winning quilt is Monday, September 14.  Winners will be notified in early October so that the quilts can arrive at Moda by October 15.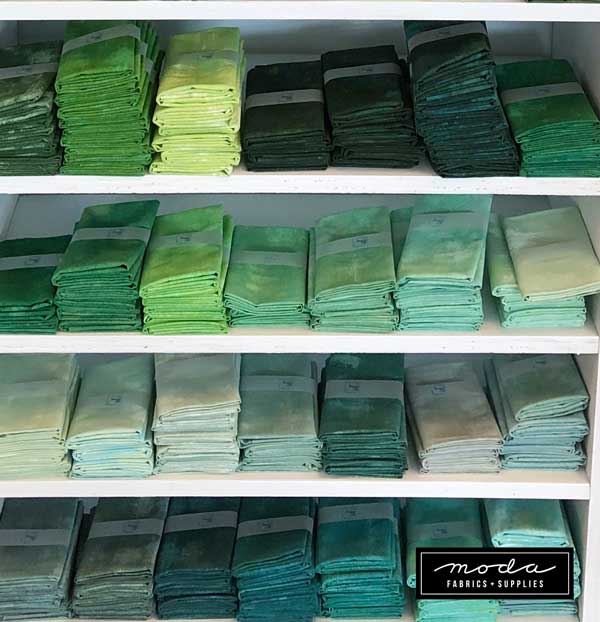 As for the rest of the details, they're easy:
The quilt top, back and binding must be Grunge.  While the fabrics can be from any of BasicGrey's Grunge collections, no other fabrics can be used.
Any type of piecing, appliqu

é

, embroidery and quilting can be used. 
The total perimeter of the quilt must be 240" or less.  E.g., a 60" x 60" quilt equals 240".  There is no restriction on how small the quilt can be. 
Quilts must be fully completed - quilted and bound.
Quilt label must include the names of the Makers and Quilters, and their names, cities and contact information.
You can make and enter more than one quilt but each shop will submit only one quilt to Moda for final judging.
To keep the contest details on hand - 2020 Grunge Contest Postcard.
So are you in? 
(Thank you to Stitched With Love in McKinney, Texas and My Two Hands Creations in British Columbia, Canada for the Grunge pictures.)