Make & Take - Fabric Bucket
Make & Take - Fabric Bucket
You should know that making this Two Fat Quarter Bucket can be dangerous.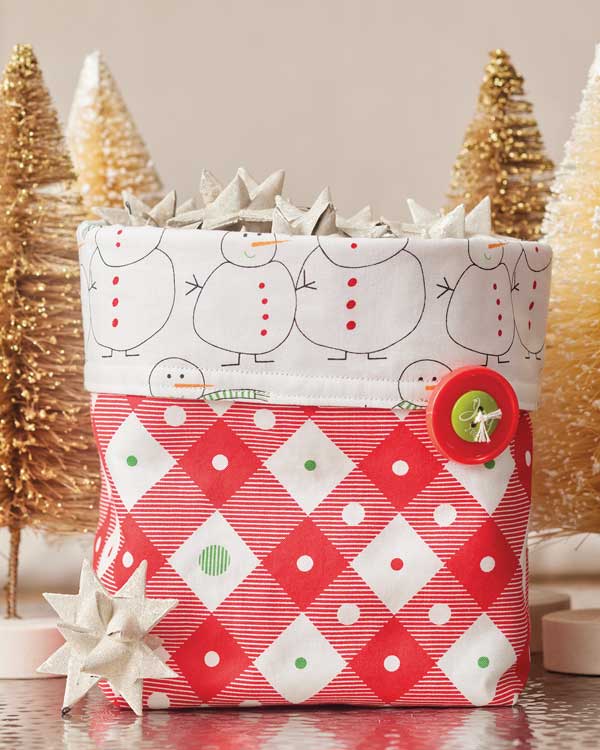 Image from It Takes Two! by Barbara Groves & Mary Jacobson. (Coming September 1, 2021.) Collection is Merry and Bright by Me & My Sister Designs.
Why?  Because they go together quickly, and easily.  And there are so many ways to use them, that making them can be a bit addictive.  And once you've made the first one, you'll start making them several at the same time.
Use one to wrap a gift, or to pretty-up a pot of poinsettias.  Fill another with wrapped cookies for a hostess gift, then make another to fill with sewing goodies for a gift exchange at your holiday guild meeting.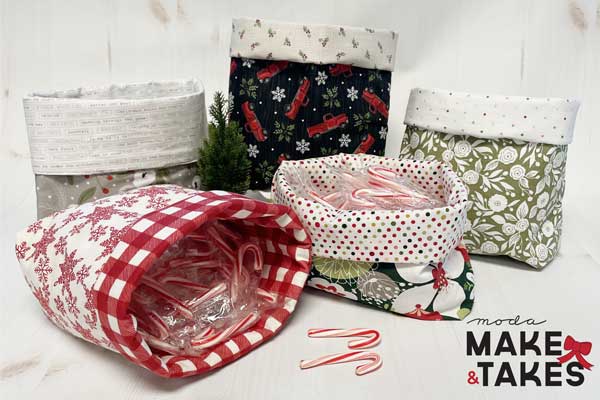 This bucket pattern was created by Barbara Groves and Mary Jacobson of Me & My Sister Designs.
Collections shown are - clockwise from upper-left:
How big are the buckets?  Folded flat, the bucket is 10" in width.  Standing up, without the top folded down, the bucket is 10" tall.  The top edge can be folded once, twice, and in varying widths.  If you like, embellish the bucket with buttons, rick rack, ribbon or labels.
The first thing you need is the pattern.  It is available as a stand-along pattern - 2 Fat Quarter Bucket.  The bucket is also one of six two-fat-quarter projects in their new book - It Takes Two!  The book will be published September 1.
Materials Required:
2 coordinating fat quarters
809 Décor-Bond - made by Pellon
thread - matching or not
If you happen to have some Halloween fabric - Midnight Magic 2 - these also make cute buckets for candy.  Then you'll want some sewing-themed fabric - Make Time - to make a bucket or three for your sewing room to hold spools of thread, catch clippings, and hold Wonder Clips.
Dangerous.  But in a good way.
We're back soon with more holiday Make & Takes.
Have a good day today!