Make Time for Aneela Hoey
Make Time for Aneela Hoey
Make Time. Inspired by the realization during the pandemic that a creative outlet was more important than ever, Aneela adorned her new line with crisp, clean images of the sewing objects she loves: pins, scissors, and snippets of cross stitch. 
If the pandemic has taught quilters anything, it's that sewing and making can bring comfort and calm during stressful times. Aneela Hooey understands that sentiment. If you've been quilting for a while, you may remember her beloved first fabric line, Sherbert Pips.
Aneela is back with Make Time, which features crisp and clean imagery in delicate shades. We asked her about the fabric and pandemic life and Aneela shared these thoughtful responses.
Tell us about Make Time.
I put together this group of design ideas during the midst of the pandemic. More than ever before, I've felt lucky to have had a creative outlet I can disappear into when necessary. The name of the collection came from that realization—that it was important to make time for some form of artistic pursuit that helps us to get through stressful moments. The imagery for the designs came from those sewing items I always have close at hand. I also added in some cross stitch designs I had drawn up into cute little motifs that nod to the domestic arts. I like the simplicity of the designs in this group. I wanted to focus on design ideas that would work well for both small projects and quilts.
How did you get started sewing?
I learned to sew in needlework classes while still at school.  At home my mum always had a project in the works—she sewed a lot of her own clothes and some for us, too— and I grew up with the idea that having a creative outlet was normal. The thing that really got me excited about sewing was a plastic woven basket my mum kept at the side of her wardrobe.  It was filled to the brim with little paper bags full of fabric scraps, trims, and buttons.... I was always opening the little bags, emptying them over my mum's bed and would explore them for hours.  Then I would very neatly and meticulously put them away; I thought of them as precious trinkets. I have always liked the idea that you can essentially make anything you like with your hands. Over the years, I've tried jewelry, ceramics, weaving, jam making, and more.  There is always something new to try. (These are from Aneela's books Stitch and Sew and Sweet Stitches.)
Did you always imagine you'd be a designer?
Art was a favorite subject at school but it was whilst studying an art foundation course that I first encountered fabric design as a career option. The first time I visited Winchester School of Art with the idea of studying printed textiles there, I felt like I'd come home. I was enthralled to discover this space full of printing tables, weaving looms, knitting machines, dye labs, and more. Until that moment, I had no idea places like this even existed. After graduating from Winchester, I worked at various print studios including a stint in Manhattan. Around 10 years ago, I began making quilts and started to see sewing as something that was necessary for me to do each day, rather than a pastime I merely dabbled in when I felt like it. Over the intervening years my focus has moved on from the quilts themselves to the fabrics that are used to make them. I began creating my own fabric designs again and eventually contacted Moda to see if they might be interested in my designing for them. Luckily, they were and I first began designing for them in 2010 with my line Sherbet Pips.
We'll talk more about your patterns in a later post, too, but tell us how you got started designing them.
I starting creating my own patterns because I'm not very good at following those written by others. I have a very DIY approach to creating and like to go my own way working intuitively. My set-up for creating patterns is simple and involves a pile of fat quarters, sewing machine, tools, notebook, and pen. I always have an idea or two in my head for a pouch or organizer I want to make. I stay far away from pattern ideas that already exist. I like a concept that is a puzzle which needs to be figured out. I think those ideas are the ones that become the most interesting and satisfying in the end, although when I'm in the midst of problem solving my way through the writing part, there are a lot of head scratching, floor pacing and 'why do I do this?' moments. As well as writing the patterns, I create all my own illustrations and take all the photographs. I like to keep busy. (This is Aneela's Make and Go pouch sewn up in Make Time.)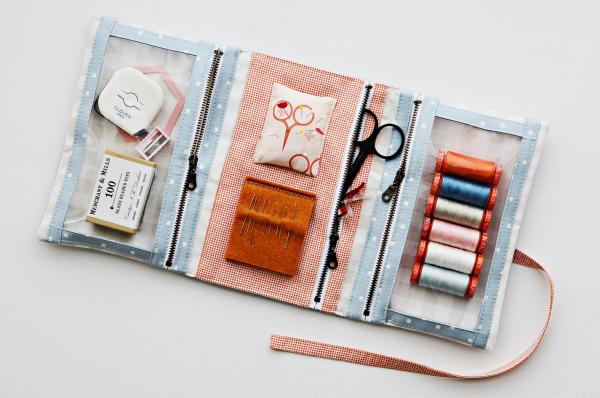 Tell us about your studio space.
I work from my home studio which is room generously sized enough to hold all of my sewing and design equipment. I feel lucky to have this because it wasn't always this way. When I first started designing for Moda, our lounge doubled up as my 'office'. My materials were everywhere and more time was required to keep the space tidy enough to work in. Having plenty of space is important because I'm constantly juggling between fabric design, pattern development and writing. This past year, my daughter [Aneela has two teenage daughters] has been sharing my studio space with me whilst virtual learning for her Knitted Textiles degree. She has a Brother knitting machine set up with cones of yarn everywhere. I've enjoyed the company although I look forward to the time I can get my space back.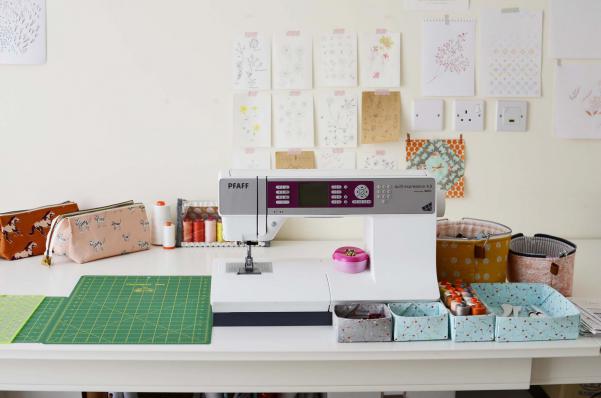 What are your other hobbies and how do they (or do they) influence your sewing/designing life?
I love to embroider and knit and I've also been enjoying dressmaking recently. My favorite new make is a pair of dungarees which I love and wear constantly. Although my aim with clothes making is to relax and unwind, it does help inform me about the different ways my fabric might be used, for example how a print looks when it's draped across the body and so on. I've also included embroidered style motifs in my design work from time to time.
You mentioned sharing your studio with your daughter. Do you have other children? 
I have two teenage daughters who are pretty much opposites. I taught them to sew and embroider when they were young. They were keen to learn as they grew up surrounded by my making and fabric everywhere. I always loved their approach to making things, they would get completely absorbed and quiet whilst stitching. I felt like I'd discovered an off switch.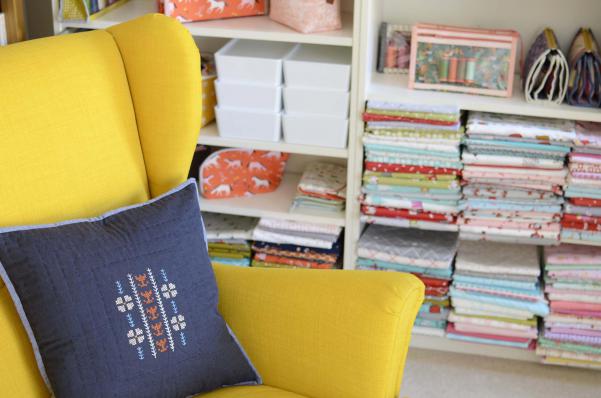 We're so excited to share Aneela's fabrics, Make Time will be in stores in late September.
You can look for her patterns in your local quilt shops, and learn more about Aneela on Instagram: @aneelahoey