Making Face Masks
It's been on the news and all over social media, medical personnel on every level need face masks.  While homemade face masks are not the medical grade PPE - personal protective equipment - or N95 face masks, they still provide some protection against the spread of the Covid19 virus.  From nursing homes to cancer centers, grocery store employees to UPS/FedEx delivery personnel, these face masks can help.  
There are many patterns available and a lot of recommendations about fabrics, whether to use a lining, leaving openings for a nose-piece or a filter, and so on.  After reading dozens of patterns and articles, this is what we've learned.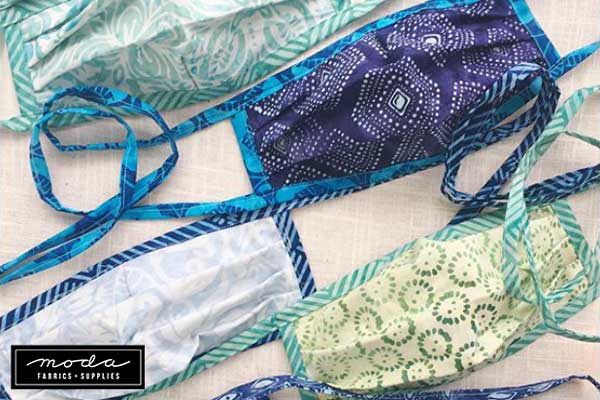 These masks were made by Kate Spain using fabrics from her Batik collections.
Fabrics.  Quilting cottons work well as they are 100% cotton, are tightly woven and are washable.  Cotton lawn, batiks, Ruby Star Society cottons and 200-thread-count muslins have a higher thread count so they are very well-suited for face masks - they're also very soft.  Gauze, double-gauze and loosely woven fabrics should not be used.
Pre-washing the fabrics is a must.  As the face masks will be laundered frequently, it is necessary to pre-shrink the fabrics.  If you like starching your fabrics before sewing with them, that's not a problem so long as the finished face masks are laundered before they're donated and/or worn.  
Linings.  There are differing opinions on whether this is necessary, or even desirable.  Additional layers of fabric will inhibit microbes from passing through the mask but there comes a point where each additional layer provides only miniminal improvement.  The other consideration is breathability.  Upon the recommendation of a group requesting face masks, we have been using one to two layers of a medium-weight, sew-in interfacing.  
Here are some of the lining options: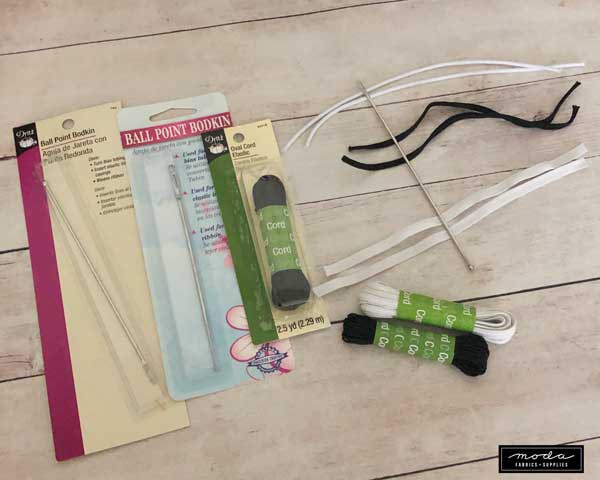 Elastic & Other Options.  There are two things to share here - first, if you have elastic on hand, or access to it, we have a few suggestions and recommendations.  If you don't have any elastic on hand, we can still help with that.
Ties.  If you don't have elastic, the two patterns that are made with elastic can also be made with ties.  The tie can be made with fabric, a ribbon or cording.  What about using some of the Moda twill tape you've been saving?  
The easiest way to make a tie is to cut a strip of fabric across the width of the fabric - 1-1/2" or 2" wide.  With right sides out, fold the fabric in half lengthwise and press.  Open the strip and press the edges to the center fold and press again.  Top-stitch along the open edge - and along the folded edge, if desired.  The 1-1/2" strip will make a tie that finishes at approx. 3/8", and the 2" strip will finish at approx. 1/2".  
Patterns.  After finding and reading through several different patterns for face masks, we decided to make these three.  
The face mask in the upper left is by Craft Passion - Face Mask Sewing Pattern.  This is the only pattern that comes in four different sizes.
We downloaded and printed this pattern with seam allowance included.  The main-outer and lining-inner layers are just a bit different in size, and the layers of Pellon were cut at the same time.  
The instructions are easy to follow with good photos.  While the finished face mask might look a bit more complicated than the others, it went together in less than 30 minutes.  And that was with two layers of the Pellon interfacing - it was stitched and layered as directed with the lining.  This is the face mask where we used the bodkin to thread the elastic through the casing.  If you don't have a bodkin, make the casing a little wider so that a small safety pin will fit through.  
If using elastic isn't an option, a 40" tie threaded through the casing will work just as well.
This face mask was made using a YouTube video tutorial by Erica Arndt - How to Sew A Medical Face Mask.
This is the easiest of the three styles to make.  The pieces are layered with right sides together and the elastic pinned in place.  The four edges are stitched with an opening left for turning it right-side out.  Corners are clipped - the point turner helped with that - and the four edges top-stitched.  The pleats are folded and pressed, then stitched down.  I added an extra row of stitching to secure the pleats.  The layer of lining I used didn't affect any of the stitching.
This is the A.B. Mask - For a Nurse By a Nurse.  (This is the pattern that Kate Spain used to make the batik masks.)
This face mask has darts at the top and bottom to make it fit comfortably over the nose and under the chin, it is the largest of the three, and it doesn't need elastic.  As before, I included a layer of lining in this and it didn't make the pleats or binding any more difficult to stitch.
The one thing to mention with this pattern is to check the size-guage when it's printed.  Mine was off even though I made sure it was printing at 100%.  (Printing it at 125% fixed that problem for me.)  
Donations.  You're making face masks but where are they're needed, how many, etc.  There are several places to start - contact local nursing homes and assisted living centers, they are almost certainly in need.  Contact local television stations as they almost certainly know where there is a need for these face masks.  Ask your friends and neighbors if they know of anyone looking for face masks - including them.
If you're on Facebook - Million Mask Challenge is a resource.
Finally, don't forget to make a couple of face masks for yourself and your family.  
As someone in the office said, let's pick up the thread and stop the spread.