MMQAL-Week 21
Week 21 – MIDNIGHT MOON QAL
        Medium size frame blocks - Find the background you need for these blocks.
            You might want to organize your background fabrics by the size of strips you need.  Here is an example of a small design board I made from a leftover cardboard box. I flattened the box, so it was sturdy, then covered it with leftover batting.  The covering can also be flannel.   I just lay the batting down, put the flat box on top, and then pull each side so that they are taunt and tape down in the back. 
 It isn't fancy, but I use it all the time to hold my strips or units I'm cutting and sewing a project.  I like it because I can move it from my cutting board to my sewing area and not lose pieces.  I also have a label maker and add the size to the top of the board as a quick visual reference. This may seem like nothing, but it is a handy portable visual of what I have available and what sizes already exist, so I don't have to cut more. This design board measures about 20" x 30".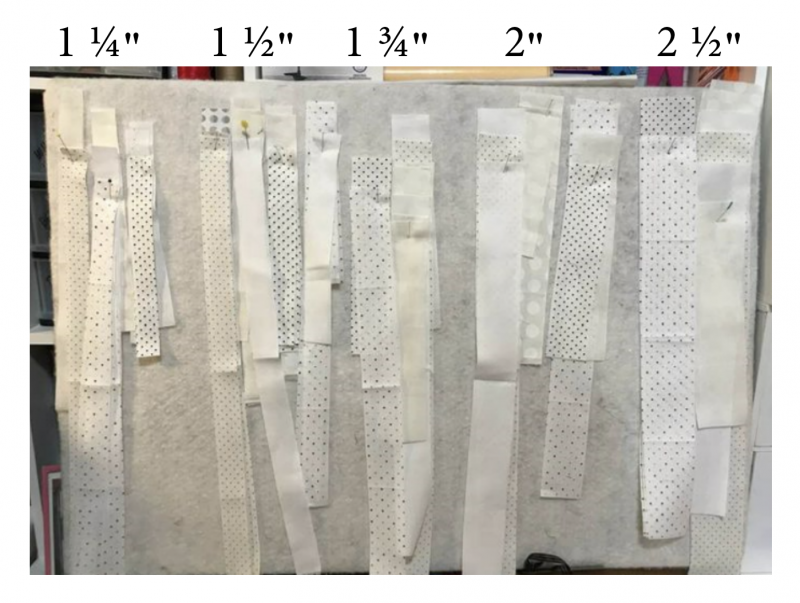 If you sew like me, some of your medium size blocks are not quite 6-1/2" at this point.  As we have talked about increasing the size of the frame strips to compensate for various-sized blocks.  I just added ¼" to ½" to the width of the strips and a little more on the length.   You will be so much happier with all the blocks being the same size at the end when you square them up to 8 ¾" as the book says or 9" as I did.  
How nice does this pile of blocks look? I would say just spooktacular.    
Be sure and share your progress at any stage using #midnightmoonQAL.
See you next week for some real tricks and treats.  
-TAMMY V