My Favorite Color is Moda 1
My Favorite Color is Moda 1
Update: It's us, not your favorite shop.  Many shops have not received all of the colors for My Favorite Color is Moda because we're still waiting for those fabrics to arrive in our warehouse from the mills overseas.  As soon as they arrive, they will be rushed out to shops.

My Favorite Color is Moda!  Inspired by our Modern Building Blocks quilt pattern, a new modern sampler is here for 2021.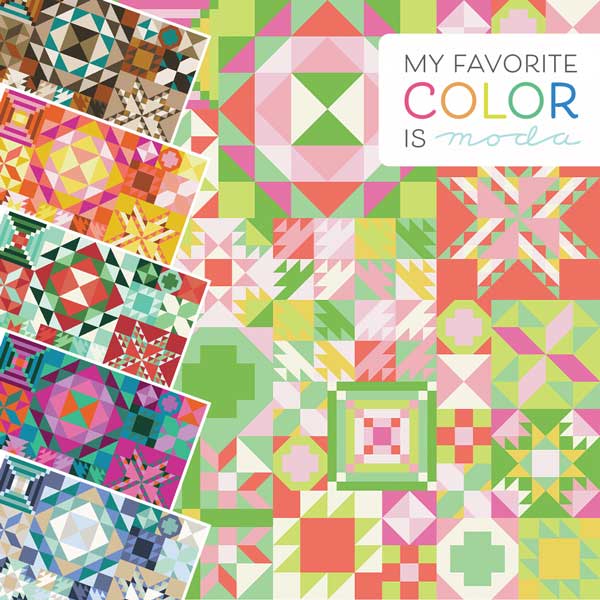 The sampler finishes at 81" x 99", with 31 blocks ranging in size from 9" to 36" square.  We will be posting along every month with a new block or blocks, showing six different colorways of Bella Solids.
Schedule.  We will post our new block - or blocks - every month on the first Tuesday of the month starting Feb 2.  
Each month, we'll be sewing the following blocks from the My Favorite Color Is Moda pattern:
February - Block 1

March - Blocks 2 and 3

April - Blocks 4 and 5

May - Block 6

June - Blocks 7, 8 and 9

July - Blocks 10 and 11

August - Blocks 12, 13 and 14

September - Block 15

October - Blocks 16 and 17

November - Blocks 18 and 19

December - Block 20
Supplies.  The pattern is available exclusively through local quilt shops.  If you don't have a local shop nearby, searching online for the pattern should produce plenty of results!
The project uses 10 Bella Solids in varying yardages.  The chart below shows yardage required in the 6 Bella Solids colorways we'll be using at Moda.  Binding is an additional ¾ yard, and Backing is 7½ yards.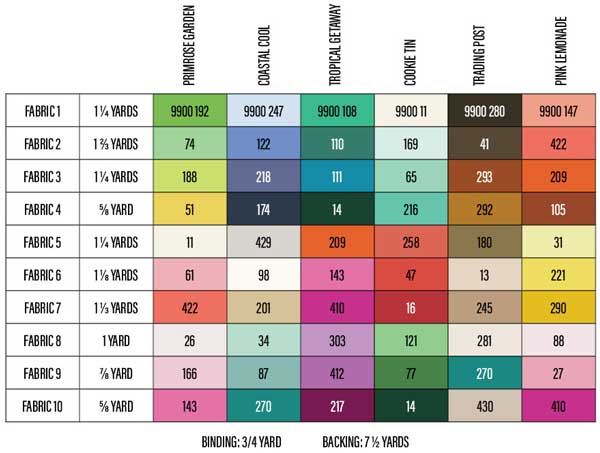 Playing along.  Sewing along with us is simple: each month, share your sewing progress with us on social media using #myfavoritecolorismoda.  We'll be sharing progress photos from the hashtag throughout the sewalong with the occasional prize here and there. 
Be sure to tag your local quilt shop too!  They'll be posting and sharing blocks and tips, so be sure to follow them on social media. 
Let people know you're sewing along with this graphic.
My Favorite Color is Moda Graphic Download

Tips.  You'll see in the pattern that we recommend cutting all of your fabric before you sew and sorting by block number for later.  In order to make the most of your fabric, we've mixed the cutting for blocks all together rather than going along in order.
That said, if you've subscribed to a BOM-style program where you get your needed fabric month-by-month, you will have different cutting charts that your shop can supply.  This won't apply to everyone, and is just an extra tool to help if you need to cut only all of one block at a time.
Be sure to use the coloring sheet we've created for the project, especially if you're jumping in to make your own color palette.
My Favorite Color is Moda Coloring Sheet Download
Are you ready to get sewing?  We sure are!
Be sure to ask about My Favorite Color at your favorite shop - they probably have terrific tools and tips to share.  You'll also want to give them a shout-out when you're sharing your blocks on social media.
We're back next week with more about cutting and getting organized.  So now's the time to pick up your fabric and start cutting.  That way, you'll be ready to jump in with Block 1 in February!
To save this information - My Favorite Color is Moda Intro Download.