Oh Charming Baby
Melissa Corry is happy quilting.  She's a prolific designer and author, creating beautiful quilts for best-selling books, magazines and fabric companies.  She has blogged and shared on social media as Happy Quilting for more years than I can remember.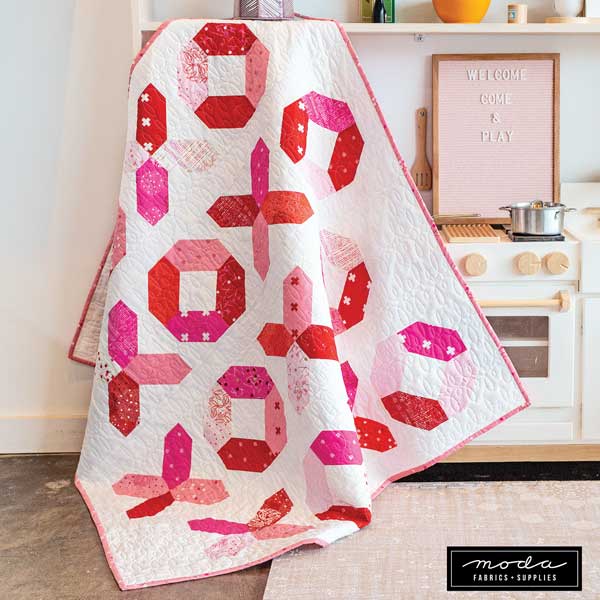 This is Hugs & Kisses.  It's made with two Charm Packs of Just Red by Zen Chic, and it finishes at 49" x 49".
As a Mom to five rambunctious kids, Melissa knows about baby quilts.  And kids' quilts.  She knows what's going to appeal to them - what it's going to take to make a child's special "blankie".
She also knows quilting.  And quilters.  There are quilts where we want it to go together quickly and easily without it looking so.  We like to experiment with fabrics and making a quilt with charm packs lets us play.  So when I heard that she was doing a book with ten quilts made with charm packs, I was excited to see it.  (And excited for her - she's a very, very nice lady.)
The quilts are made with one, two or three charm packs.  They can be of the same collection, or mix up a couple from different collections. The sizes vary from 36" x 36" to 56" x 56", and you'll probably be familiar with most of the techniques used.  If it's something new to you, the directions and diagrams are clear.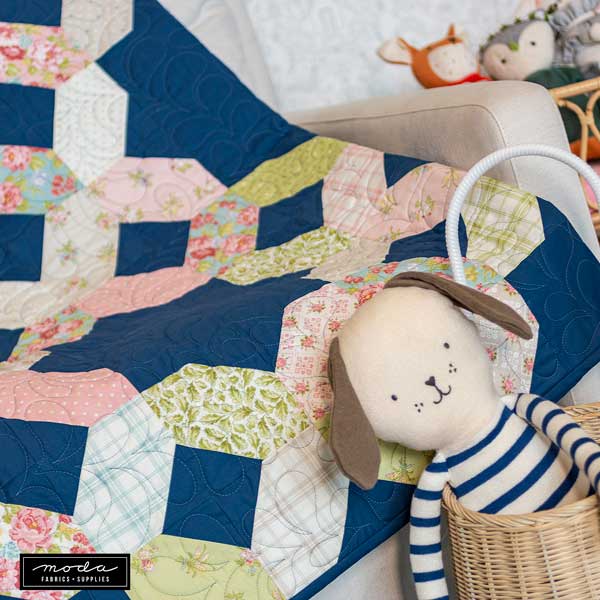 Ring Around the Rosie is made with three Charm Packs - these are Brenda Riddle's Bramble Cottage collection.  This quilt finishes at 54" x 54", and if you wanted something a little bigger, a simple border is easily added.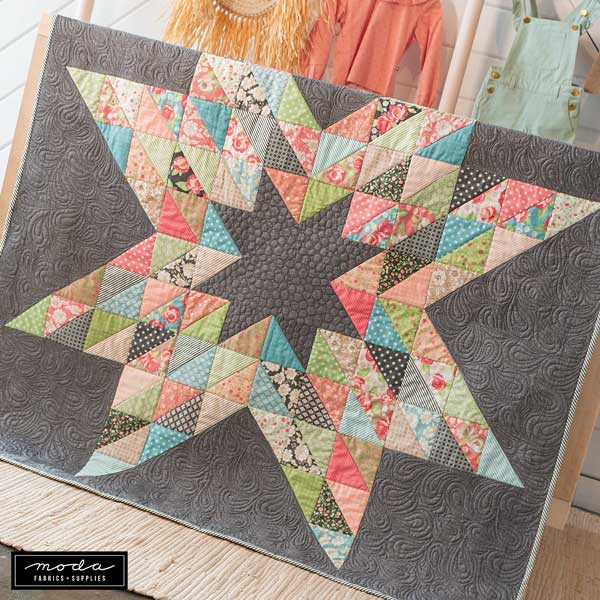 A Star is Born!  (Isn't that the best name for a baby quilt?)  Two charm packs of Bloomington by Lella Boutique (in shops in May) and a beautiful dark background make up this 56" x 56" quilt.  
Geometry by Janet Clare (in shops in late April) is On The Move.  Two charm packs and background yardage are all that's needed for this 49" x 57" quilt.
To add to the beautiful quilts in the book, Melissa is designed a sampler quilt using blocks from the quilts in the book.
It's made with five charm packs and background yardage and finishes at 66" x 88".  (So a quilt for you.  Or for snuggling with your kids and grandkids.)
There will be a sew-along starting next Wednesday, April 8.  It will last six weeks, ending May 13.  There will be giveaways and a Grand Prize.  Finish your quilt top and you're entered to win.  
For information about everything - Happy Quilting: Charming Baby Sampler Sew-along.  Yardage requirements, important dates, who is sewing along with Melissa and prizes, it's all there.
This version of the Sampler was made by the Fat Quarter Shop using five charm packs of Bonnie's colorway of At Home.  They're sewing along with Melissa too - Let's Welcome the Charming Baby Sew Along.
So are you in?  
Charming Baby Quilts by Melissa Corry.  It's a charming book by a truly charming lady.  
And the quilts are made with charm packs.  I'm in.