Rollin' with Me and My Sister
Rollin' with Me and My Sister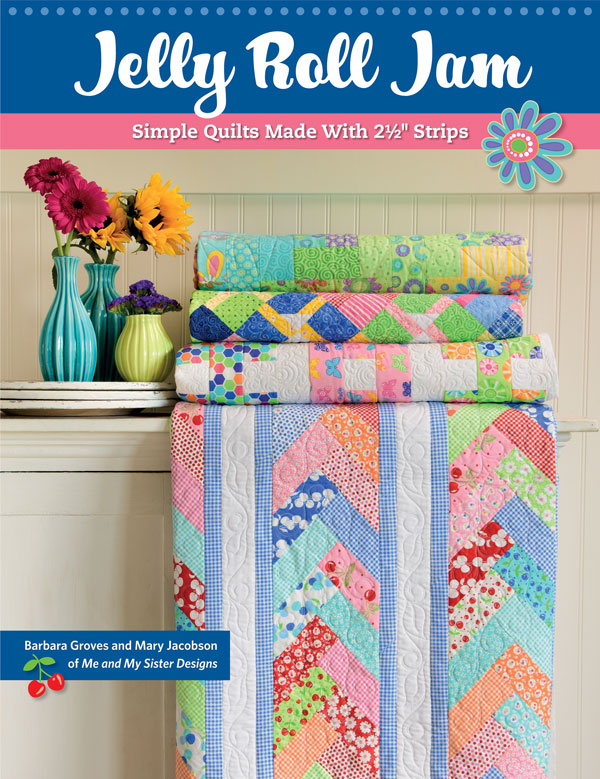 It's the latest book by Me and My Sister designers Barbara Groves and Mary Jacobson, offering user-friendly patterns that reflect the same easy and fun spirit as their fabric lines.
Easy Log Cabin.  One Jelly Roll plus a couple of strips, yardage for block centers, binding and backing, and this 50" x 60" quilt is good for beginners, and those wanting a quick quilt that works with any collection.
Like Too Cute To Spook, Me & My Sister's coming-this-summer Halloween collection.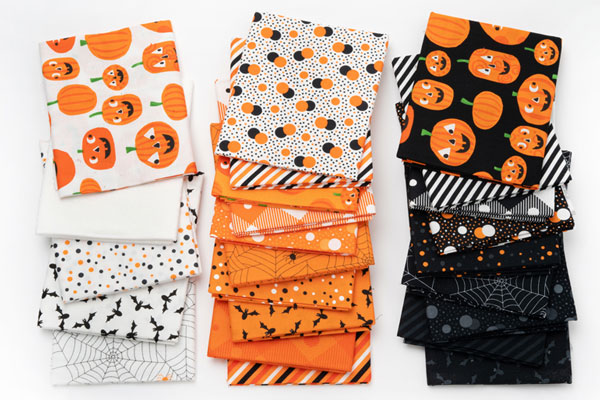 Why jelly rolls? For one thing, they provide an opportunity get some of every fabric in a collection—Barb calls them "a delectable pack of 40 coordinated strips." And as Jelly Roll Jam proves, there are myriad ways to show off these strips to their best advantage including the nine lap-sized quilt patterns featured in this new book.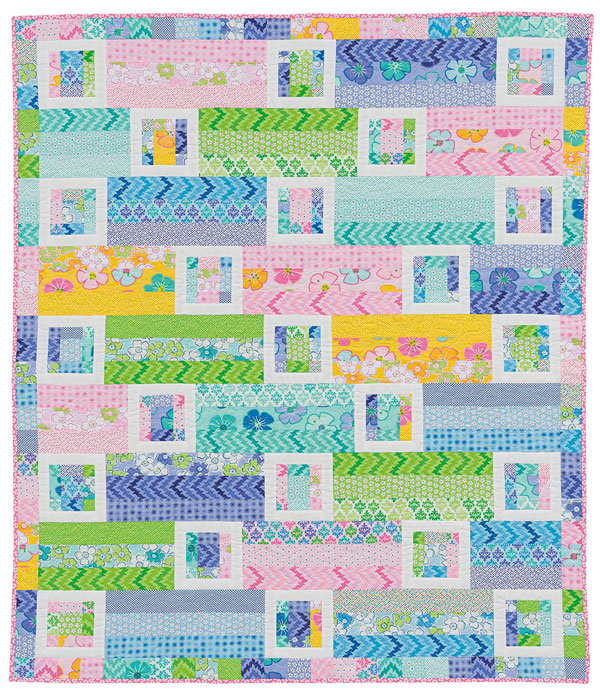 Jelly Sandwich.  This 50" x 58" quilt needs one Jelly Roll, and yardage for blocks, binding and backing.  Sort the strips by color, or mix them up for a scrappier look.
Barb and Mary's fondness for jelly rolls and other precuts goes way back. The pair owned a quilt shop in Phoenix in the 1990s and created their own, before precuts were a thing. "We'd get in a collection and cut fat quarters and make our own bundles," remembers Barb. "Then people would say 'Okay, now what do I do with them?'" So, we started making simple patterns that we'd give to customers when they purchased a bundle."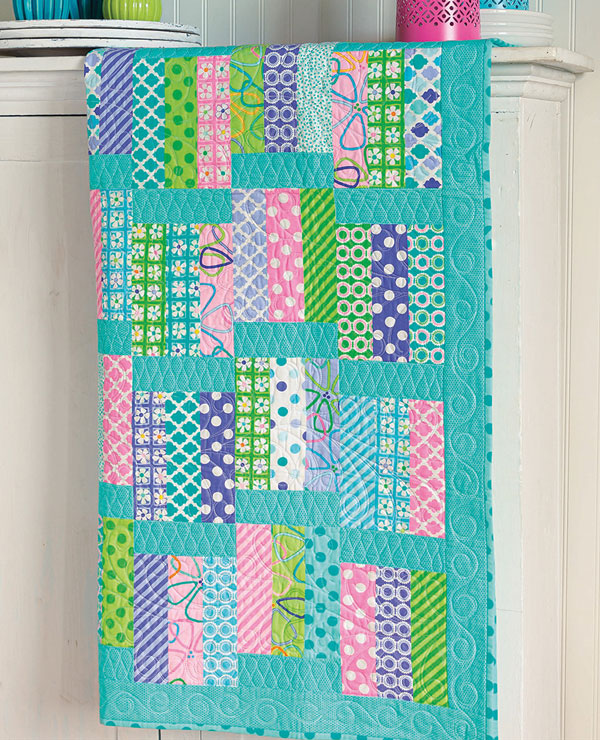 Chart Topper.  Twenty-six Jelly Roll strips, yardage for the blocks and border, more for the binding and backing, and this 46" x 61" quilt will be a hit with everyone.
Their shop-made precuts also included charm squares and fabric strips in a variety of widths, including the now-standard jelly roll-size of 2.5". "When we weren't busy I'd tell the girls who worked in the shop 'Pick 24 bolts and cut strips from them' and then we'd put those in a bag," says Barb. "If you bought a bag, you got a pattern for a simple strippy quilt, one where you shook the bag and sewed the strips together in the order they came out. They were fun and fast—you could sew one in an afternoon and people loved them."
Chain Links.  Squares and rectangles, assembled in rows, makes this 72" x 84" quilt easier than it might look.  One Jelly Roll and yardage for blocks, binding and backing is all that's required.
And they still do. Jelly Roll Jam offers ideas for making sweet, lap-sized quilts in no time. They're perfect for using with Me and My Sisters' Petal Power, or of their other cheerful lines. (Petal Power is in shops now.)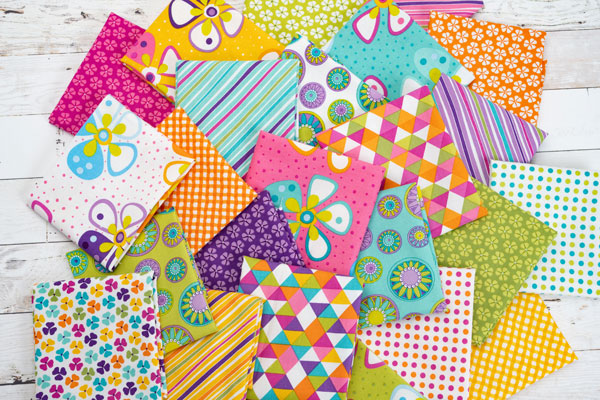 Petal Power - this collection is in shops now.
Barb does offer one tip for working with jelly rolls—a reminder that it's possible to not like every fabric. "There's nothing wrong with taking out the one you don't like and substituting something from your own stash," she says.
A-Mazing. Mix and match quarter Log Cabin blocks?  This 52½" x 52½" quilt uses one Jelly Roll and yardage for borders, binding and backing.
And don't miss the new puzzle featuring the Country Market quilt from Jelly Roll Jam!
Fresh Picked Puzzle (G203) will be available in June of this year.  There are 1000 pieces, and the completed puzzle measures 29½" x 19¾".  (It is made from premium quality, eco-friendly, recycled cardboard and non-toxic ink, and a mini poster of the puzzle image is included for reference.)
Whether you use strips straight from the roll or create your own, Jelly Roll Jam has nine fun ideas for stitching a cozy quilt. Or two!
--------------------------------------
For more with Barbara Groves: