Sampler Spree QAL - Week 2
Sampler Spree QAL - Week 2
Yellow.  And Gold.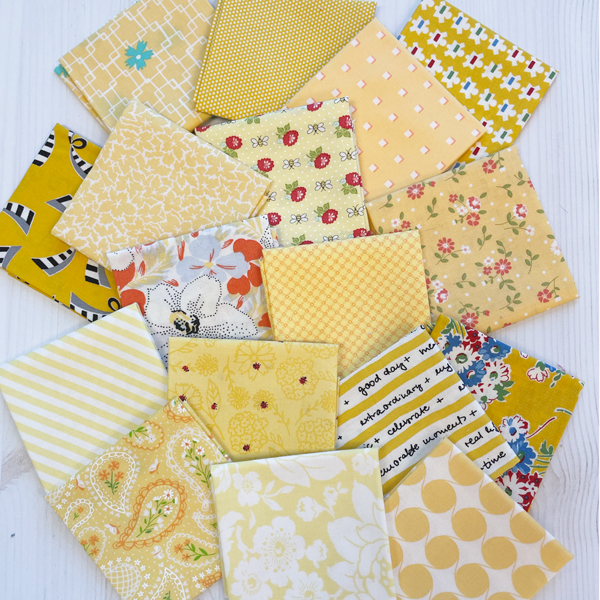 I'm not sure I'd use all of these together but this definitely shows the variety of colors and shades that could be used.
These collections include Bonnie & Camille Shine On, Jen Kingwell's Fine & Sunny, Zen Chic's Quotation, Stacy Iest Hsu, American Jane Story Time.
Week 2 blocks! 
#5 - Easter Basket
#12 - Patio Pavers
#33 - Antique Tile
#39 - Friendship Quilt
#58 - Here and There
#76 - Premium Prize
#84 - Coxey's Camp
#90 - Diamond Panes
#93 - Hour Glass
#97 - Depression
#103 - Rolling Stone
#105 - New Four Patch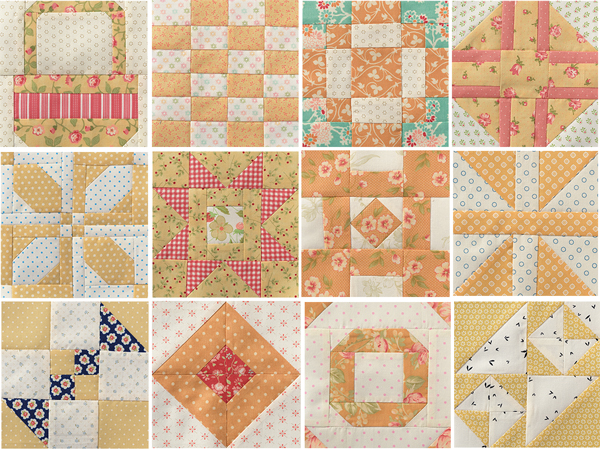 If it looks like there are some pumpkin, butterscotch and apricot-ish blocks... that's okay.  Use the Yellow and Golds that you like, that fit in with your colors. 
Our sweet friends at Martingale put together another slide-show of the blocks - in Yellow!
We're also sharing a second setting option this week - On Point With Sashing.
Using 61 blocks, this quilt will finish at 70" x 70".  
The instructions can be found here - Sampler Spree Diagonal Setting With Sashing.
The other thing to share this week are blocks by the friends we invited to quilt-along with us.
Kristine is using a mix of Basic Grey pieces from Cider and Persimmon, a bit of Fig Tree, and mixed backgrounds.  She's decided not to sew entirely by color because she's making a smaller quilt.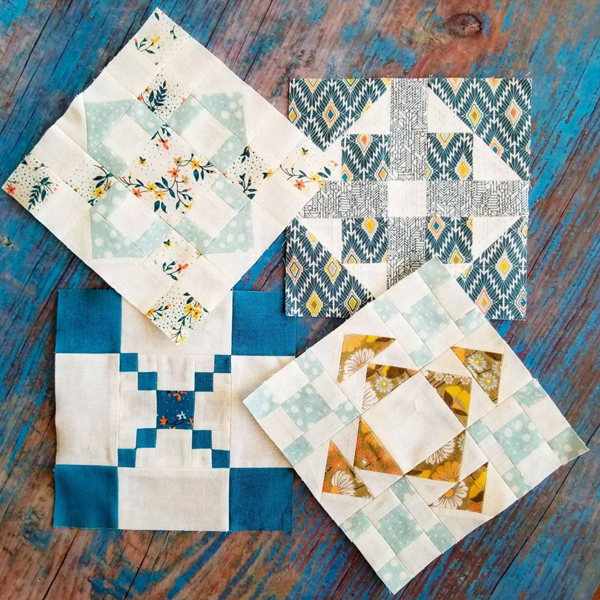 She did make a few blue blocks.  
Hildy is using her Bonnie & Camille collection for her blocks, and she's mixing up the colors each week. 
Greg!  He's sharing one block each day.  (Even though we think he's already finished all of them... lol)
Susan V. - Sophie's Mom - is using some of her Fig Tree scraps for her blocks.  
And Erica... she's using an Americana mix of Minick & Simpson fabrics for her blocks.
One last thing... our sweet Jan Patek is adding an applique block to each week of her Sampler Spree blocks.  You can find the Week 2 pattern here - Bird On A Branch block..
That's it for this week! 
Be sure to share your blocks on social media - #samplerspreeqal
For a PDF of this post - Sampler Spree QAL - Week 2
And if you missed any of the Sampler Spree blog posts - Sampler Spree Quilt-Along