Spring Flowers: Dahlia

YIELD
12" finished block
INGREDIENTS
FABRIC A
(2) 5½" squares
(8) 2½" squares
(2) 3" squares
FABRIC B
(2) 5½" squares
FABRIC C
(2) 5" squares
FABRIC D
(4) 2½" squares
FABRIC E
(2) 3" squares
FABRIC F
(2) 1 x 3½" rectangles
(2) 1 x 4½" rectangles
FABRIC G
(1) 3½" square
INSTRUCTIONS
MAKE HALF SQUARE TRIANGLES
Mark a diagonal pencil line on the wrong side of each Fabric A 5½" square. Place right sides together with Fabric B 5½" squares .  Sew ¼"  away from each side of the marked line. Cut apart on the line and press. Trim to 5" square.  Make 4.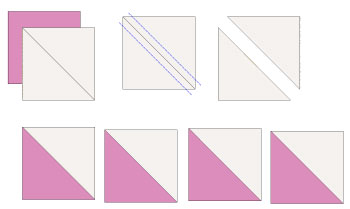 Repeat with 3" Fabric A and E pieces. Trim to 2½" square. Make 4.

MAKE QUARTER SQUARE TRIANGLES
To make Quarter Square Triangles (QSTs) - Mark a pencil line on the diagonal of EACH Fabric C  5" square. Match up to one corner of HST unit as shown, ensuring the marked line is oppositing the seam. Sew on the pencil line. Trim 1/4" away from the line and press.
Trim each QST to 4½" squares.
Make 4.
ASSEMBLE CORNER UNITS
Join HSTs with background pieces and Fabric D squares as shown. Make 4.
MAKE CENTER
Join Fabric E and F pieces as shown.
ASSEMBLE BOUQUET
Join block units as shown. Trim to 12 1/2" square (unfinished size)

Happy spring sewing!
LisaJo Girodat