Spring Flowers: Lily

YIELD
12" finished block
INGREDIENTS
FABRIC A
(2) 7" squares
FABRIC B
(2) 7" squares
FABRIC C
(2) 7" squares
FABRIC D
(4) 2½" squares
INSTRUCTIONS
MAKE HALF SQUARE TRIANGLES
Mark a diagonal pencil line on the wrong side of each Fabric A 7" square. Place right sides together with Fabric B 7" squares . Sew ¼" away from each side of the marked line. Cut apart on the line and press. Do not trim.
Repeat to make 4 total HSTs.
MAKE QUARTER SQUARE TRIANGLES
To make Quarter Square Triangles (QSTs) - Mark a pencil line on the diagonal of EACH Fabric C 7" square. Match up to one corner of HST unit as shown, ensuring the marked line is opposite the seam. Sew on the pencil line. Trim 1/4" away from the line and press. Trim each QST to 6½" square.
Make 4.
MAKE CENTERS
Use the Easy Corner Method - mark a diagonal pencil line on the wrong side of EACH Fabric D square. Line up with the center corner of QST unit as shown. Sew on the marked line. Trim and press.
Repeat with each QST.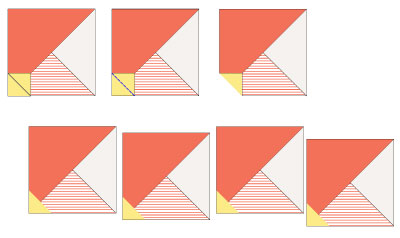 ASSEMBLE BLOCK
Join block units as shown. Trim to 12 1/2" square (unfinished size)

Happy spring sewing!
Lisa Calle