Stitch Pink 2023
October is just around the corner, and with it, Breast Cancer Awareness Month. Since 2019, Moda has organized an annual Stitch Pink campaign as just one of the ways that we can raise awareness and show our love and support to members of the quilting and sewing community who have been impacted by this awful disease.
This year's Stitch Pink program has two exciting components: A quilt-along with Camille Roskelley featuring her Lighthearted fabric collection and Adore quilt pattern, and a project showcase with a talented roster of Moda Makers and Aurifil Artisans.
Follow Camille on Instagram (@thimbleblossoms) for the Adore quilt-along, and post your progress with #adorequiltalong to show your support for breast cancer awareness! Camille will post check-ins on Instagram every Tuesday throughout the month. She will also be auctioning off the Adore quilt that she's piecing during the quilt-along, and there will be fun giveaways along the way.
Here's the Adore quilt-along schedule:
October 3: Week 1, Center Star and Blocks 1-4
October 10: Week 2, Blocks 5-8
October 17: Week 3, Blocks 9-12
October 24: Week 4, Assemble quilt
November 1: End of the quilt-along. Post your finished quilts and watch for the quilt auction info!
Moda Fabrics is thrilled to partner with Aurifil to bring you the Stitch Pink 2023 project showcase. Our project showcase makers used a charm pack of Lighthearted and thread from our exclusive, coordinating Lighthearted thread collection with Aurifil to make a variety of inspirational projects, from mini quilts to fabric art and more.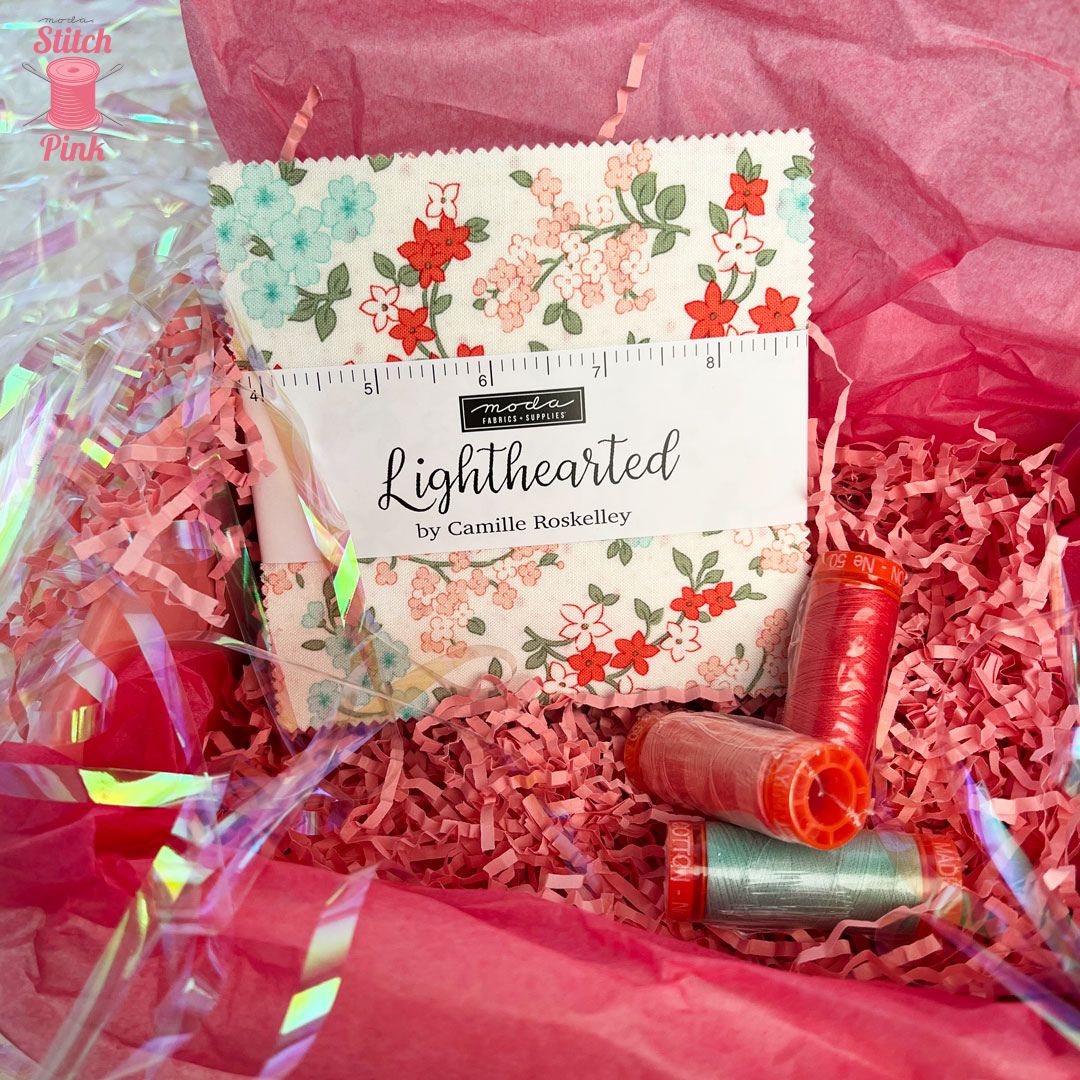 Together with Aurifil, we will be sharing a new project and maker every day throughout the month of October, starting October 1. Be sure to follow along on Instagram (@modafabrics) to see the amazing creations by this group of talented quilters, sewists, and artists and read about how they were inspired to create these deeply personal projects.
In addition to raising awareness and inspiring quilters and sewists to create projects in honor of Breast Cancer Awareness Month, we're hoping that you'll be also be inspired to donate to the National Breast Cancer Foundation. Moda is a proud supporter of the NBCF, and we hope you will join us in supporting their important work! To make a donation to NBCF and help get women access to the education, screening, and support they need, click HERE.