Stitch Pink Block 12
The ache for home lives in all of us, the safe place where we can go as we are and not be questioned.  Maya Angelou
Block Instructions >> Block 12 - House On The Hill.

I love house blocks, and the most important thing I've learned over the years is that this is one of those blocks where seam allowance matters.  The window section of pieces E-I-E-J has three seams, and one or two thread-widths difference from a scant 1/4" can add up quickly, making the section too short-long for the D strip.  Then one more seam and it's joined to H.  Pressing any-all of these seams open can also affect the size of the pieced units. 
The first thing to do is piece the two window sections - the E-I-E-J sections.  Measure both pieced units.  
If the section measures more than 7-1/2" long, trim the J window on the bottom edge so that the piece measures 7-1/2", the same size as the D strip. 
If the strip measures less than 7-1/2", do not trim anything.  If it's a tiny amount - less than 1/8" - I would let it go.  Join the D strip so that it matches at the top and the shortage is at the bottom, under the J window.  But if it's more than that, the seams will need to be un-stitched, and re-stitched.  Yes.  Hunt down your seam ripper.  (If it's like mine, it's at the bottom of a drawer, gathering dust.)
Do the same thing for the window-door section - the E-I-F-K pieces.  If the pieced section is too big, trim the bottom of the door.  If it's more than 1/8" too short, re-do the seams starting with the F and K seam.  
Now for a little house-inspiration.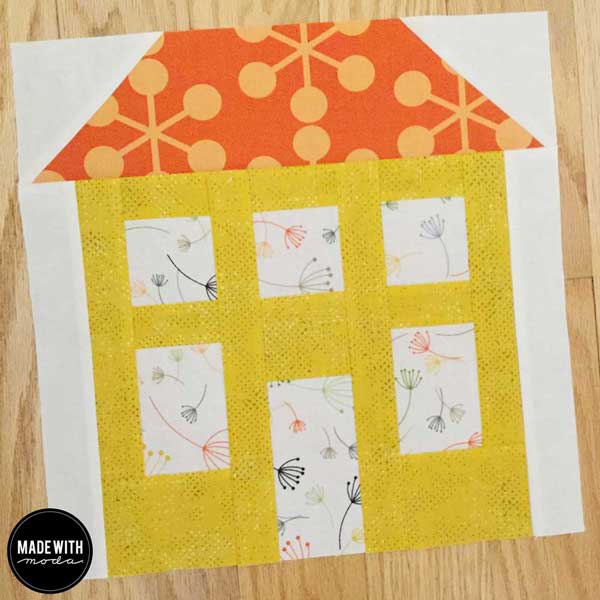 A House on Quotation Hill by Judy. 
Susan loves scrap quilts, and she always creates the best, coolest mix of bits and pieces from different collections.
Details, details.  There's an archive of the blocks and posts related to Stitch Pink 2020 - Stitch Pink Archive.
And we have the Stitch Pink blocks showing up on Facebook and Instagram.  We hope you're posting your blocks using #ModaStitchPink.
Have a good Monday - stay well!