Stitch Pink Block 15
Tweet Tweet?  The origin is Birds in the Air.  
Wings... What good are wings without the courage to fly?  Atticus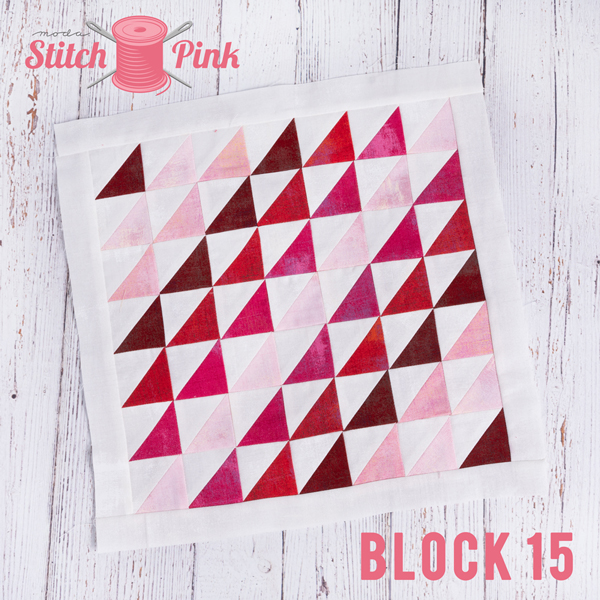 Block Instructions >> Block 15 - Tweet Tweet.
There are a lot of seams in this block, and one of the great mysteries of quilting is how some folks can put this together and the block lays flat.  For others, myself included, "flat" becomes a relative term.  So this is a block where pressing the seams joining the HTSs and rows open is something to consider.  Then measure the pieced block before cutting, and adding the outer sashing.  The width of the strips can be adjusted to account for any variation in the size of the pieced block.
Half-triangle squares.  Some folks will be aghast at the old-fashioned method included in the instructions.  I chose this method because it works, it's also flexible.  If you like to trim HTSs to size and you've cut the squares at 2-3/8", use a smaller than usual seam allowance.  Press the seam and then trim to size.  If you haven't cut the A and B squares yet, adding 1/8" is usually more than enough to allow for squaring up. 
Do you have a favorite method for making half-triangle squares?  I confess to liking "all the methods", and using the one that fits the project best.  If I need a lot of matching HTSs, then paper is a great option.  Scrappy?  I'll cut the squares larger and trim them to size.  While I have Bloc-Loc HTS rulers, I usually use a 4.5" x 4.5" square. 
One last thing... is it bothering you that I am referring to the pieced units as half-triangle squares, while the pattern designates them half-square triangles?  When the instructions for these blocks were written, the pattern-writer used what they're used to, and that's fine.  HTS is one of my quirks, and even though HST is the common usage, it's not correct.  It's a grammar thing. 
That's it for today.  With this block, we're half-way through the month, and the sampler.  If you've missed anything - or just joined us, all of the blocks, projects and blog posts are linked here - Stitch Pink Archive.
To see blocks that others are sharing - Facebook and Instagram.  They're using #ModaStitchPink.  We hope you will too. 
Stay well and have a good Thursday.