Stitch Pink Block 7
Jersey Girl is Block 7, so named because one of my favorite people was born-and-raised in Palisades Park.  (Leonia High School, Class of 1948.)
Block Instructions >> Block 7 - Jersey Girl.

If you're having problems printing the template page - TEMPLATE Page Only.
There is one option to share with Jersey Girl. 
Instead of appliquéing a circle over the center, I like leaving the background showing in the center.  That is how I originally drew the block, but that idea got lost in translation somewhere.  Mea culpa.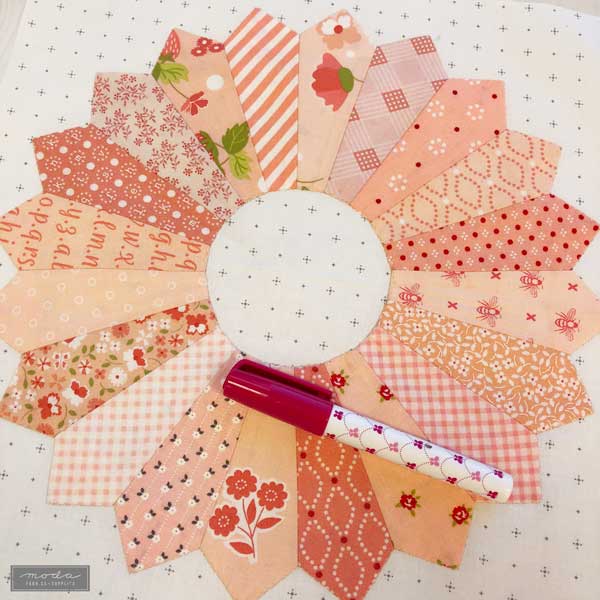 As for how this is done, the first thing I do is back-stitch the seams joining the Dresden Wedges at the top and the bottom.  Then, working on the wrong side of the pieced, pressed Dresden circle, the edge is turned in a 1/4" and secured with a water-soluble glue stick.  The Dresden is attached to the background with a blind-hemstitch that takes the smallest possible "bite", using 80wt. Aurifil thread in the top thread.  
Are you sharing your blocks on Facebook and Instagram - #ModaStitchPink?  We sure hope so!
This is some of what has been shared there in just the first five days.
The blocks are being made by cancer survivors, and by the friends and family of survivors.  It's a reminder that one-in-eight women will be diagnosed with breast cancer in her lifetime.  While the number of men who are diagnosed with it is smaller, it is still significant.  And men still feel the pain of it as the women diagnosed are mothers and sisters, wives and daughters, friends and partners.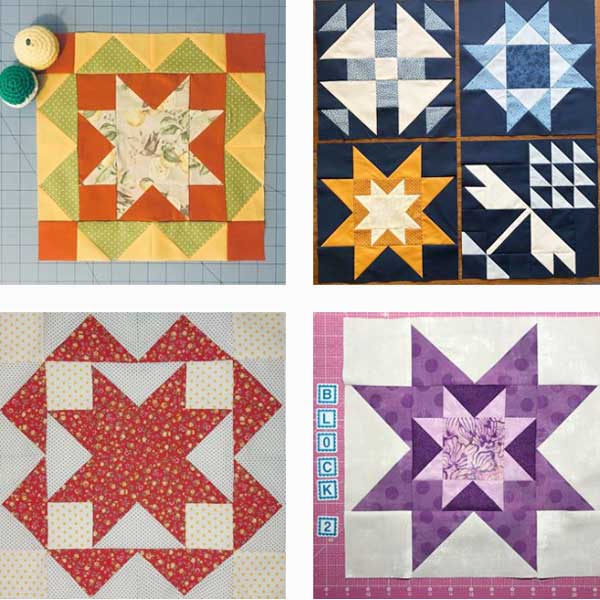 Some are stitching the blocks in colors supporting ovarian cancer and prostate cancer.  
There is a lovely line by Morgan Harper Nichols... "and after everything that happened, darkness did not win."  
These vibrant, colorful blocks are filled with life, and a spirit of resiliency.  At least that's how I see them.  
If you've missed any blocks - Stitch Pink Archive.
Need to know about yardage?  This should help - We're Stitching Pink.
Block 8 is tomorrow.  Stay well.