Stitching Kindness by Susan Ache
Stitching Kindness by Susan Ache
We are welcoming Susan Ache and the team at Aurifil Threads to share the piecing part of the Gratitude SAL.
It has been a nice 6 weeks of taking it slow and simple to stitch out words. We hope you have enjoyed it as much as we have.
A big hearty hello to everybody! I am back for the last week of our #stitchingkindnesssal! Today you'll be able to download the final quilt pattern that pulls together all of these great words you have been working on for the past six weeks. How in the world can six weeks have flown by so fast?
If you remember (or you don't have to, the post is still there!), I gave you a blank page to make your own autograph quilt or add your own words during week one.  Now that we have reached the end, if there are words that you want to add that we didn't stitch, now is your chance! Please peek at our week 1 post for more information on how to center the words and some tips for personalizing your quilt. 

All in all, this quilt isn't going to be difficult to put together…in fact, deciding where you want your stitched words will probably take you more time than anything, and once you are finished, you will have a gorgeous Summer keepsake. 
Our quilt pattern is called Gratitude and was written up by our friends at Moda. Don't you just love the name? To me, gratitude is just as important as all of the words that we stitched, and I hope that we find new ways to incorporate them all into our lives. The practice of stitching words is nice, but let's make it a point to live our lives with the same kindness that we poured into this project this Summer. 
If you are stitching along, don't forget to use the #stitchingkindnesssal. The hashtag never goes away, so if you've not yet started your stitching, you'll find loads of inspiration there! Be sure to tag me at @yardgrl60, Aurifil at @aurifilthread & #aurifil, and Moda at @modafabrics because we love to both see your work and celebrate your stitches! 
Enjoy the rest of your summer, and savor every moment you get to spend stitching! 
- SUSAN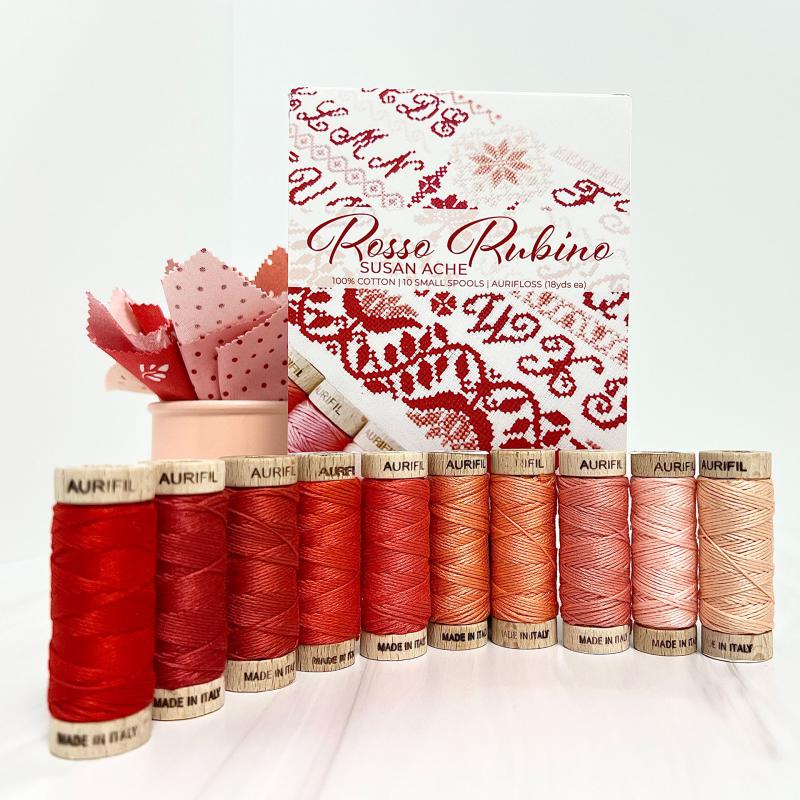 If you are just joining us, the weekly blocks and links are shared here.
Week 1- Download words here.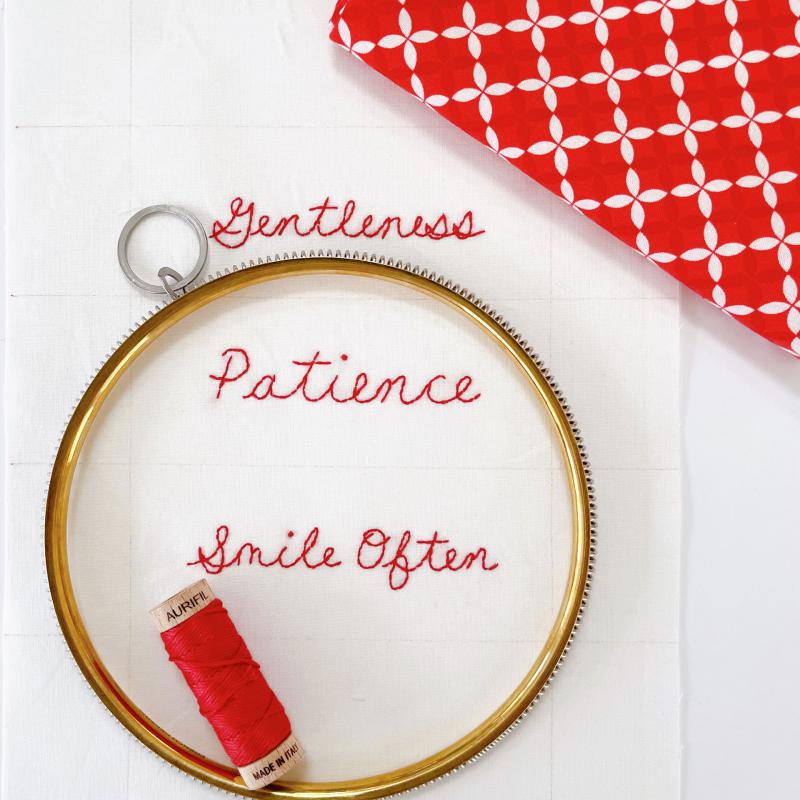 Week 2- Download words here.
Week 3- Download words here.
Week 4- Download words here.
Week 5- Download words, here.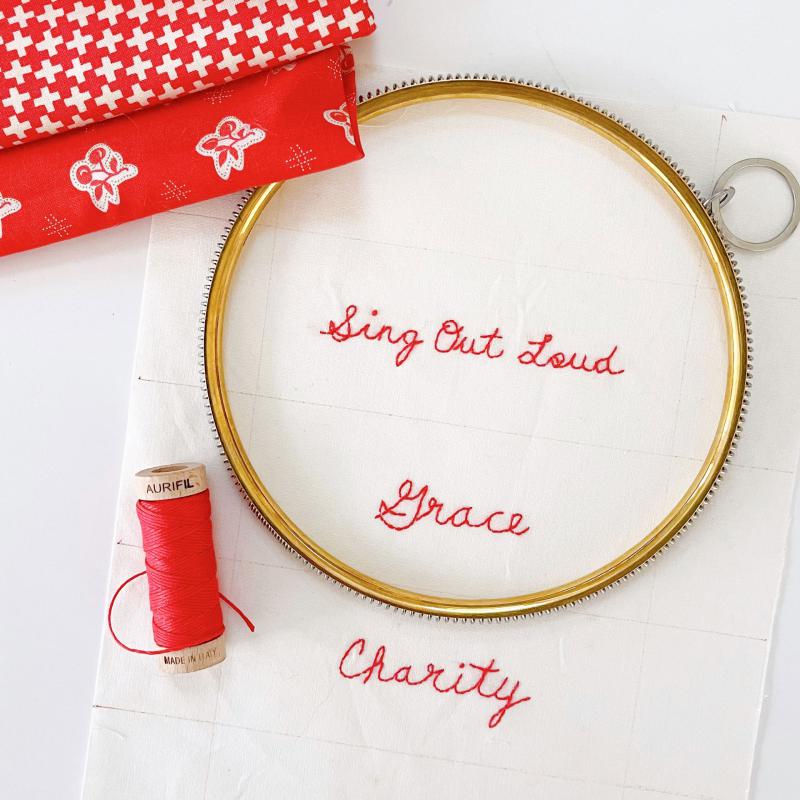 Week 6- Download words here.
Last bit of business. The hoop used in the pictures above is available through French General, here.
If you are enjoying stitching and want to do more, Join Susan Ache and Wendy Sheppard as they combine their love of red floss and blue floss for stitching. Search #wendyandsusansal to follow what they are working on.
---
ABOUT SUSAN
Instagram 
A love of color makes it easy for Susan to grab inspiration from her native Florida surroundings. With no grand idea other than knowing she wanted embroidery and nine patches in her first quilt, a new world opened up to this mom of now five grown children. Being self-taught with many hours of reading about the makings of a quilt and quilt blocks has made this a lifelong passion. Susan is always searching for new and fun ways to show off as many colors as she can in a quilt. Most of her quilts are a creative impulse from trips to the garden center, a photograph, or browsing through paint chip selections. "I really never see just the quilt, I seem to see the quilt in the room that it belongs in."  Working in a quilt store for years helped Susan to pursue that passion for color and the fabric-inspired life she enjoys while constantly striving to make her next favorite quilt. Susan is the author of several books, including  Countdown to Christmas- Quilts and More That Span the Seasons, Starts With Strips- 13 Colorful Quilts from 2 1/2" Strips, Sweather Weather- Eight -Eight Cozy Chill-in-the-Air Quilts, and many more including her newest book, Two of a Kind Quilts with Lissa Alexander, hitting bookshelves September 1, 2022.