Thread Matters
Technically, thread is often called a type of yarn, the sort used for sewing, embroidery, and quilting.  Made of cotton, silk, polyester, wool, rayon, nylon and metallic, there are new choices every year. 
We've written about thread before:
So today we're going to share some of the threads we use regularly and why we use them.  Let's start with Gutermann Hand Quilting Thread.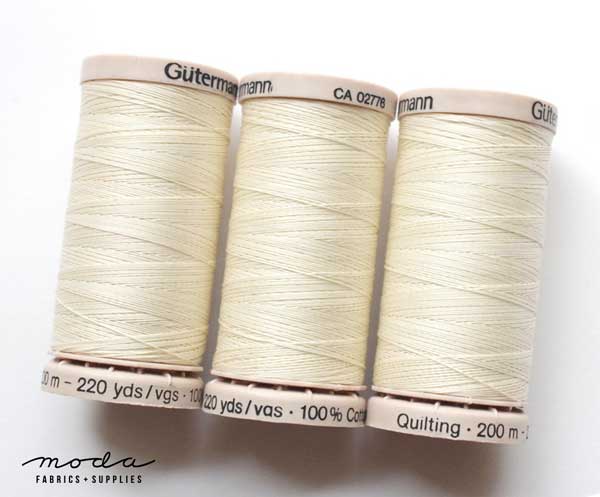 Gutermann Hand Quilting thread is a 100% Mercerized cotton that is both fine and string.  It has a waxed finish that helps prevent tangling, and allows the thread to glide easily through fabrics.  This hand quilting thread is a Tex 25 or 40wt.  It comes in 49 colors - that we know of.  What do we like about it?  What do I like about it?  It's the best thread for hand-stiching bindings because it's strong and waxed.  This is an "old" tip that I first heard about maybe twenty years ago.  Then I promptly forgot it.  Until an Editor at American Patchwork & Quilting shared it as a tip.  Genius.  (Thank you, Lindsay!)  I've been using it for bindings ever since and I won't use anything else.  
Gutermann also makes a terrific 100% polyester thread that is great for garments, bags and home decor items.  
Gutermann Cotton is a relatively fine, strong, 100% natural mercerized cotton thread that can be used for machine and hand sewing, and for long-arm machines.  The Tex 30 weight is equivalent to approx. 32wt. thread.  
Mercerized?  Mercerizing thread is a chemical process that makes thread stronger, give it shine and help it retain it's color.  The process includes singing or gassing to reduce the fuzziness that can result from mercerizing.
Mettler.  You probably know it as Metrosene.  When I began quilting, it was the only high-end thread available in most quilt shops.  Metrosene Silk Finish is a 50wt., 100% long-staple Egyptian cotton.  It is ideally suited for machine piecing and quilting, for garments, and for most kinds of sewing projects.  It has many beautiful variegated thread colors.  And thread sets.  (I really like thread sets.)
Eight 164-yard spools of 50wt. Silk Finish thread - The Silk Finish Spring Collection.  And since you asked, there are collections for Summer, Autumn and Winter.
Mettler's Silk Finish thread is available in small 164-yard spools, 500-yard spools, and 1500-yard cones.   
Mettler Metrosene also makes 4-spool Kits with 100% polyester thread in nine color options.  Their polyester thread is also available in many, many colors. 
Cotton versus polyester thread - does it matter?  For piecing quilts and garments, one of the guiding principles for choosing threads is that the thread should never be stronger than the fabric being joined.  If there is stress on the seam, either from wear or pulling, we want the thread to break before the fabric tears.  Repairing a popped seam is easier than repairing a seam where the fabric has torn along the seam.  Wear along seams is more likely for quilts, though washing and handling a wet quilt can create stress on seams.
Except that one of the best threads for quilting was created by the amazing, Master-quilter, Libby Lehman - Superior Thread's Bottom Line.  This 60wt. polyester thread is lint-free, comes in 1420-yard spools and is an excellent thread for quilting, embroidery, bobbins, binding, and both hand and machine appliqué. 
Our other go-to thread is Aurifil's 50wt. Cotton Mako.  (Mako is the type of long-staple Egyptian cotton used to make the thread.)  If you're not familiar with Aurifil's 50wt. thread for machine piecing, a great way to sample it is with one of their assortments.  Like this Aurifil Necessities House Collection.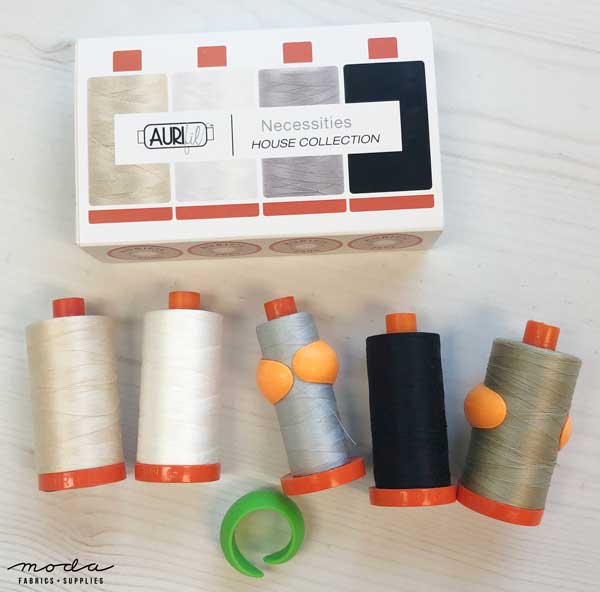 There are four spools in this Necessities collection - four basic, most-used colors.  I know, there are five spools in the picture.  The tan spool on the right isn't in the set.  But it should be.  This is the thread I use for at least 75% of my piecing - it's No. 2324.  (I'm also aware that the silver grey - No. 2600 - spool appears to be used the most.  Disregard that.)  I promise you will use all five colors.  (The others are Beige - 2000, Near White - 2021, and Black - 2692.)  (The orange things around the spools are Thread Peels.)
Thread assortments are my favorite way to add new colors to my thread collection.  I will happily admit to loving having lots of pretty colors of threads even though the majority of my sewing is piecing with one of the basic colors shown above.  Except when I'm making zipper bags, pincushions or machine-quilting on pillows - then I like having colors on hand.  But since I don't use much of it, I buy assortments of small spools.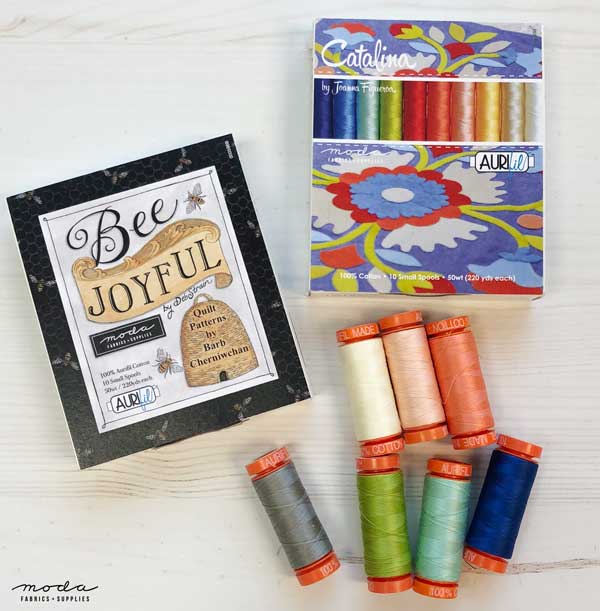 Most Designer assortments have 10 spools each, and when the threads are the 50wt. Mako Cotton, the spools have 220 yards.  These collections are curated by the designers with colors that coordinate with the collection - Bee Joyful by Deb Strain and Catalina by Joanna Figueroa for Fig Tree & Co.
We've also been embroidering with Aurifil's 12wt. Cotton Mako thread.  There are 270 colors of 12wt. thread available in a small 54-yard spool,  a 356-yard medium-size spool and a 1914-yard cone.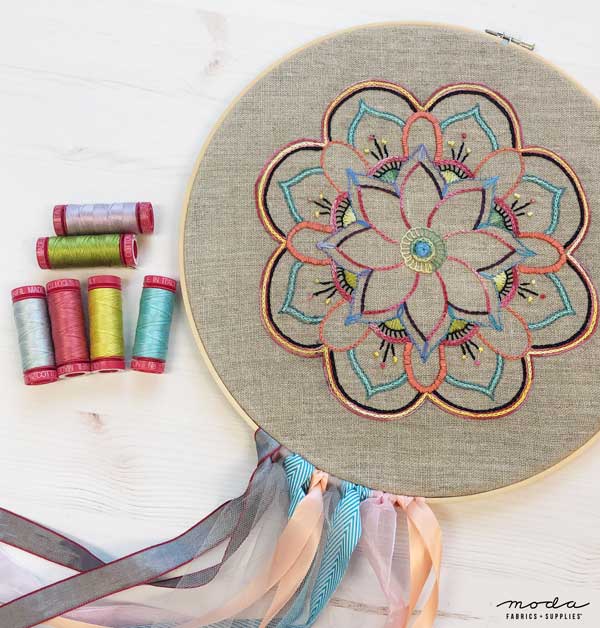 This is the Mandala Dream Catcher from 10 Easy Stitches - Embroider 30+ Unexpected Projects by Alicia Burstein.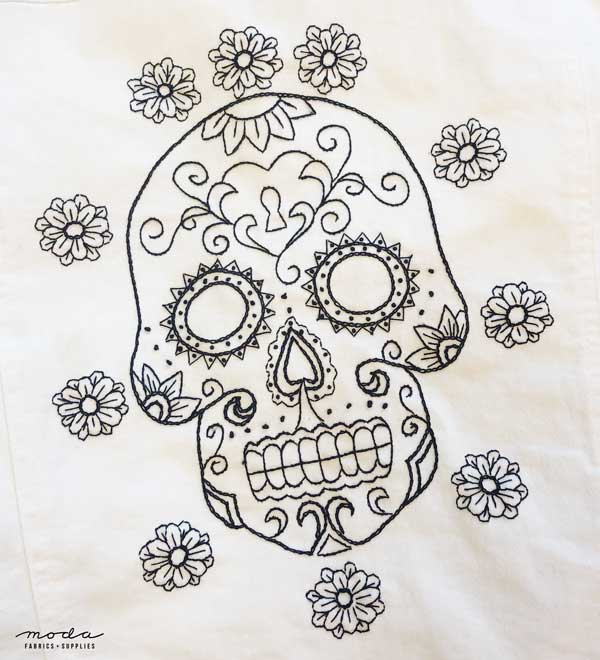 Stitched entirely with 12wt. Aurifil in Black - No. 2692 - this Sugar Skull design was found online, enlarged and transferred onto the back of a white jeans jacket.  The jacket and the mandala were stitched by Debbie Duckworth - aka Ducky - and would have been in the Notions booth at Spring Quilt Market. 
If you're wondering what else the 12wt. thread can be used for - Sashiko, hand and machine embroidery, hand quilting, and buttonhole and blanket stitching on fabric, denim and wool. 
One last thing to stress, it's something we've written about before.  As beautiful as thread racks and displays are that showcase our many colorful spools of thread, thread is best stored away from light, dust and humidity.  In a box.  Separated and not all jumbled up.  Good quality thread is an investment, and given the time we spend stitching and making our creations, we want to use thread that hasn't "gone bad". 
All this talk about thread means that we have some we're going to share.
The thread portion is a 12-spool assortment of Aurifil basics - The Basics Collection by Mark Lipinski.  And of course you need a few little fabric goodies to sew with, a few Moda pre-cuts. 
Simply leave a comment by Midnight CST on Sunday, June 7 and you're entered to win.  Tell us what thread is currently on your machine - the brand and the color.
We hope you're stitching today.