Warehouse Adventures
Do you love the notions wall at the quilt or sewing shop?  Pins and scissors, snaps and ribbons, D-rings and button blanks to cover with fabric.  
Yes?  Do you like school supplies too?  (Don't get me started about my subscription for pencils.)  
In this Covid-reality, one of the things I miss is being able to wander over to the building that houses notions, finished products, books and patterns, threads and all manner of really fun things.  While I would have a list of items for samples, projects or to share here, I would also spend time going up and down the aisles to see what was new.  Or what I'd missed.  The advertising sheets are great but it's not the same.  
So what did I find this time?  
I'm going to make an umbrella!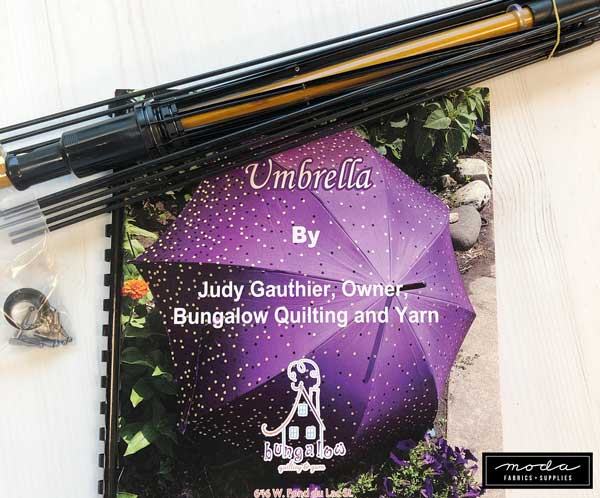 Several years ago, Judy Gauthier of Bungalow Quilting in Wisconsin began making custom umbrellas using quilting fabrics.  As you can guess, everybody wanted to know how so she found umbrella frames, taught classes and wrote a book about how to make an umbrella.  And now we have the book and the umbrella frames.  I'm excited!  I would like to make one using <insert name of upcoming collection you don't know about yet> by <name of designer>, or <name of another upcoming collection I can't tell you about yet> by <name of another designer>.  Both would make terrific umbrellas.  
And of course I'll share it when it's done.  (In 2027.)
I've enjoyed working with the Belagio cork for zipper bags and lanyards.  I even included a few pieces in a pillow I made for a friend.  It's a different kind of accent.
There are four different colors or "prints", and each comes in two sizes of buttons.  There is a 2" button, and a card with two 1" buttons.  The buttons have a metal backing with a grooved opening for the thread, it's not a shank.  The grooved backing means that the button will lie fairly flat on the surface.  (An extended shank often means the button can be a bit floppy.)  
The buttons would be a beautiful embellishment or closure on a bag, or on a coat or jacket that doesn't need frequent laundering.  Belagio Cork Buttons.  How would you use these?
Simplicity Vintage.  Or Vintage Simplicity.  I don't remember if the first pattern I made was from Simplicity, but I know I used many of them over the years.  So I have enjoyed the sewing notions created with the vintage images from the patterns.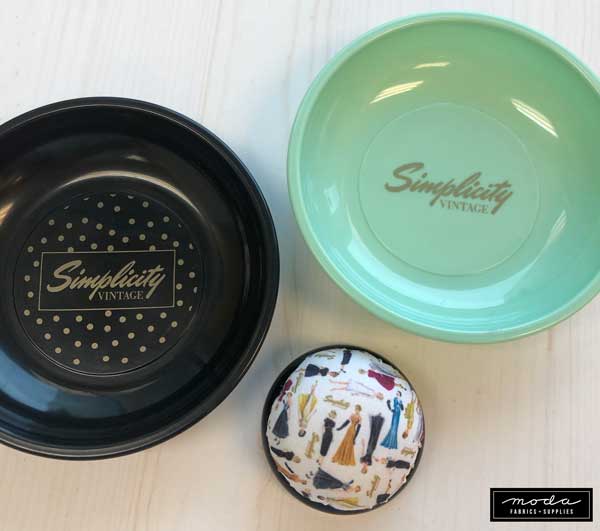 So these 6" magnetic pin bowls don't have pattern images on them.  The small 3" tufted Vintage Ladies pincushion does.
And since you should have a flexible tape measure in your sewing tools, it might as well be one of these.
Vintage Measuring Tapes - each features an old pattern image on the front, with the number of the pattern.  The tape measure is 60" long and it's a flexible coated plastic.  Pushing the center of the measure retracts the tape measure.  The Navy and Burgundy tape measures have a geometric pattern on the reverse side, while the Ivory tape measure has a second, different pattern image.  
Do you wear readers or glasses?  Me too.  
I used to be on Team "Soft Case" until I kept crunching readers by dropping my bag somewhere without realizing the readers were on the bottom.  So I switched to hard cases.  But let's be honest, the "cost efficient" cases are pretty boring.  And cool, trendy cases are either hard-to-find, or pricey.  Not these Sewing Eyeglass Cases by Tacony!  They're cute, economically priced, and they have a sewing theme.  
They also work very nicely for on-the-go sewing kits.  They're deep enough to hold a package of needles, small scissors, spool of thread, thimble, and needle threader.  And they're secure, that snap-shut hinge is nicely tight.
And then I found the aisles with books.  There are only two things missing in Mr. Dunn's Quilting Bookstore - the big, comfy chairs and a barista.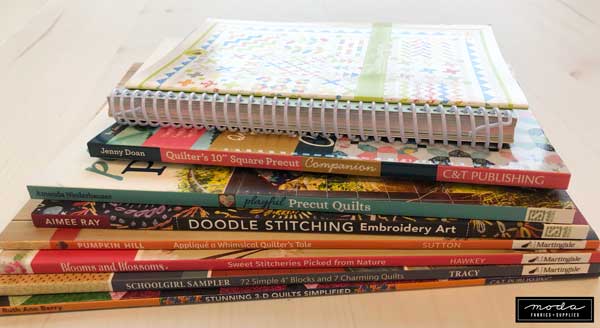 From top to bottom:
That's it for today.  If you're looking for me, I'll be back in the warehouse.  If I'm going to make an umbrella, I need matching thread and a glue stick.  
I'm sure I'll find something else while I'm there.
I'll get one for you too.