Melody Miller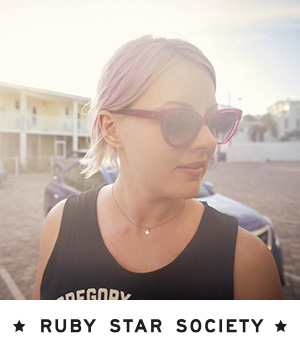 Ruby Star Founder and Creative Director Melody Miller is a goal-setter, and unlike most of us, the big, scary, long-term ones are her favorites. "The hardest part is knowing what I want, but once I'm clear, I go for it." We're lucky that those goals, once upon a time, pushed her down an entrepreneurial path – one that eventually wound its way toward founding a fabric business.
"I had to advocate for myself starting when I was a kid," she explains. "My childhood wasn't easy. If I wanted something, I had to make that happen, and it's become part of my nature now. I'm just very driven to keep moving forward." From growing up in the South Carolina Lowcountry and attending Furman University, followed by a time studying industrial design at Pratt Institute in in New York, to a crash course in branding while working at an Atlanta real estate office and endeavors selling curtains and pillows on Etsy, she eventually entered the fabric industry designing for Japanese manufacturer, Kokka.
Then in 2013, she dreamt up the idea of Cotton+Steel, a modern fabric brand that began with collections and collaborations from five diverse female designers – something fresh and new for the industry that no one else had done at the time. For Melody, it was the perfect amalgamation of her past experiences and skills, combining art, illustration, sewing, marketing and branding into one magical, creative venture.
Led by that same intuition, Melody – and the four other founding designers – left Cotton+Steel in Spring 2018, and she began working to form Ruby Star Society. "I had built my dream job. I knew what I could do, and I wasn't ready for it to be over," Melody says on deciding to create the new brand. And it's to continue a career path she's built for herself, sure, but when Melody talks about what she wants for Ruby Star Society, it's clear that it's not really about her, but rather, the collection of artists she's brought together, and the women out in the world they're creating fabrics for. "Our designers have each grown in really beautiful ways, and I so strongly want this brand to accurately reflect the growth, wisdom, and courage of our artists," she adds. "In a lot of ways, it's the same job, the same people. But it feels so different… I've learned so much, and we're all stronger. It's been exciting to watch this new vision be realized."
Downloads
Classic Basics Metro Style Rubystar Christmas